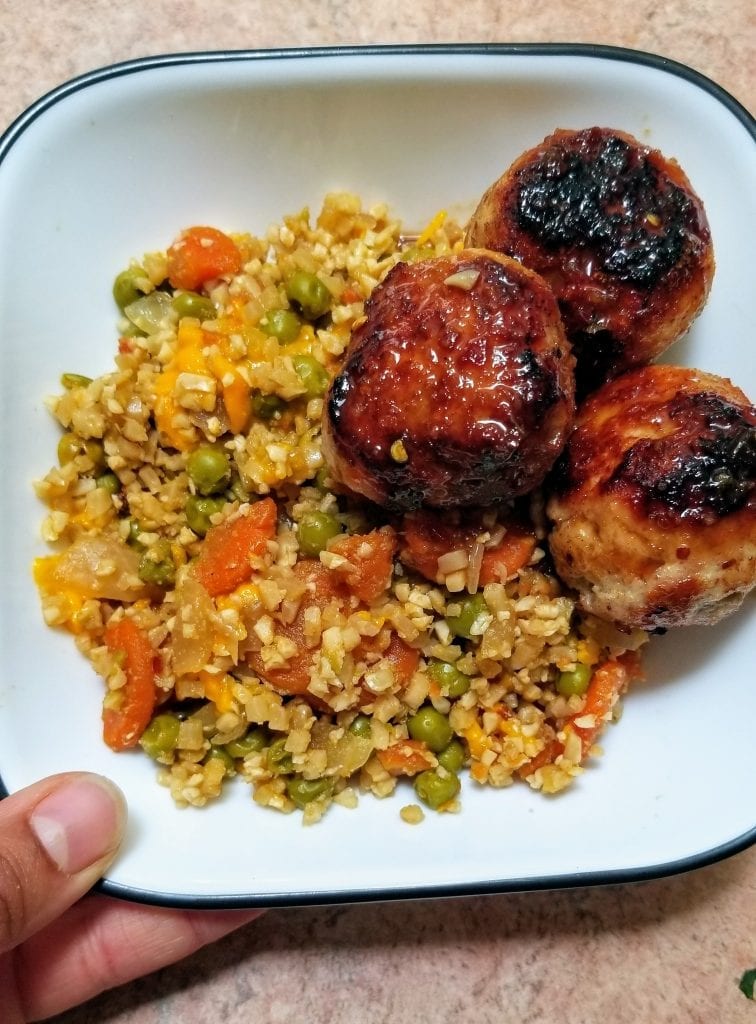 About this Cauliflower Fried Rice Recipe
Fried rice is a staple in many Asian cultures, but besides being high in carbohydrates, it's often filled with not-so-healthy ingredients in the sauce. This Cauliflower Fried Rice by Alicia Stelzer uses cauliflower in place of rice to drop the carb count and up the nutrient value. And you can forget about the sugar laden sauce and bad oils that it's generally cooked in. They're replaced with coconut aminos and spices to give you all of the flavour, without all the guilt.
1 head cauliflower

1 can of peas

1 can carrots

½ chopped onion

½ cup coconut Aminos

1.5lbs.  / 700 g of ground turkey or ground meat of choice
For the sugar-free teriyaki sauce:
½ cup coconut Aminos
2 tsp grated ginger
1 minced garlic clove
½ tsp arrow root powder
½ cup Xylitol
1 tsp red pepper flakes
Whisk all ingredients in a saucepan and heat on medium for about 5 minutes. Add the arrow root powder after about 3 minutes. Heat until thickened and let sauce cool.

Chop the cauliflower in food processor until it resembles rice. Heat a pan to medium heat and add a bit of desired cooking oil (avocado, coconut) and sauté onions. Add carrots, peas, cauliflower and coconut aminos.

While that is cooking, form the turkey (or preferred meat) into balls with salt, pepper, cumin, garlic powder, paprika and turmeric to taste.

Cook the turkey meatballs in a pan over medium-low heat. When cooked through, toss them with the sugar free teriyaki sauce. Serve over the cauliflower fried rice.
Get free weekly recipes directly in your inbox 💌
Cauliflower Fried Rice & Homemade Sugar Free Teriyaki Sauce