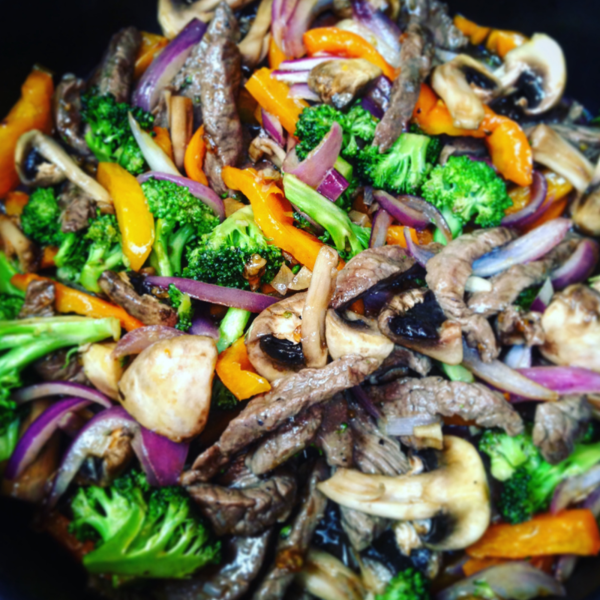 About this Beef Stir Fry recipe
Stir fry is something that once you've found a good recipe, you tend to stick with it. But sometimes, sauces can be full of unhealthy ingredients and added sugars that you shouldn't be consuming. Angela's soy-free beef stir fry, however, is paleo, gluten-free, allergy-friendly, and has minimal ingredients! So not only is it packed full of flavor, but it's not packed full of crap. And bonus — you can even swap out the beef for another protein if it doesn't suit your fancy.
1 lb. / 450 g stir fry beef

1 onion, sliced

1 head broccoli, chopped into florets

1 bell pepper, sliced

4 oz. / 120 g mushrooms, sliced

1 tbsp. extra virgin olive oil 

2 cloves garlic, minced

1/3 cup coconut aminos (soy-free sauce)

1 tbsp. honey

1 tbsp arrowroot powder

1 tbsp. ginger, freshly grated

1 tbsp. water
Heat a large skillet over medium-high heat. Add extra virgin olive oil and minced garlic to skillet. Cook for 2-3 minutes.

Add in beef. Salt and pepper to taste. Cook until browned.

While your beef is cooking, in a small saucepan over medium-low heat whisk together coconut aminos, honey, and ginger. Once sauce is hot, turn off the burner.
For a thick sauce:
In a small bowl mix arrowroot and water together and then pour into your saucepan. Whisk until your sauce has thickened.
Throw cooked beef into the saucepan.
Add vegetables to skillet your meat was just in. Cook for 5-10 minutes. Stirring occasionally.
Add in your meat with sauce back to the skillet. Cover and simmer on low for 10 minutes or until vegetables are tender.
Get free weekly recipes directly in your inbox 💌