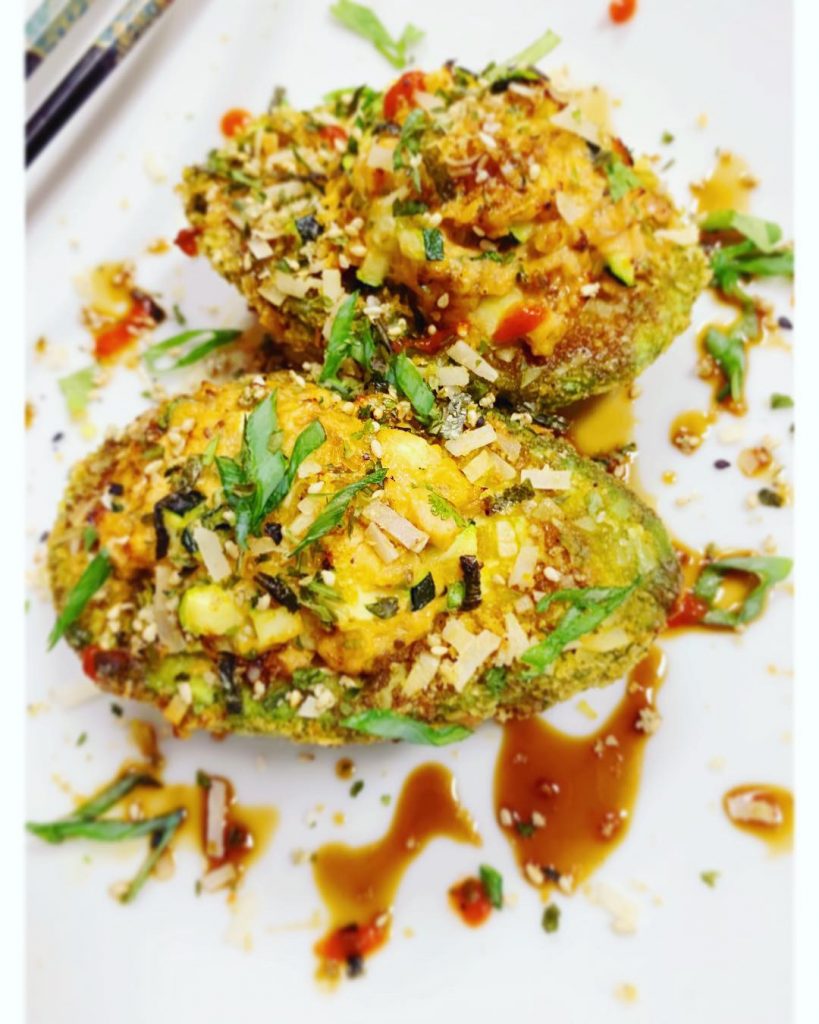 About this Salmon Stuffed Avocados recipe
Have some ripe avocados that you're not sure what to do with? Looking for a quick weeknight meal that will leave you satisfied? Give these Crispy Asian Salmon Stuffed Avocados by Camie Hauck a try. They're packed full of protein, healthy fats, and flavor that the entire family will love.
4 oz. / 120 g salmon, cooked

1 avocado, pitted and scooped

1 green onion, sliced

1/4 cup cucumber, diced

1 tbsp. mayonnaise

1/2 tsp. sriracha (omit for AIP)

1/2 tsp. coconut aminos 

1/4 tsp. rice wine vinegar (not seasoned)
Breading:
1 cup pork rinds, crushed

1/4 cup unsweetened coconut shreds
Teriyaki sauce:
1/4 cup coconut aminos

1/4 tsp. sesame oil

1/2 tsp. honey

1/4 tsp. garlic, crushed
Prepare the breading: Add both ingredients to a mini food processor and whiz until they resemble fine breadcrumbs. 
For the teriyaki sauce: Mix the ingredients in the saucepan until thickened.

Mix all salmon stuffing ingredients in a small bowl. Set aside or put in the fridge while you do the next step.

Cut the avocado in half, and remove the skin making sure you grab all the avocado in one swoop. Place each half face down on aluminum foil. 

Lightly rub mayonnaise on the avocado. This will help the breading to stick better. 

Gently roll avocado halves in pork rind breading mixture. Spray the aluminum foil with avocado oil. 

Air fry avocado halves at 400 F / 200 C for 7 minutes. 

Flip the avocado gently and stuff it with the salmon mixture. Cook for 3 more minutes. 

Remove and set on a serving plate. Drizzle stuffed avocados with teriyaki sauce and sprinkle with sliced green onion.
Get free weekly recipes directly in your inbox 💌
Salmon Stuffed Avocados Recipe