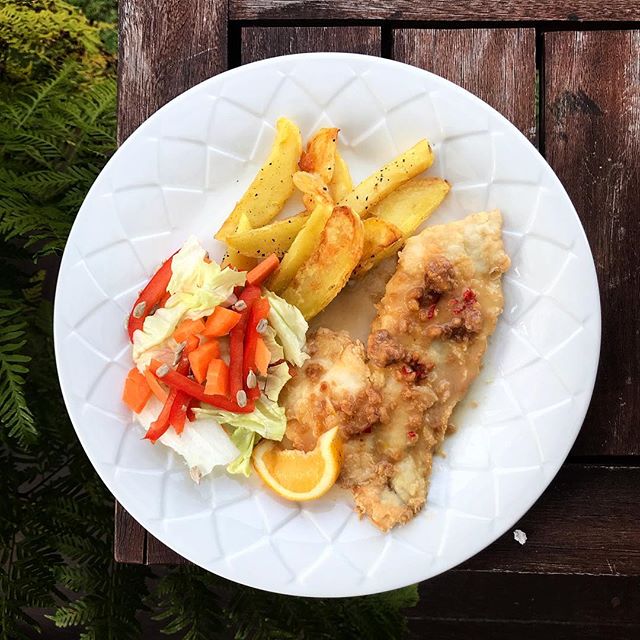 About this Battered Fish with Spicy Thai Peanut Sauce recipe
Fish and chips — a British staple that is notorious for not being the healthiest choice. But what if it could be? This Battered Fish with Spicy Thai Peanut Sauce by Cheree Kinnear will have you leaving your traditional fish and chips at the door. Pan-fried (to avoid all those unhealthy oils), topped with a spicy peanut sauce and some crispy potato wedges on the side, this will become your new favorite.
For the fish:
2  fish fillets of choice
½ cup brown rice flour
1 egg
Salt and pepper
1 tbsp olive oil
For the fries:
1 medium potato
2 tbsp olive oil
Salt and pepper
For the sauce:
¼ cup peanut butter
1 tsp thai red curry paste
¼ cup canned coconut milk
2 tbsp coconut water
Pinch of salt
Preheat oven to 200 degrees C / 400 F. Slice the potato into wedges (any size you prepare) and lay them out on a baking tray.

Next, drizzle the olive oil on top and season with salt and pepper. Place the wedges in the oven and set to bake for 45 minutes or until golden.

While the wedges bake, prepare the sauce by combining and stirring peanut butter, curry paste, coconut milk, and coconut water in a bowl then season with a pinch of salt.

Start preparing the fish. Heat the olive oil in a frying pan over medium heat.
Whisk the egg in a small, shallow bowl. Then, coat each fish fillet with the egg and flour before placing them into the hot oil.
Cook for 4 minutes, then flip and cook for another 3-5 minutes, or until the fish is white and flaky.
Remove from the pan with a spatula and place on a plate lined with paper towels.

Serve with the wedges, a side of salad, and lemon then top with a drizzle of peanut sauce.
Get free weekly recipes directly in your inbox 💌
Battered Fish with Spicy Thai Peanut Sauce