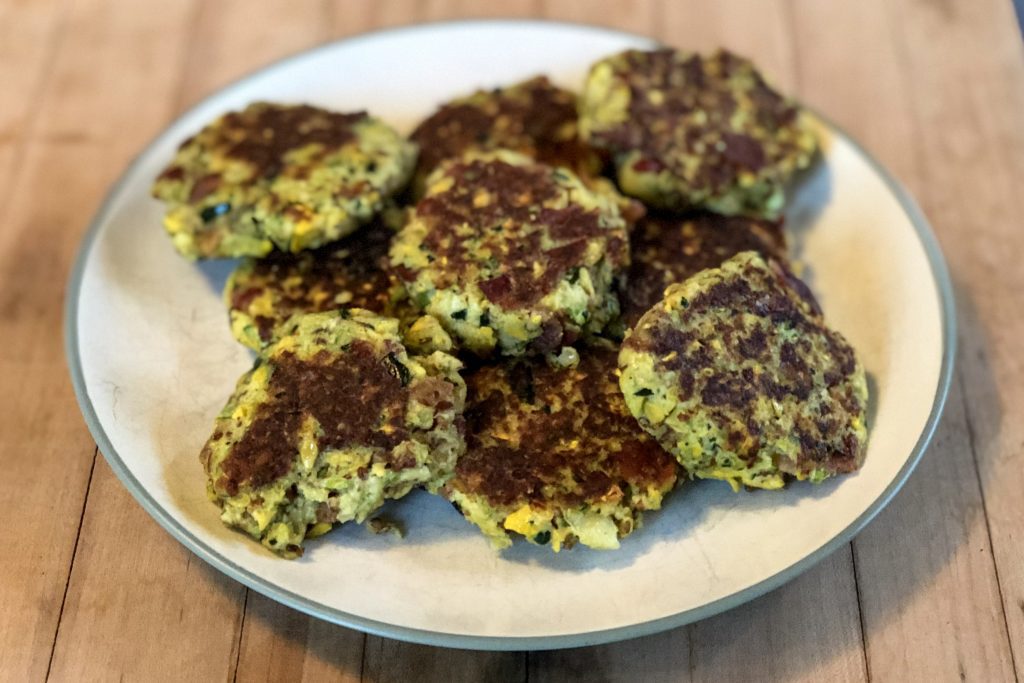 About this Paleo Zucchini Fritters recipe
If you're looking for a quick and healthy addition to breakfast or lunch, these Paleo Zucchini Fritters by Dory Schrader are a great option. Keeping it seasonal, you can use any variety of squash you wish. With just a few simple ingredients, they pair great with eggs and meat or can be eaten on their own. 
2-3 medium zucchini, shredded (about 4 cups)

3/4 tsp. sea salt

5 slices paleo bacon, sugar-free

2-3 green onions, minced

2 tbsp. almond flour

2 large eggs, whisked

1/2 tsp. black pepper

2-3 tbsp. bacon fat, for cooking
After shredding the zucchini, let it sweat. Place it in a colander and place the colander in a clean sink or over a bowl. Sprinkle salt over top and then allow the squash to sit for at least 20 minutes. Then gather the zucchini into a clean dish towel or cheesecloth/nut milk bag and squeeze out as much water as possible.

While the zucchini is sweating, cook the bacon in a large skillet until crisp. Reserve 2-3 tablespoons of the bacon fat to cook the fritters. Rest the bacon on a plate lined with paper towels, allowing the excess fat to soak into the towel. Crumble the cooked bacon and set it aside.

Prepare the batter: mix together the zucchini, bacon, green onion, almond flour, eggs, and pepper in a large bowl.

Heat a large skillet over medium heat and add 1 tablespoon of the bacon or other cooking fat. Scoop a scant 1/4 cup of the zucchini mixture into the heated skillet and gently press down to about 1/2″ thickness.

Carefully flip the fritters after 2-3 minutes, or when the first side is golden brown. Fry on the second side for the same amount of time, again until the fritters are browned. Add an additional tablespoon of bacon or cooking fat to the skillet for each new batch.
Get free weekly recipes directly in your inbox 💌
Paleo Zucchini Fritters Recipe