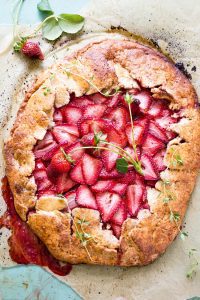 About this Gluten Free Strawberry Galette recipe
If you're looking for a quick and easy, yet totally delicious dessert for your next family gathering or dinner, you'll definitely want to save this recipe by Olga Miller. Not only is it free of gluten, dairy, and added sugars, but it's also loaded with nutrients and healthy fats.
For the crust:
1 cup (140g) cassava flour

1 cup (80g) super-fine almond flour

½ cup (60g) tapioca starch/flour

1 vanilla bean, split lengthwise and scraped for seeds (reserve pod for another use)

Pink Himalayan salt

80g almond paste (marzipan), chilled

100g vanilla bean ghee, chilled

1 large egg

1 tsp. Almond extract

2 tbsp. vodka, iced 

2-3 tbsp. water, iced 
For the filling:
2.5lb / 1 kg 100 g ripe strawberries, divided

5-6 tbsp. grade A maple syrup, divided 

1 vanilla bean, split lengthwise and scraped for seeds (reserve pod for another use)

4 tbsp. super-fine almond flour

2 tbsp. tapioca starch/flour

1 tbsp. vanilla bean ghee, melted

1 large egg yolk

1 tbsp. full-fat coconut milk

2-3 tbsp. coconut sugar, optional 
* For flours, mixes, baking tools, and pans visit King Arthur Baking.
1. Prepare the filling:
Preheat oven to 250° F / 120° C. Rinse and hull 1.5 pounds of strawberries. Leave any tiny ones whole and cut or quarter the rest to make them all look the same size. In a shallow baking pan, gently toss strawberries with 4 tablespoons maple syrup, vanilla bean seeds, and salt. Spread it out in a single layer. Roast for 2 to 2.5 hours, uncovered, until the berries are jammy and the juices have reduced to a syrup. Lastly, mash coarsely and let cool completely.
2. Make the crust:
In a food processor, combine the flour, vanilla bean seeds, and salt. Then pulse to combine. Add almond paste and vanilla bean ghee and pulse until the mixture resembles a coarse meal. In a small mixing bowl, combine the egg, almond extract, vodka, and 1 tablespoon water. Drizzle it over the flour mixture. Pulse until the mixture just begins to hold together. If the dough is too dry, add 2 tablespoons more water, 1 tablespoon at a time, and pulse. Gather dough into a ball. Roll out the dough to a 13′′ by 16′′ oval, 1/4 inch thick, on parchment paper lightly floured with tapioca starch. Don't be concerned if the dough tears. Just patch it up and keep going. Then, transfer dough and parchment to a rimmed baking sheet and refrigerate for at least 30 minutes or as long as overnight.
3. Assemble the galette:
Preheat oven to 375° F / 190° C. Combine almond flour and tapioca starch in a small mixing bowl. Sprinkle over the dough, leaving a 2-inch border. Spread the roasted strawberry mixture on top. Thinly slice 1 pound of strawberries, reserving end pieces for another use. Arrange decoratively on top of the roasted strawberry mixture. Fold in edges, patching up any tears. Brush berries with 1-2 tablespoons maple syrup (depending on the sweetness of your strawberries) mixed in with melted vanilla bean ghee. Whisk egg yolk with coconut milk; brush over the edges of the galette. Sprinkle the entire surface of the galette with 2-3 tablespoons of coconut sugar. Bake for 40-45 minutes, or until golden. Lastly, transfer to a wire rack and let cool completely.
Affiliate Disclaimer: Please note that this page contains affiliate link/s, and if you make a purchase through those links, we may earn a small commission at no additional cost to you.

Get free weekly recipes directly in your inbox 💌
Gluten Free Strawberry Galette Recipe