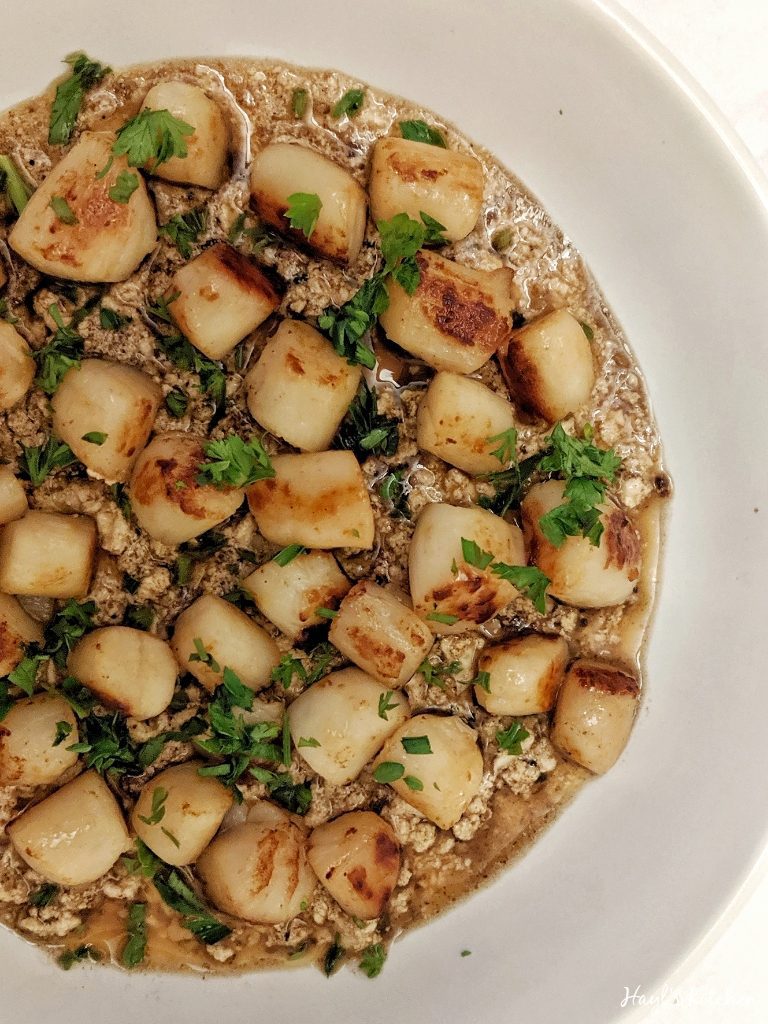 About this Pan Seared Scallops in Creamy Garlic Sauce recipe
With its creamy, smooth, lemony garlic sauce coating the most perfectly cooked scallops, Haylee's Pan Seared Scallops will surely be a hit. Using just a few simple ingredients, it's a healthy and delicious dinner that will be on your plate in less than 15 minutes. This is definitely a meal you'll want to cook over and over.
1 tsp. olive oil

7oz. (200g) scallops, frozen

Pinch salt & pepper

1/2 tsp. butter, unsalted

1 tsp. garlic, minced

1/2 tsp. lemon juice

2 tbsp. low sodium chicken or vegetable broth

1/4 cup (50g) almond milk yogurt

1 tbsp. almond milk

2 tsp. parsley, chopped
Thaw scallops in cold water or day-long in the refrigerator, and pat dry with paper towels.

Heat olive oil in a skillet over medium-high heat and add scallops when sizzling.

Season with salt and pepper and fry for about 2 minutes or until a golden-brown crust forms, flip over, and fry the other side for another 2 minutes until crisp and cooked through. Set aside.

Melt butter in the same skillet and scrape together browned leftover bits from the scallops. Stir in garlic and cook for a minute until fragrant.

Add broth, bring to a simmer, then add the lemon juice, and remove the skillet from the heat.

Bring yogurt to room temperature, dilute with almond milk, and pour into the butter-garlic sauce.

Add scallops and warm through. Garnish with parsley.
Get free weekly recipes directly in your inbox 💌
Pan Seared Scallops in Creamy Garlic Sauce Recipe