If you are looking for a high-quality water filter, this Hydroviv Water Filters is exactly what you need to pick your next filter.
We all know how important it is to stay hydrated, considering that our body is 60 percent water. Some people have a water dispenser in their refrigerators; others love to have good old tap water.
If that is the case with you, too, then you must have a water filter in your kitchen. The water filter will help filter out harmful contaminants in tap water, like lead, chlorine, etc.
Not only can water filters be good for your health, but they can also replace hundreds of plastic water bottles, which makes them eco-friendly. These filters are lifesavers in areas that have limited access to clean tap water.
As important as it is to drink clean water, it is equally essential to purify the water you use for other purposes around the house. This includes your sanitary like the shower.
Since the water comes in direct contact with your skin, it is essential to ensure that it is free from harmful chemicals so that you don't get any allergies.
You might not be able to control the quality of water that is running through your house. Still, you can use a filter to protect your family or just to improve the taste of your regular tap water.
In the following article, we will go over the Hydroviv water filters review.
About Hydroviv
Hydroviv is a reputable water filtration that provides quality water to its users through filters that include under the sink, refrigerator, and shower filters.
So, without further ado, let's get right into the details of these water filters and see what the hype is about.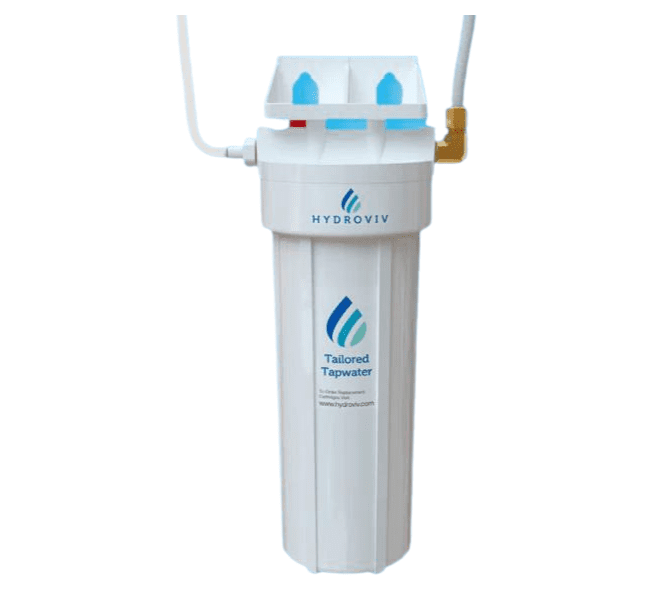 ---
Features:
Before we get into the details of precisely the Hydroviv under-sink water filter, let's look into the details of the common chemicals present in our water and how they can affect us. Contaminants present in drinking water can cause short- and long-term damage to your health.
Chromium 6: Chromium 6 is extremely carcinogenic. In many areas, the level of Chromium 6 present in water goes well above 9 to 19 times higher than the concentration reported having little to no risk of cancer.
Lead: Exposure to lead through water or other sources can damage your brain. Since we frequently use water, if our tap water contains lead, we are exposing ourselves to the chance of brain damage. 
Arsenic: Arsenic does not have a safe level. Any exposure to arsenic, regardless of the concentration, can cause cancer. That's it. 
Why Hydroviv Under Sink Water Filter is Better
The Hydroviv filter is the most practical way to eliminate all the issues we have covered above. It is simple, easy, and affordable, so you won't have to spend a fortune just to get your water filtered.
Chemical analysis
Hydroviv creates water filters that are specially designed to meet the needs of your city's water. Once you send them in the required data, the company analyzes your zip code and uses it to find out which contaminants are present in your water. The water filter is then designed accordingly. 
Installation
The installation of the under-sink filter is not a long and daunting task. You can easily attach it right to the cold-water line that is present under your sink. All in all, it takes about five minutes to install, and you can get your filtered water running through the tap in no time.
Other Filters
You might easily get any water filter that can "claim" to remove harmful substances from your tap water, but not all of them are powerful enough. The filters made from simple carbon filters can not filter out the contaminants that we have mentioned above. 
The process of reverse osmosis that is present in many filters can remove these harmful substances, but it also has its downsides. Firstly, a decent-quality RO plant is expensive, so not everyone can afford it. Secondly, you can not just install it by yourself as it requires a plumber. 
It also requires regular maintenance and wastes plenty of waste. Not only this, but while removing the contaminants, it also removes useful minerals from the water, like calcium and magnesium.
Pros:
Removes harmful chemicals from tap water
Makes your tap water safe for drinking 
Removes carcinogenic substances
Cons: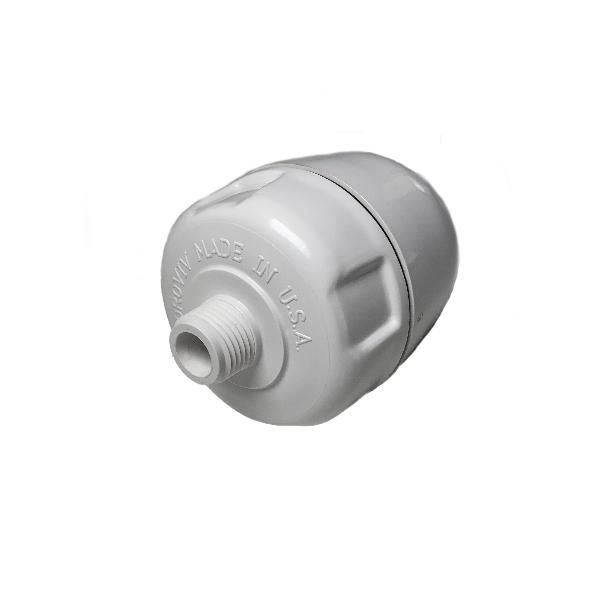 ---
Features:
Quality filtration
The Hydroviv shower filter is designed for users who value quality and want to get their water filters within their budget. It is not for those who like to opt for cheap and quick-fix solutions for water purification. 
As water purification concerns your health, you must make the right choice and pick the one that can eliminate harmful chemicals from your water.
You might find it a bit more expensive than other water filter models available in the market, but if you are getting great-tasting and clean water that feels soft on your skin, then we believe that it is worth it.
With your water being purified by the Hydroviv shower filter, you will be less exposed to waterborne diseases and skin infections.
Easy installation
Hydroviv filters are easy and quick to install. Even if you are using these filters for the first time, you can easily install your Hydroviv shower filter to the showerhead. You can get done with the installation with a quick fix as you follow the instructions on the package.
Size 
The filter can last for nine months with the same pressure before replacing the cartridge. It is about 5.5 inches in length and is designed to fit on the standard water connection fittings. So, you won't need any additional parts to fit the unit on your shower head.
Performance
This shower filter from Hydroviv can remove many contaminants from your shower water which includes PFAS, chlorine, arsenic, and synthetic chemicals, so your water will become safe to use.
It is especially effective for people who have hard water running through their water system, which can damage your hair and irritate the skin. It also improves the water quality, and you will no longer be troubled by any allergies or skin irritation. 
With the use of soft water, your skin is left hydrated and supple. Not only this, but you also notice your pets will shed less hair if you have any. 
Changeable cartridge 
The shower filter has a replaceable cartridge that can filter your water for six to nine months, depending on the contaminants and quality of the water. This is quite unlike the cartridge with standard water filters that must be replaced every three months.
Pros:
Converts hard water into soft water
Makes water safe for your skin and hair 
Removes chlorine that can damage your hair
Cons:
The cartridge needs to be changed in six months if used regularly 
---
Features:
Contaminant removed
Although Hydroviv does not provide a complete list of all the harmful chemicals removed, some information is available. The reason stated by the company for this is that the water composition varies from area to area. 
So, providing a list could be misleading if the chemicals tested in the lab are not present in the water supplied to your refrigerator.
However, there is a list available on the website that mentions the following chemicals:
Chromium 6
Lead
PFAS, PFOA, and PFOS
Petroleum-based chemicals
Chlorine and Chloramine
Volatile organic compounds
PCBs
Mercury 
Cysts 
Pesticides
Pharmaceuticals
Disinfection byproducts 
Installation
Installing the Hydroviv Refrigerator filter is simple and easy to do. You can easily install it at the back of your refrigerator. 
If there is little space available in the back, you can do a slight modification and install the filter in a storage container. This container can easily sit on top of the fridge. You can opt for a black container or pick a container that matches your fridge's color so it blends in the background.
Quality of water
Hydroviv claims that if the water obtained from their filter is not the best-tasting water, then you can return the filter. We can say that the company stays true to its claim as the water that is filtered through tastes significantly good. 
The overall taste improves automatically with the water well-filtered and free from contaminants. 
The water that you would drink from the refrigerator filter tastes a lot better than that you would get from tap water.
After using the filter, you can easily tell the difference between the tap water and the water obtained from the Hydroviv refrigerator filter.
Packaging
The package used to wrap the Hydroviv filters being delivered to you is eco-friendly. If not reused by the customer, the packaging and tape degenerate once they are discarded.
Shipping
When you place your order for the Hydroviv filters, the order will be delivered at the mentioned time without any expected delays. For delivery on time, you should specify your exact location so that the manufacturer can send the right filter for the water that runs through your area.
Pros: 
Easy installation
Filters out contaminants from water in your refrigerator
The ice cubes obtained from the ice maker are clean and safe to use
Cons:
You might need to make some adjustments if there is no space behind your refrigerator 
Bundled Products by Hydroviv 
Who doesn't like to save a few extra bucks when buying products for their home? The good thing is that if you are planning to get any two of the three filters by Hydroviv that we have reviewed above, you can get them in bundles at a discounted price. Sounds great, no? 
Let's look into the details of these bundles offered by Hydroviv.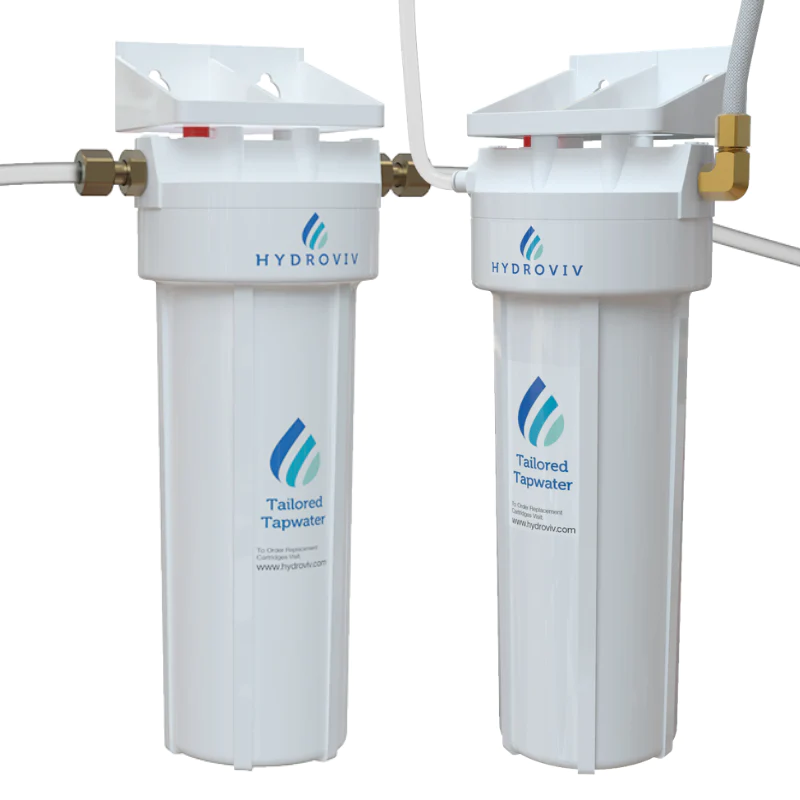 ---
If you want to buy a filter for both your tap water and refrigerator, then you can choose this bundle by Hydroviv. It includes the Under Sink Water Filter and the Refrigerator Filter. The bundles come with a 30-day money-back guarantee where you can return the products without any questions being asked. 
Pros:
Reduces the cost
Includes both faucet and fridge filters
Money-back guarantee
Cons:
It can be a little expensive for some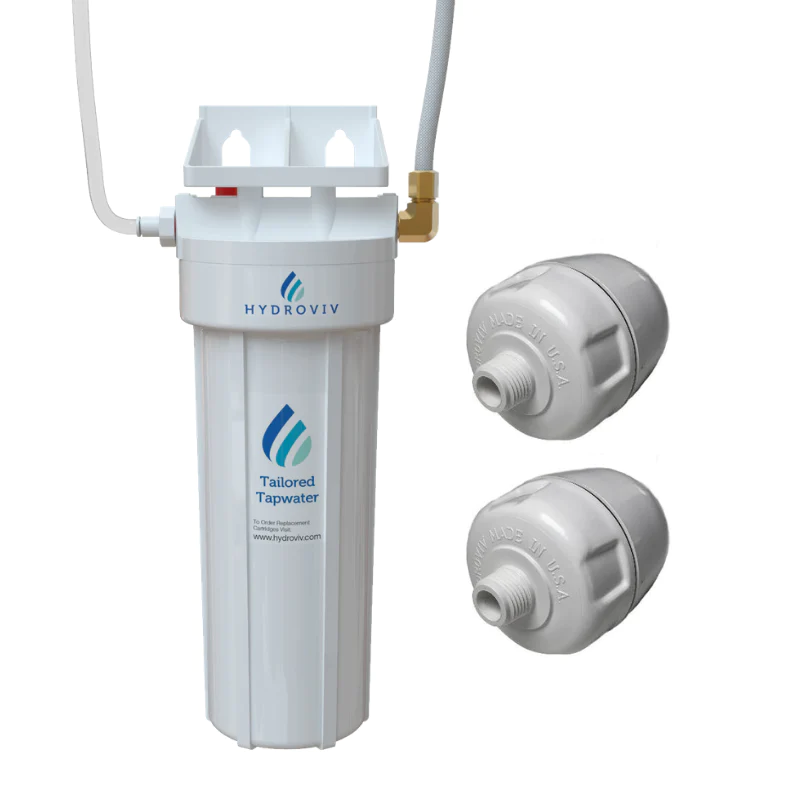 ---
You can pick this bundle if you want a filter system only for your tap water and shower. Please note that the shower filter does not come with a separate shower head, so you would have to connect your shower head to the filter. 
Pros:
The bundle includes two filters for your shower and tap water
Easy to install
Reduced cost
Cons:
The showerhead is not included in the bundle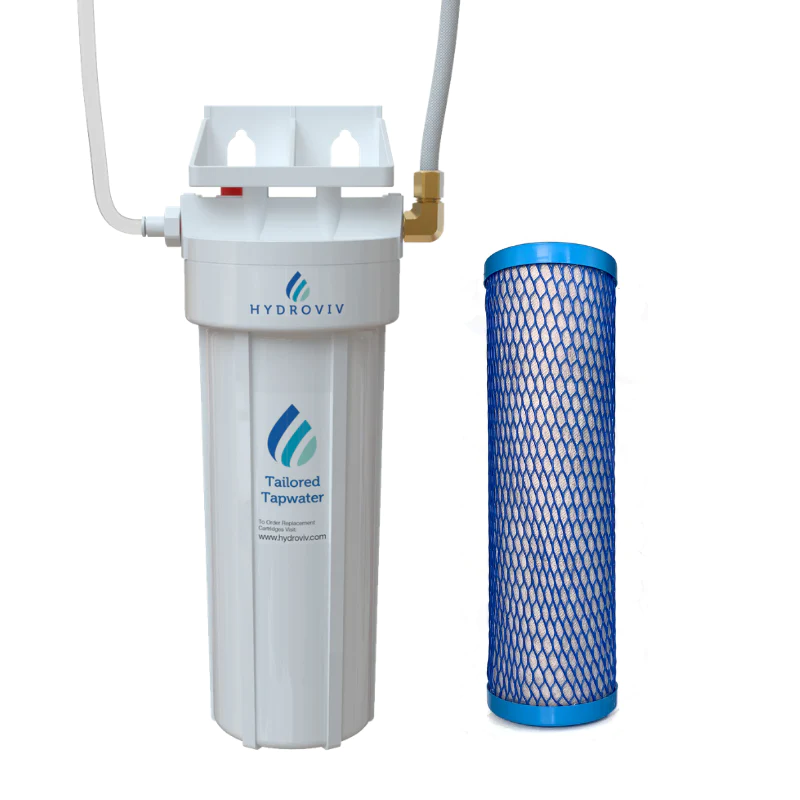 ---
This bundle includes the tap water filter that can be attached to your sink and a replacement cartridge. Although the Under Sink Filter includes a cartridge in the package, you can get this bundle if you want to have a spare cartridge with you. 
With this bundle, you will be well covered for the first year of filter usage, as the cartridge is replaced every six months. 
Pros:
Cartridge included for replacement
Covers your filtration for one year
Warranty included
Cons:
Require space under the vanity for installation 
Comparison Chart 
Water Filters: Buying Guide 
Before deciding which water filter you need for your home, it is essential to consider several factors to make the right decision. Our buying guide will help you analyze the crucial factors to consider when buying a water filter.
Water composition
Although tap water is considered safe for drinking, it is still essential to know its composition to avoid any health issues. Tap water can be quite unsafe for young children and people with weak immune systems.
So, it is vital that before you consume water directly from the tap, you are well aware of what it contains. You can check your water supply for lead contamination, especially if you have young kids in the house. It is your right to obtain information regarding the water that is being supplied to your home and what it carries.
Before you decide which water filter is suitable for your home, you should know precisely what is present in your water. Then, your decision will be geared towards removing those specific harmful substances. Otherwise, the money you put in for water filtration will be wasted.
Different types of water filters
It is essential to know which type of water filters are available in the market to buy the one that fits well to your needs. 
Faucet water filter: These faucet filters work like pitcher filters. The water is treated before it is let out for running. It is directly mounted onto your faucet and is an inexpensive option for home treatment.
Countertop water filter: The countertop water filter is mostly used in homes or is set up in places that require temporary filtration. They can also be used in areas where a faucet hole is absent for under the sink filters. These countertop filters are probably the easiest to install and provide fresh water there and then.
Refrigerator water filter: Refrigerator water filters are sometimes provided by refrigerator brands that use ice-maker filters. These water filters, like the one by Hydroviv, use the advanced carbon resin, ion exchange, or ceramic filtration technology to provide clean drinking water and ice cubes that are free from contaminants. 
Under-sink water filter: The under-sink water filters, similar to those manufactured in Hydroviv, are installed in kitchen and bathroom sinks with sufficient space. They are recommended for long-term use as they are useful in keeping your bathroom and kitchen clutter-free. 
Shower water filter: The shower water filter is used in bathrooms to remove harmful chemicals from the water running through your shower. It ensures that your skin and hair are left healthy and free from chlorine. Chlorine is known to dry out the skin and can damage your hair. If your shower water has chlorine, it can be highly hazardous to your health; therefore, shower filters help.
Final thoughts
For people looking for affordable, simple, and adequate water filtration methods, Hydroviv filters are the right choice. Not only can you get your drinking water filtered, but you can also get shower filters to ensure that the water that comes into contact with your skin is free from impurities. 
Hydroviv also offers a bundle that is an excellent option for people who want to get multiple filters at an affordable cost. 
Get free weekly recipes directly in your inbox 💌
Hydroviv Water Filters Review