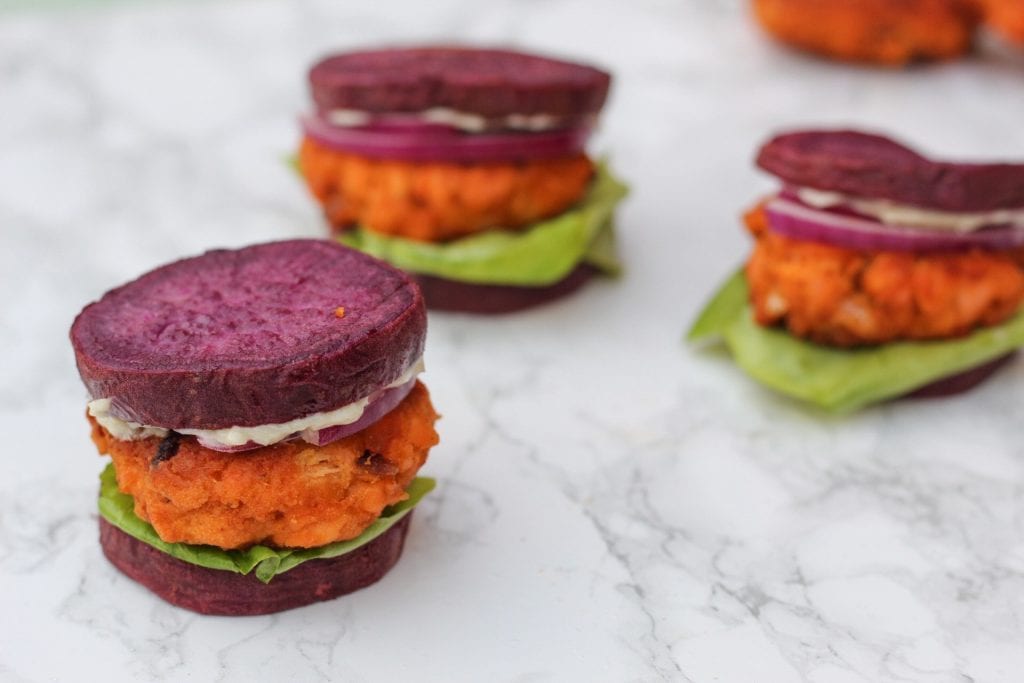 About this Smoky Salmon Sliders & Sweet Potato Buns recipe
If you're looking for a quick, protein rich meal, salmon patties are generally a great option. But when they're loaded with bread crumbs, unhealthy mayo, and other not-so-good ingredients, healthy can quickly be turned upside down.
These smoky salmon 'sliders' with sweet potato buns by Kathryn Kelley are a fantastic option for a quick weeknight dinner and even as leftovers for the next day. They're a little crispy on the outside, moist on the inside, and are a nutritional bang for your buck. And bonus, if you don't have fresh salmon, canned works just as well!
3 slices bacon

5-6 ounces / 150-180 g salmon skin off or on; can substitute canned salmon

2 sweet potatoes cut into 1/2-inch thick rounds. You need at least 16 slices.

2 teaspoons avocado oil plus more for frying

2 eggs

1/4 cup almond flour

3/4 teaspoon smoked paprika

1/4 teaspoon garlic powder

1/4 teaspoon cumin

1/2 teaspoon coconut sugar omit for Whole30

pinch salt and pepper

1/8 teaspoon chipotle powder optional

1/8 teaspoon cayenne powder optional

2 tablespoons mayo

1-2 tablespoons coconut flour
Preheat oven to 400 F / 200 C. Line two baking sheets with aluminum foil or parchment paper. Toss the sweet potato rounds with oil.

Place the bacon and salmon on one sheet and the sweet potato rounds on another. Bake everything for 15-20 minutes, flipping the sweet potato rounds over after 10 minutes. The salmon should flake easily with a fork and the bacon should be crispy. Depending on how thick your filets are, you may need to give them some extra time. Remove everything from the oven and let cool.

Meanwhile, whisk the eggs together in a large bowl. Add the spices, mayo, and almond flour and mix again, until well combined.

When the salmon and bacon are cool enough to handle, flake salmon into large pieces and crumble bacon. Add the salmon and bacon to the bowl and stir.

Add one tablespoon of coconut flour and stir. If the mixture looks too wet to handle, continue adding coconut flour in half-tablespoon increments until you can easily form the mixture into balls with a tablespoon. For me, it was 1 1/2 tablespoons, but this will vary heavily depending on your brand of coconut flour.

Form equal-sized patties using about 2 tablespoons each of the salmon mixture, setting each one aside onto a parchment-lined surface until ready to cook. You should have about 8 patties.

Heat oil over medium-low heat. Working in batches, fry patties until golden brown on both sides, pressing down lightly with a spatula to flatten slightly. Depending on the number of batches, you will likely need to add extra oil to the pan.
Get free weekly recipes directly in your inbox 💌
Smoky Salmon Sliders & Sweet Potato Buns