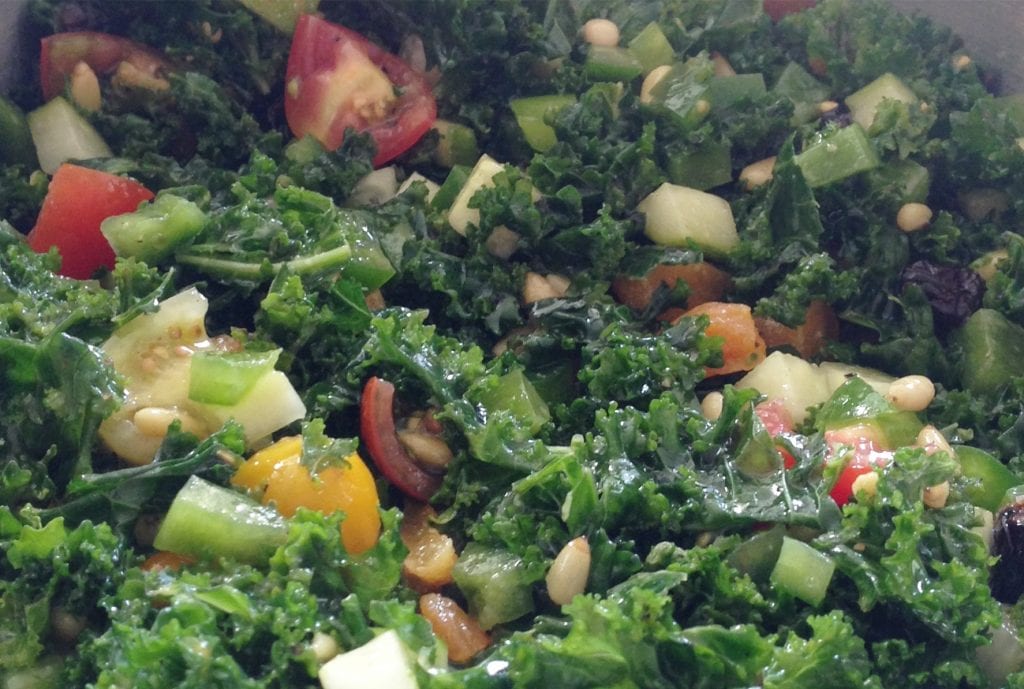 About the Marinated Kale Salad recipe
Sometimes just a green salad can be a bit boring. Why not try a marinated kale salad recipe? We know you may not all be fans of kale, but let us tell you, this salad here by Kelly Warner is amazing, and we promise you'll love it!
Full of antioxidants, vitamins, and minerals, this salad is super nutritious, delicious, and easy to make. It can also be made ahead (actually, it's better made ahead), so when you're in a rush, all you have to do is grab it from the fridge. What's not to love about that?
1/2 cup extra virgin olive oil
1/4 cup lemon juice
1/2 tsp. garlic powder
1/2 tsp. onion powder
1/2 tsp. salt
1/4 tsp. pepper
6 cups kale, stems removed and chopped
1 green bell pepper, diced
1 cucumber, diced
1 cup cherry tomatoes, halved
1/4 cup dried cranberries, Whole30 compliant
1/4 cup dried apricots, Whole30 compliant, halved
1/4 cup pine nuts
Add olive oil, lemon juice, garlic powder, onion powder, salt, and pepper into a large mixing bowl and whisk together to make the lemon vinaigrette.
Add kale to the mixing bowl and massage the dressing into the kale with your hands.
Place the bowl in the fridge to marinate while you prep your veggies.
After dicing your cucumber and green pepper and halving your tomatoes, add them to the bowl and stir.
Add dried cranberries, dried apricot halves, and pine nuts. Stir to combine.
Note: the flavors get better over time, so plan on making this a day or two in advance.  
Leftovers last a week in an airtight container in your fridge. This recipe doubles well and does not need precise measurements for anything besides the vinaigrette ingredients. Enjoy!
Get free weekly recipes directly in your inbox 💌
Marinated Kale Salad Recipe