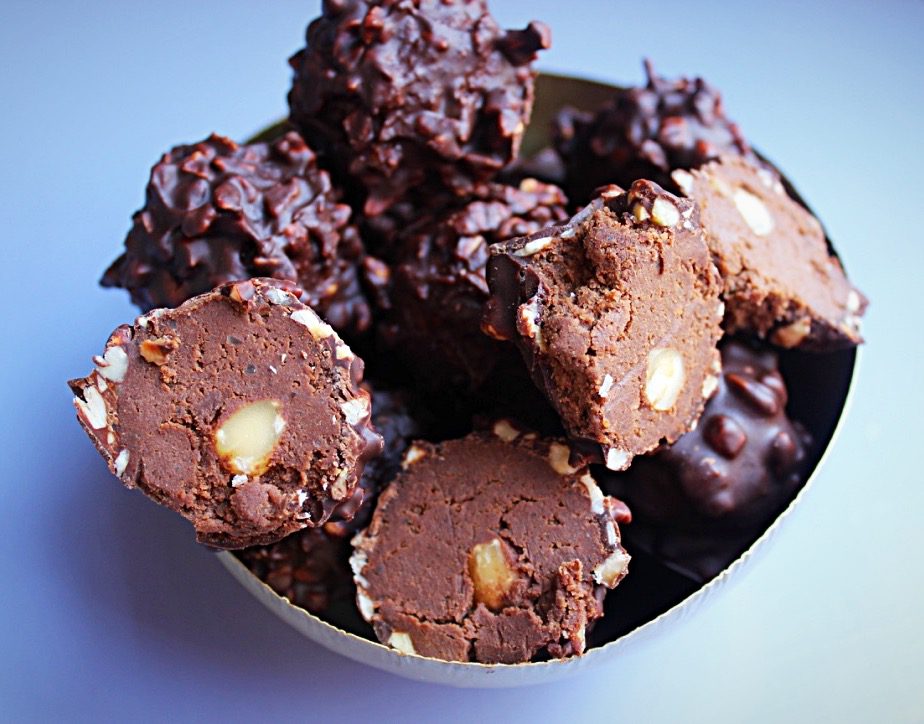 About the paleo Ferrero Rocher
You eat dessert. Then you feel guilty. But it doesn't have to be that way with this delicious paleo Ferrero Rocher recipe.
Today we have a guilt-free concoction for you straight from Glitter and Gut Health founder Lauran Brannigan. Her chocolatey, nutty Ferrero Rocher is gluten-free, sugar-free and paleo-friendly. Which is good, because you're going to want seconds.
Makes 25 balls
Nutella-like paste (filling)
300g hazelnuts (soaked)
25 extra hazelnuts for the centre
100g dark chocolate
a touch of unsweetened almond milk to help blend
2 tbsp coconut nectar
1 tsp vanilla
Nutty Coating
200g dark and sugar-free chocolate
100g chopped hazelnuts
After having left the hazelnuts to soak overnight in the fridge, drain the water and blend as smoothly as you can, then begin to melt the 100g chocolate using a broiler method.
Once the chocolate is melted, pour this into the blender along with the coconut nectar and vanilla, blend as thoroughly as you can until you feel you need to add a splash of almond milk to further the blending process until you have a thick and smooth(ish) consistency, don't worry, it won't be perfect like Nutella! Once you are happy with it, transfer the mixture to a container and refrigerate until firm but moldable.
Take about a tablespoon of mixture and hide a hazelnut in its center, then roll each one into smooth, round balls of as equal size as you can manage; we like them on the large side. Freeze for 15 minutes to firm them up.
Melt 200g dark chocolate and combine with the 100g chopped hazelnuts.
Roll each ball into the chocolate and hazelnut mix until satisfyingly covered and refrigerate until firm, and yes, that bit does get messy!
Get free weekly recipes directly in your inbox 💌
Paleo Ferrero Rocher Recipe