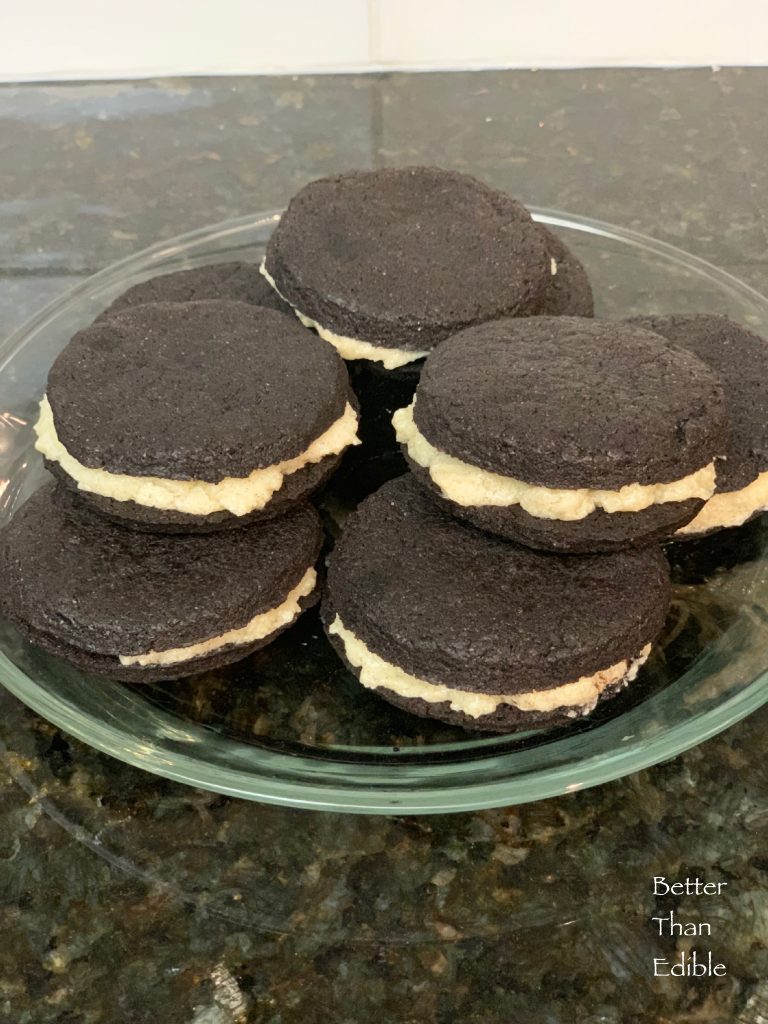 About this Oreo Cookies recipe
If you're a fan of the traditional Oreo cookies, you're definitely going to love these by Leanna Thompson. While not dairy-free, the ingredients can easily be substituted to suit both dairy-free and non-individual alike. They're sweet, crispy, and totally worth every bite.
For cookies:
3/4 cup buckwheat flour

1/3 cup cocoa powder

1/3 cup granulated sugar

2 tbsp. tapioca flour or starch

1 tsp. sea salt

1/2 tsp. baking powder

1/3 cup coconut oil 

1 egg

1 tsp. vanilla extract
For filling:
1/2 cup butter, softened

3/4 cup powered sugar

1 tsp. vanilla extract
(Yields 9 cookies)
* For flours, mixes, baking tools, and pans visit King Arthur Baking.
Combine the dry ingredients for the cookies in a large bowl.

Add oil, egg, and vanilla. Mix until well combined.

Shape dough into a disc, wrap in plastic wrap, and refrigerate for 2 hours.

Preheat oven to 350F/175C. Line a large baking sheet with parchment paper.

To make the filling, beat the softened butter until smooth. Add sugar and vanilla and beat until combined. 

Refrigerate the filling while you form and bake the cookies. 

Roll the dough out to 1/4"/0.9 cm thick. Cut the cookies with a 2"/6 cm round cookie cutter, or using the mouth of a small mouthed mason jar.

Place on cookie sheet and bake for 14 minutes, or until firm but not crispy.

Let cookies cool completely. Spread filling on one side of a cookie and top with second cookie. Repeat to make the remaining cookie sandwiches. 
Affiliate Disclaimer: Please note that this page contains affiliate link/s, and if you make a purchase through those links, we may earn a small commission at no additional cost to you.
Get free weekly recipes directly in your inbox 💌