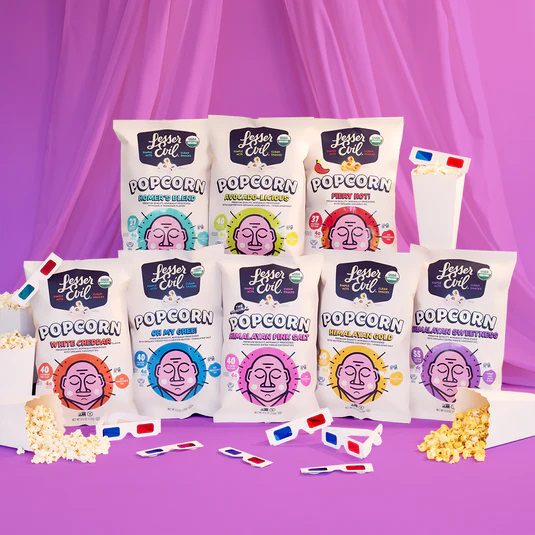 If you are looking for a premium snacking option that gives you guilt-free pleasure, then look no further than Lesser Evil Popcorn. This hard-to-resist air-popped popcorn is the minimally processed version of modern eating. You can satisfy your taste buds without feeling bad about eating.
As the name suggests, Lesser Evil Popcorn does less evil when it comes to crabs, calories, and fat content. If you are a popcorn addict who loves snacking on popcorn, then you can choose smart eating with this air-popped popcorn. However, the taste is unbelievably delicious. It doesn't look like you are switching to a healthy popcorn option. 
Ranging from sweet to spicy seasoning, Lesser Evil popcorn can usurp your unhealthy comfort food options. With each bite, you'll thank Paleo Menu for introducing these flavor bombs that can sync perfectly with your paleo diet!
What is Lesser Evil Popcorn?
Lesser Evil Popcorn is 100% air-popped popcorn with a rich and flavorful seasoning. This tender and fluffy popcorn is made with fewer yet purest ingredients. The CEO, Charles Coristine, followed the "less is more" philosophy using only a handful of ingredients. This popcorn has fewer calories than regular bags of chips or popcorn. 
This popcorn is a healthy snacking option, ranging from deliciously sweetened to fiery spice. Lesser Evil Popcorn is lightly tumbled in extra-virgin coconut oil and is free from artificial flavors and preservatives. Being made with organic ingredients, this popcorn has more nutritional value than any regular packet of popcorn. 

What Makes Lesser Evil Popcorn A Good Choice?
We all know popcorn is a hard-to-replace snack, especially the buttery movie theater popcorn that is meant to clog your arteries. So, isn't it our duty to find a healthy alternative that fits well with our paleo lifestyle? That's where the Lesser Evil popcorn comes in!
Do you want to know what makes Lesser Evil popcorn different? Well, it has dietetic characteristics, i.e., full of fiber and low in fat content. It is also less processed and fluffier as compared to other pre-packaged popcorn. It has fewer calories than regular popcorn, which makes it slip into your paleo diet easily.
You can continue your guilt-free snacking habits while satisfying your taste buds. Unlike other pre-packaged popcorn, this popcorn is not heavily coated with seasoning, yet it has a perfect balance of flavor. We can guarantee you that in no time, you'll be addicted to this paleo popcorn, just like us.
Note: The packaging is also eco-friendly and sustainable, which makes it "Lesser Evil" to the environment. 
What's The Nutritional Value Of Lesser Evil Popcorn?
The best way to limit yourself to the paleo diet is to eat clean while counting the calories with each bite. So, checking the nutritional value of everything you eat is the best way to get into a disciplined routine and limit your eating habits. Each meal has its importance, so instead of skipping a meal, make sure to take each meal while monitoring your calorie intake. 
Besides, you can also do smart snacking to fulfill your mid-meal cravings. Remember, Lesser Evil popcorn has 26% fewer calories as compared to regular popcorn. This popcorn is both addictive and satisfying, with less fat, more fiber, fewer carbs, and more proteins. 
All the ingredients used in this popcorn are completely paleo-friendly, vegan, and organic. Even if you are a vegan who wants to try cheese flavor, they have this flavor named "No Cheese" Cheesiness. You can enjoy the tangy taste of non-dairy cheese in this variation of Lesser Evil popcorn that tastes like original cheese. 
Note: Make sure to read the disclaimer at the back because this popcorn is tossed in coconut oil, so be cautious if you are allergic to coconut.
Delightful Flavor Variations of Lesser Evil Popcorn
Even if you are a picky eater, Lesser Evil has not left you stranded. They have seven finger-licking, perfectly seasoned flavor variations for fitness enthusiasts. These seven super light flavors are listed below, ranging from sweet to spicy!
Himalayan Pink Salt
Himalayan pink salt has only three basic ingredients: minimally processed popcorn, pink salt, and coconut oil. The popcorn is generously salted so that it doesn't taste bland. You can taste the proper sweetness of coconut oil in this fluffy and crunchy organic popcorn. 
Himalayan Gold
If you are addicted to movie theater's buttery popcorn and don't want to interrupt your healthy diet routine, then Himalayan Gold is your healthy alternative. You can satisfy your hunger with this plant-based butter alternative mixed with the coconut oil seasoning used in the Himalayan gold popcorn.
"No Cheese" Cheesiness
"No Cheese" Cheesiness is the best dairy-free cheese popcorn option for those who are on the paleo diet. This non-dairy seasoning can give you a guilt-free addiction to the tangy cheese flavor. Each fluffy piece comes with a bursting flavor of cheese.
Fiery Hot
Are you a spice-lover? Well, gear up! Because fiery hot popcorn covered with organic habanero and jalapeño pepper seasoning will be your top pick. The flavor is so smooth at first and then bursts, with each pop kicking hard on the taste buds. 
Himalayan Sweetness
Just like Himalayan pink salt, Himalayan sweetness is the sweeter version of popcorn. Instead of being salty, it has this sweet taste that comes from the richness of sugar cane juice and brown rice syrup. 
Avocado-Licious
If you are simply an avocado lover, this will definitely be your top pick. Tumbled in avocado oil and Himalayan pink salt, these handfuls of popcorn can satisfy your avocado craving. 
Oh, My Ghee!
If you have ever wondered if ghee and oil have a different flavor, then Oh My Ghee can be your answer. Its seasoning has this rich flavor of ghee that is famous in the world of Ayurveda due to its medicinal properties. Don't worry; it doesn't taste like any herbal medicine!
Build Your Lesser Evil Bundle of Joy!
You can choose from different purchasing options that vary in flavor and size. You can build your own Lesser Evil bundle of joy, including:
(5 oz or 4.6 oz) 

Pack of 1

(4.6 oz) + one (0.46 oz) snack bag 

Pack of 3

(3.57 oz) 

Pack of 4 

(4.6 oz) 

Pack of 6 

(0.88 oz) 

Pack of 12 

(0.46 oz) 

Pack of 24 
Free from inflammatory oils, you can have the taste of your favorite flavors in your bundle of joy. You can select the different sizes and fill the box with the available options for the flavors. The price varies depending on the bundle and size that you choose.
What do we like about it?
Unlike regular popcorn, Lesser Evil popcorn is 10x more fluffy and crunchy.

You can get the non-dairy butter and cheese seasoning that is almost identical to the original taste of butter and cheese.

Lesser Evil popcorn has 26% fewer calories, i.e., around 150 calories per serving as compared to regular popcorn.

In contrast to pre-packaged popcorn, it has 55% less fats and 50% more fiber, making it a healthy snacking option.

There are seven different flavor variations to choose from, ranging from Himalayan sweetness to Fiery hot. 
What we don't like about it?
If you are allergic to coconut, this popcorn can trigger your allergy because coconut oil is the main ingredient of every seasoning. 
Other Products by Lesser Evil
Apart from popcorn, Lesser Evil has other healthy snack options in countless finger-licking flavors. You can add savory snacks to your paleo diet, including:
Paleo Puffs
These paleo puffs are available in three mouth-watering flavors: "No Cheese" Cheesiness, Fiery Hot, and Himalayan Pink Salt.
Power Curls
Protein-packed power curls have the same three appetizing flavors as Paleo puffs.
Lesser Evil Kids
Lesser Evil has also got a whole range of exciting shapes and scrumptious flavors for the kids that will leave them wanting more. 
Cosmic Rings:

Available in Cosmic Cheddar and Berry Blast

Space Balls:

Available in Cinnamon Sugar Stardust and Interstellar Cheddar

Little Puffs:

Available in Voyager Veggie Blend, Star-berry Beet, Sweet Potato Apple Asteroid and Celestial Cheddar
Sun Poppers
These flavorful, crispy poppers come with three different seasonings, including Vegan sour cream + onion, Himalayan pink salt, and Vegan nacho cheese. 
The Bottom Line
Guilt-free snacking is enjoyable for teens as well as adults. If you have healthy diet restrictions, that doesn't mean you have to omit the snacking habit from your lifestyle. Brands like Lesser Evil care about your healthy lifestyle and give you a healthy alternative that can easily slip into your daily routine without disturbing the calorie count.
With the vast range of flavors, you can give a treat to your taste buds with this tender butterfly popcorn. Sprinkled with the purest form of salt and tossed in premium quality oil, Lesser Evil popcorn is the sustainable future of clean eating!
Affiliate Disclaimer:
Please note that this page contains affiliate link/s, and if you make a purchase through those links, we may earn a small commission at no additional cost to you.
Get free weekly recipes directly in your inbox 💌
Lesser Evil Popcorn Review: A Guilt-Free Snacking Option