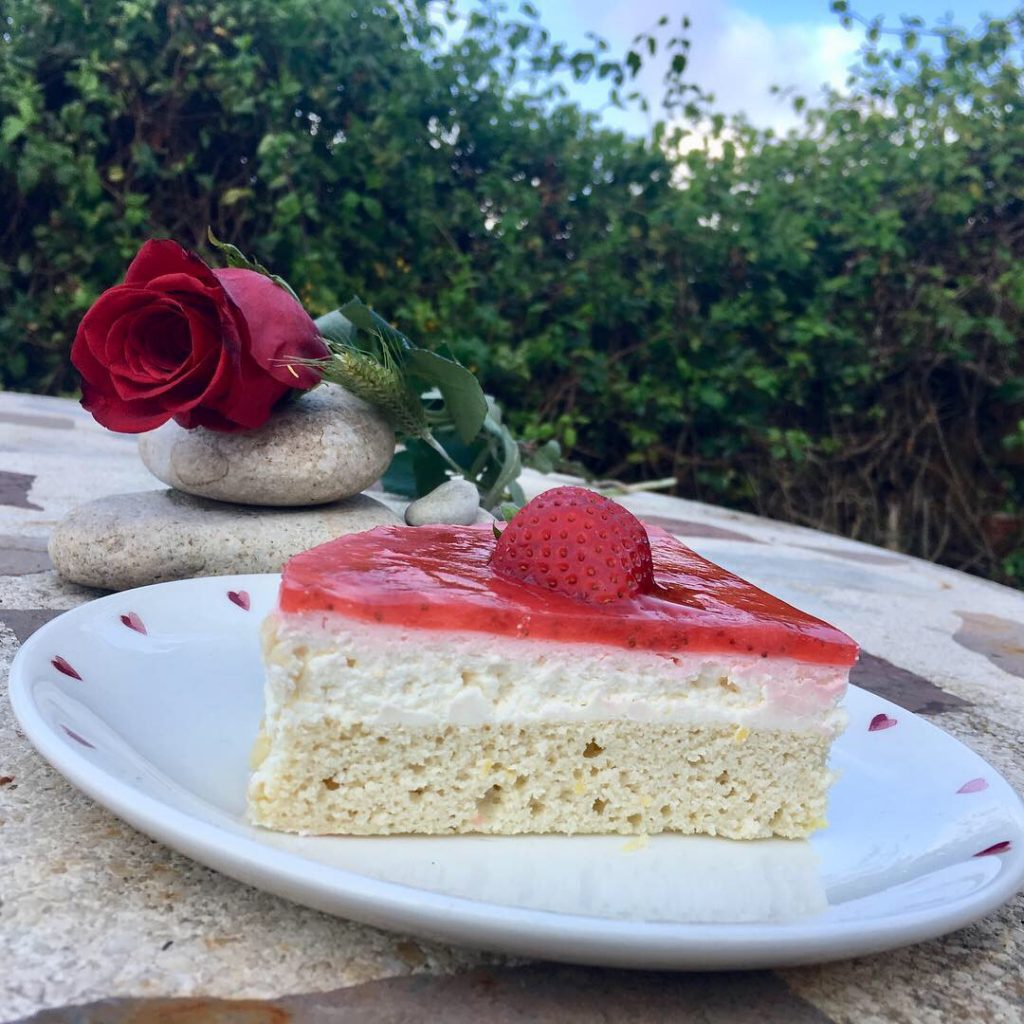 About this Low Carb Strawberry Cheesecake recipe
Everyone loves a good cheesecake, and while it's loaded with full fat dairy that may be paleo or keto, it's also loaded with sugar and gluten, which definitely aren't. This low-carb strawberry cheesecake by Ines is filled with paleo-compliant healthy ingredients that make this dessert taste sinful, without all the additives.
Sponge cake:
3 eggs (whisk the egg whites apart until stiff and snowy)

6 tbsp. almond flour

3 tbsp. coconut flour

2 tbsp. olive (or coconut) oil

1 x 125 g / 4.4 oz plain high-fat yoghurt

1 tsp. of gluten free baking powder

Sweetener, to taste

The zest of half a lemon (grated)

1 tsp. of cinnamon
Mascarpone mousse:
200g whipped cream

200g mascarpone cheese

Juice and grated zest of 1 lemon

2 flavourless gelatin leaves
Strawberry coulis jelly:
1 cup chopped strawberries

1 flavorless gelatin leave

Juice of 1 lemon
* For flours, mixes, baking tools, and pans visit King Arthur Baking.
For the sponge cake:
Mix the ingredients and bake in a 28 cm diameter cake pan at 180ºC / 360 F for about 25 minutes.

After that, let it cool on a grid and trim it to fit well within the detachable mold (22 cm in diameter will match perfectly).

Put baking paper under the cake before placing it in the detachable mold so you expect to take it out easily!
The mascarpone mousse:
First, dissolve the prehydrated gelatin and sweetener in a couple of spoonfuls of very hot cream.

Next, add the lemon juice, the grated zest, and the mascarpone then mix it all with the remaining cold whipped cream.

Lastly, pour it carefully over the sponge cake and get it into the fridge. Leave it for a minimum of 2-3 hours.
For the strawberry coulis jelly:
Mix the juice of one lemon, the chopped strawberries, and a drizzle of water in a pot. 

Then bring it to a simmer until the strawberries melt (it takes just 10 to 15 minutes). 

In the meantime, hydrate another leaf of gelatine. Add sweetener to taste and remove from heat and dissolve the gelatin in the strawberry coulis. 

Finally, let the mixture cool down before pouring it over the mousse.
Affiliate Disclaimer: Please note that this page contains affiliate link/s, and if you make a purchase through those links, we may earn a small commission at no additional cost to you.
Get free weekly recipes directly in your inbox 💌
Low Carb Strawberry Cheesecake