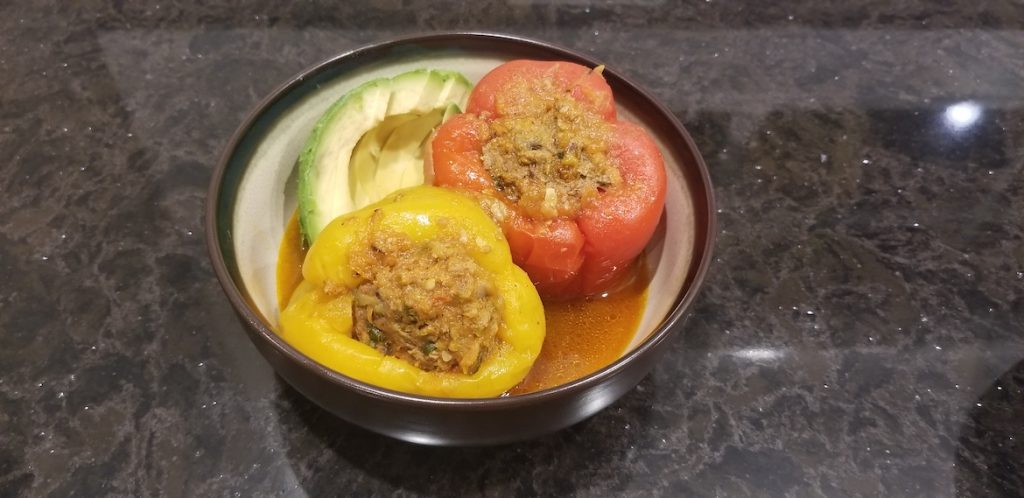 About this Zucchini Stuffed Peppers recipe
Stuffed veggies are a delicious and great way to pack your meal full of nutrition and flavor. Whether you like turkey, chicken, beef or pork, there is plenty of variation you can add to this dish to suit your flavor preferences. And bonus, they're great as leftovers so you'll want to make extra to eat the next day!
Here is Maya Levin's Zucchini Stuffed Peppers recipe.
1lb. / 450 g ground meat of choice

4 bell peppers

4 large carrots

1 large or 2-3 small zucchini

1 summer squash

5 large mushrooms

1 onion

2-3 sticks of celery

2-3 garlic cloves

1 large bunch of parsley

4 large tomatoes
Using a large grater, shred the carrots and one summer squash or zucchini.

Finely chop one large onion, the mushrooms, and the celery. Sauté with 2 tbsp. of avocado oil.

Cut the tops off of the peppers using a paring knife. If you have large zucchini, cut it into 3" (6-7 cm) tall pieces or just half if you got small ones.  Scoop out the inside with a melon baller leaving some of the flesh on the bottom.

Finely chop the parsley and add it to the meat. Cook the vegetables for about 15 minutes on low-medium heat. When done cooking, remove from the pot and let cool for a few minutes.  

Season the meat with your favourite spices (pink Himalayan salt, fresh ground pepper, garlic powder, sweet paprika, thyme, dill, or cilantro).

Once the veggies have cooled, add to the meat and mix well — using your hands is the best way to do this.

Take the meat and vegetable mixture and stuff the peppers and zucchini.
For the sauce:
Place stuffed vegetables in a pot and add enough liquid to cover (about 6 cups). You can add water, stock, or broth – whatever is available.

Add crushed garlic, salt, and pepper. If you want to add some spice, use chili pepper.

Bring the pot to a boil, lower it to medium-low, cover and cook for about 30-40 minutes.
Get free weekly recipes directly in your inbox 💌
Zucchini Stuffed Peppers Recipe