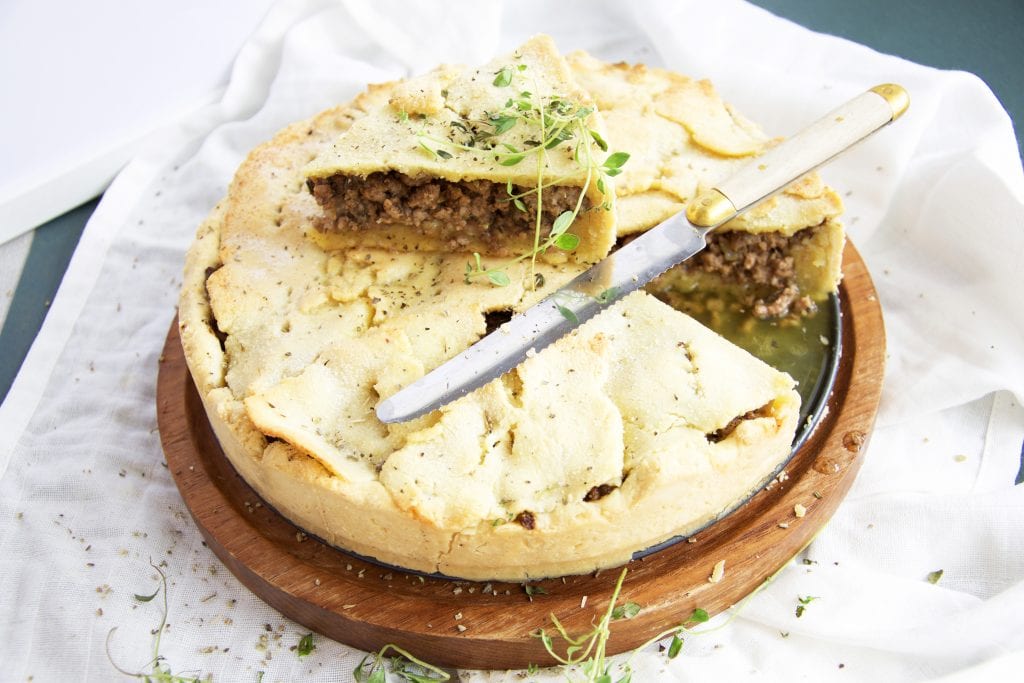 About this French Canadian Meat Pie recipe
When you think of pie, your thoughts probably wander to apple, berry, lemon meringue, pumpkin, and other sweet pies. But have you ever considered swapping out sweet for savory? Now's the time.
Whether you're looking for something to bring to your next family dinner or just a simple weekday meal, you've got to try Mirka's French Canadian Meat Pie. A delicious combination of beef and pork mixed with warm spices like cloves, sage, and thyme and the spicy flavors of onion and garlic. Crispy on top and juicy inside, your tastebuds are sure to go wild.
Pie Crust (for a 24cm pie pan)
4 eggs

2 egg yolks

0.8 cups tapioca starch (2dl)

2 cups almond flour (5dl)

1 tsp. salt

3 tbsp. coconut oil
Filling
400g. (slightly less than 1 lb.) ground pork

400g. (slightly less than 1 lb.) ground beef

1 large onion

1 clove garlic, minced

1/2 cup water

1 1/2 tsp. salt

2 tsp. black pepper

1 tsp. dried thyme

1 tsp. ground sage

1 tsp. ground cloves
1. Prepare the crust:
Preheat the oven to 200°C. Whisk the eggs and egg yolks together. To that, add all the ingredients and mix slowly until the dough comes together. It shouldn't be sticky, so add more tapioca starch if needed. Let the dough settle/rest while making the filling.
2. Prepare the filling:
Heat the pan over medium heat and cook the meat. Mix in the remaining ingredients and let cook until the meat is fully cooked. Add a bit of coconut oil to a springform or pie pan until all sides are coated.
Roll out the dough and shape it into the pan to cover all sides. (Works best with a springform pan) — save a small portion of dough to cover the top of the pie. Add meat to the pan to form an even layer. Roll the remaining dough into a thin layer and cover the top of the pie.
3. Place the pie in preheated oven for about 20 minutes until golden brown.
4. Let cool slightly before serving.
Next time you're meal planning for yourself or your family, remember this recipe. It's quick to make and tastes amazing — but don't expect leftovers!
Get free weekly recipes directly in your inbox 💌
French Canadian Meat Pie Recipe