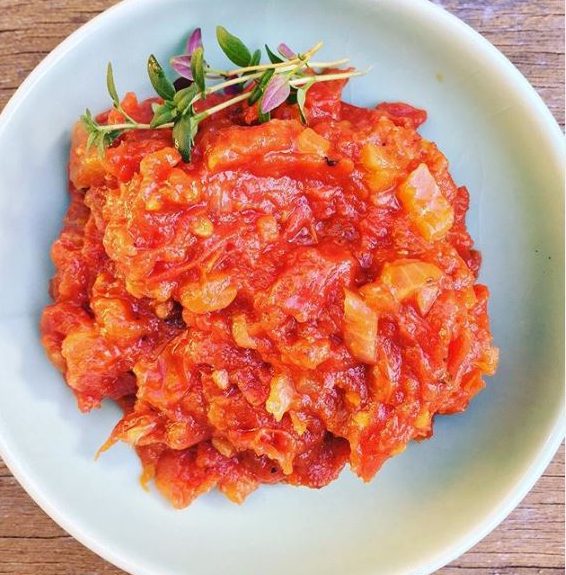 About this Tomato & Thyme Relish recipe
Whether you're looking for a topping for a burger, a dollop for some cheese, or mixed into scrambled eggs, this Tomato & Thyme Relish by Nicole Dorrington is inexpensive, super simple to make, and of course, delicious!
Blended to create a relish that captures the rich flavor of the summer harvest, these small-batch preserves are easy to make and sure to please!
1 kg (2.2 lbs.) garden or Roma tomatoes

1/2 onion, chopped

Few sprigs fresh thyme

1 1/2 tbsp. balsamic vinegar

Extra virgin olive oil

Salt & pepper, to taste
In a large frying pan over low heat, add olive oil and onion, slowly cooking down diced onion until translucent. 

Add diced tomato, fresh thyme and cook over low heat for 10 minutes. 

Mash up tomatoes and add balsamic vinegar and season to taste. Slowly cook down until nice and thick, approximately 15 minutes, stirring frequently to prevent sticking. 

Store in an airtight sterilized jar in the fridge for 1 week.
Get free weekly recipes directly in your inbox 💌
Tomato & Thyme Relish Recipe