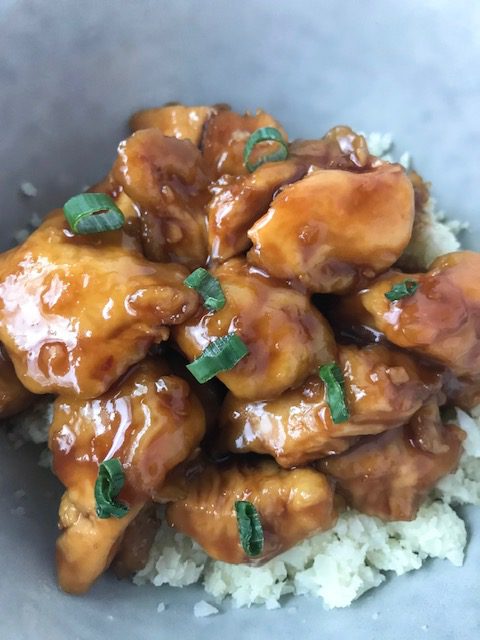 About this Spicy Orange Chicken and Cauliflower Rice recipe
Eating can be confusing, there's no doubt about that. For Nikki Francois, developing an eating disorder was a struggle but instigated a huge change in her relationship with food. And paleo? It helped solve many of the health issues she had been dealing with! 
If you're a fan of Asian-style food, you're going to love this recipe. It's sweet, spicy, and savory all in one dish. With no unhealthy oils, gluten, or refined sugar, it's nutrient-dense and sure to be a hit all around. It's one of Nikki's favorite recipes.
3 chicken breasts, cut into bite sized pieces

1/2 cup arrowroot flour

1 egg, beaten

4 tbsp. olive oil, divided

4 garlic cloves, minced

Green onion, to garnish

1 head cauliflower, riced and squeezed
For the sauce:
1/3 cup coconut aminos (soy-free sauce)

1/4 cup honey

1 orange, freshly juiced

1 tbsp. rice vinegar

1 tsp. sesame oil

1 tsp. ground ginger

1-2 tsp. red pepper flakes

Slurry (optional): 1/2 tsp. arrowroot powder dissolved in 1 tbsp. water
Combine all sauce ingredients together, except for the slurry. Set the slurry aside.

Toss chicken in egg and coat with arrowroot flour.

In a pan over medium heat, add 2 tbsp oil and add in the chicken. Cook chicken on both sides until cooked through. Remove chicken and set aside.

As the chicken is cooking, heat a large pan over medium heat and add 1 tbsp oil. Add in cauliflower and cover, stirring occasionally. It should only take 4-6 minutes to cook. Remove from heat and set aside covered.

Add 1 tbsp oil to the pan, add garlic and cook for 1 minute. Add sauce and stir. Bring to a boil and add chicken. Lower heat and continue to simmer for 5-7 minutes. 

If the sauce consistency is to your liking remove from heat and serve. Otherwise, add slurry and cook for 1-2 more minutes until the sauce thickens. The sauce will thicken as it cools. 

Sprinkle with green onion and serve with cauliflower rice.
Get free weekly recipes directly in your inbox 💌
Spicy Orange Chicken and Cauliflower Rice Recipe