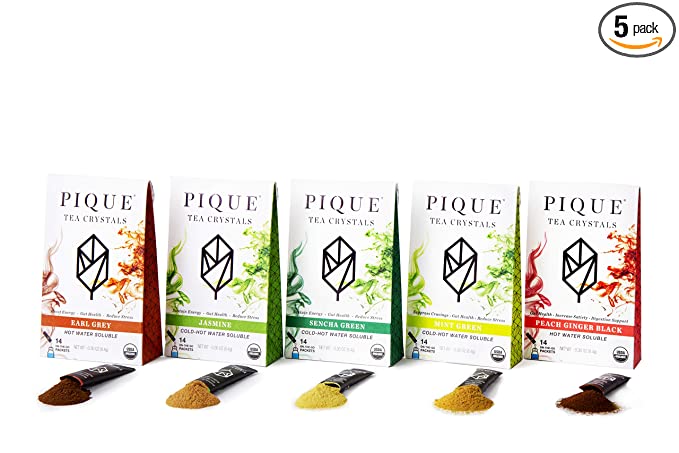 One of the most significant grey areas in adopting a healthy diet is determining your beverage of choice. While many drinks are not especially bad for your health, why not choose the best of all? Why not choose a comforting warm beverage that boosts your health rather than just being okay? We are talking about teas. In this Pique Tea Review, we look into its taste and flavors, health benefits, convenience, and overall experience with the brand.
So, what does Pique Tea have to offer?
Why Pique Tea, you ask? Well, there are many reasons that this brand has won our hearts and made a permanent home in our kitchen cabinets.
Most people drink tea for the calming feeling it gives them. It grounds the self, boosts your immune system, and promotes healthy digestion. By not extracting the tea correctly, your tea may lose all these health benefits.
With Pique Tea, you get the most out of your cuppa'. Starting from picking the highest quality ingredients, Pique Tea brews its teas using patented Cold crystallization Technology to extract all the good out of the leaves. They then make sure that the tea that will eventually reach you is most concentrated in phytonutrients and contains goodness in every single drop.
And just before that tea makes its way to the shelves to be sold, it goes through a special triple toxin screening. This process ensures that it does not have any pesticides, heavy metals, or toxic mold residue.
With this elaborate extraction and brewing process, you can be confident that your body will be thanking you for every delicious sip.
The best-selling Pique Tea bundles
What we love most about Pique Tea is that they have got something for everybody. No matter your concerns and diet goals, Pique Tea has a delicious brew to suit them. In the following paragraphs, we will share with you some of our favorite value tea bundles you can get from this beautiful brand.
The number one favorite deal by Pique Tea has to be their Ode to Tea Gift Box for us. This elegant package is an entire tea experience on its own. Right from the moment you lift the lid of the box, you are taken into a beautiful world of delicious brews as Beethoven's Ode to Joy plays in the background.
What it includes:
The music box cum tea caddy contains six sachets, each of 8 delicious tea blends by Pique Tea. These include Jasmine Green Tea, Earl Grey Tea, Sacred Lily Oolong, Puer Black Tea, Electric Turmeric Tea, Rooibos Vitality Elixir, Reishi Calm Elixir, and Cinnamon Herbal Fasting Tea.
In addition to these delicious samples, the gift box also includes an Ode to Tea companion book, a glass beaker to drink your tea in, and a Pique protocol and quick start guide on their teas.
Pros:
The perfect gift for every tea lover, just in time for the holiday season
Elegant music box doubles as a tea caddy that you can enjoy for years
Triple toxin screened
No sugar, artificial sweeteners, or preservatives
Cons:
Though the whole experience is definitely worth the money, it may be slightly overpriced if you are only interested in the tea.
Has your body been asking for a break from your unhealthy habits? Want a quick transformation that helps you get started on a good diet? Need someone to coach your way through whole-body cleanses and into a healthy lifestyle? Then this 7-Day Fasting Program is what you require!
Designed by certified fasting expert Jessica Ederer and in collaboration with the world's leading expert on intermittent fasting, Dr. Jason Fung, this is going to be a journey unlike any other.
What it includes:
This tea bundle is also a seven-day fasting program to get you the healthiest body of your dreams. In this little box, you will find everything you need to get started on intermittent fasting.
This package includes a 90+ page ebook on intermittent fasting, eight video recordings with Dr. Fung, and six cartons of fasting support tea crystals. What this means is 126 sachets of tea altogether! 
The featured blends are Ginger Green Fasting Tea (28 sachets), Matcha Green Fasting Tea (28 sachets), Cinnamon Herbal Fasting Tea (28 sachets), Earl Grey (14 sachets), Mint Green (14 sachets), and Ginger Digesting Elixir (14 sachets).
Complementing all this with seven delicious recipes, worksheets to track your progress, and much more!
Pros:
It helps you to follow the intermittent fasting diet responsibly.
Maximizes the health benefits of intermittent fasting
Free of all pesticides, heavy metals, and toxic molds
Increases satiety, aids digestion, and boosts the immune system
Cons:
The teas may have trouble dissolving entirely in cold water.
Did you think that tea was just something to drink and refresh yourself? Not anymore! With the number of benefits that different tea blends contain, they have made their way into our skincare cabinet as well.
This unique tea bundle is the perfect refreshing pick-me-up for your skin and body. The power of Pu'er Green Tea instantly rejuvenates and invigorates tired and dull-looking skin. The superb tea blend helps maintain your body's natural microbiome and protects against damage by the sun.
What it includes:
The Pu'er Green Tea bundle includes two cartons of wild-harvested tea leaves that are extremely rich in polyphenols. Each carton contains 28 separate sachets of pu'er green tea. If you order the value bundle right now, you also get a free spritzer bottle in the package to make the application easier.
Pros:
No added preservatives, sugar, or artificial sweeteners
Free of all toxins that can be detrimental to the health
Includes a free spritzer bottle for easy application
The Pu'er Green Tea has the highest levels of polyphenols (catechins) of all teas.
Combats inflammation and controls autoimmune reactions
Cons:
It may not suit individual skin types or skin issues.
Still not sure which bundle you should choose? Head over to the Pique Tea website right now and get your hands on the most detailed tea guide for maximum tea benefits!
Final thoughts
Whatever it is that has you on a hunt for a solution; Pique Tea has something or the other to speed up the process. From building immunity in these dangerous times to regulating gut health, there is something for everyone at Pique Tea. And the best part? You can go for one of the many bundles that the brand offers to get yourself a hefty discount!
Get free weekly recipes directly in your inbox 💌
Pique Tea Review: Creating Healthy Tea Habits