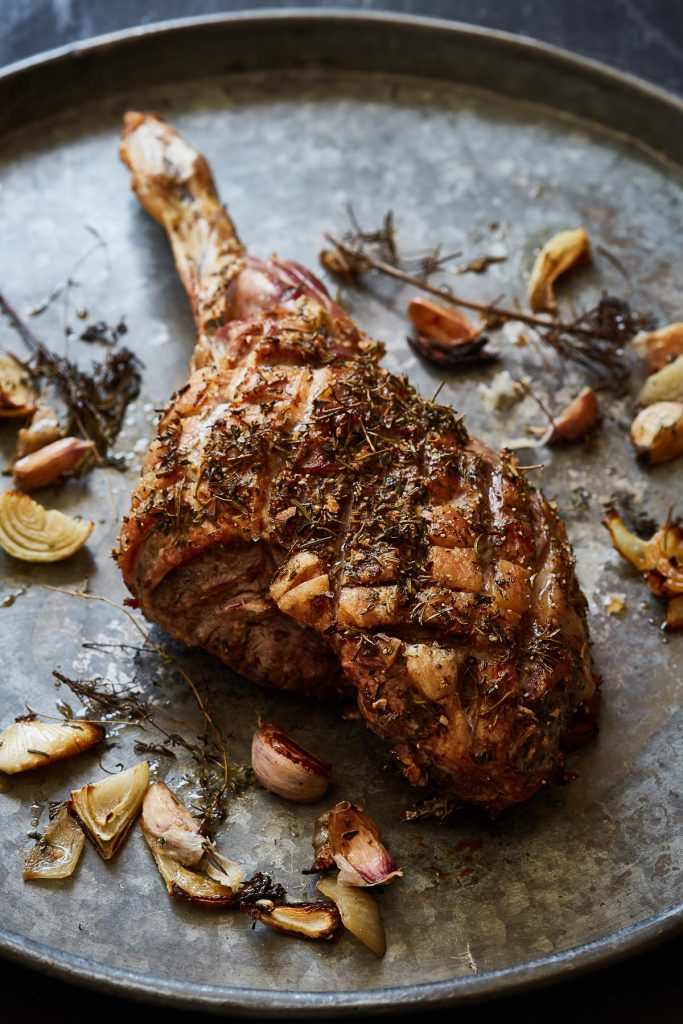 About this Leg of Lamb recipe
You can never go wrong with cooking up a leg of lamb. Not only does it make a great dinner, but it makes for some fantastic leftovers! With this recipe by Simone, fresh herbs and garlic add a lovely flavor that is sure to be a hit.
1 leg of lamb (about 2kg with bone)

1 bunch rosemary, fresh

1 bunch thyme, fresh

1 head garlic

2 onion, roughly chopped

Olive oil

Salt and pepper, to taste
First, cut the lamb on the fatty side. Make incisions around a centimetre deep in a diamond shape.

Then, remove the needles from a few rosemary sprigs and thyme and cut them finely. Chop a few of the garlic cloves as well.

Rub the lamb well with olive oil and the herb mixture ensuring to press inside the cuts. Sprinkle liberally with salt and pepper.

Next, preheat the oven to 230˚C / 445 F.

Take the rest of the garlic apart into separate cloves and smash them on the side with a large knife. Spread the onion, half of the garlic, thyme and rosemary across the bottom of a baking tray.

Then, place the leg of lamb on top and sprinkle with the rest of the garlic and herbs.

Place in the oven and lower the temperature immediately to 150˚C / 300 F.

Use a meat thermometer to be sure that your meat has reached the desired temperature. Medium pink is around 60˚C / 140 F. You can keep it in the oven longer but never go further than 70˚C / 158 F. Remember that it will continue cooking once out of the oven too!

Roast the lamb for about four hours in the oven and check regularly to make sure the top doesn't get too brown. Baste it from time to time with the cooking liquids in the oven tray. If it gets too dark but is not cooked properly, cover the baking tray with aluminium foil and place it back in the oven

Take it out of the oven once it reaches the right temperature and wrap it in aluminium foil.

Place a towel over that to keep it warm and leave it to rest at least for half an hour in a warm spot.

Finally, cut at the table with a large and sharp knife and serve with roasted vegetables and baked potatoes.
Get free weekly recipes directly in your inbox 💌