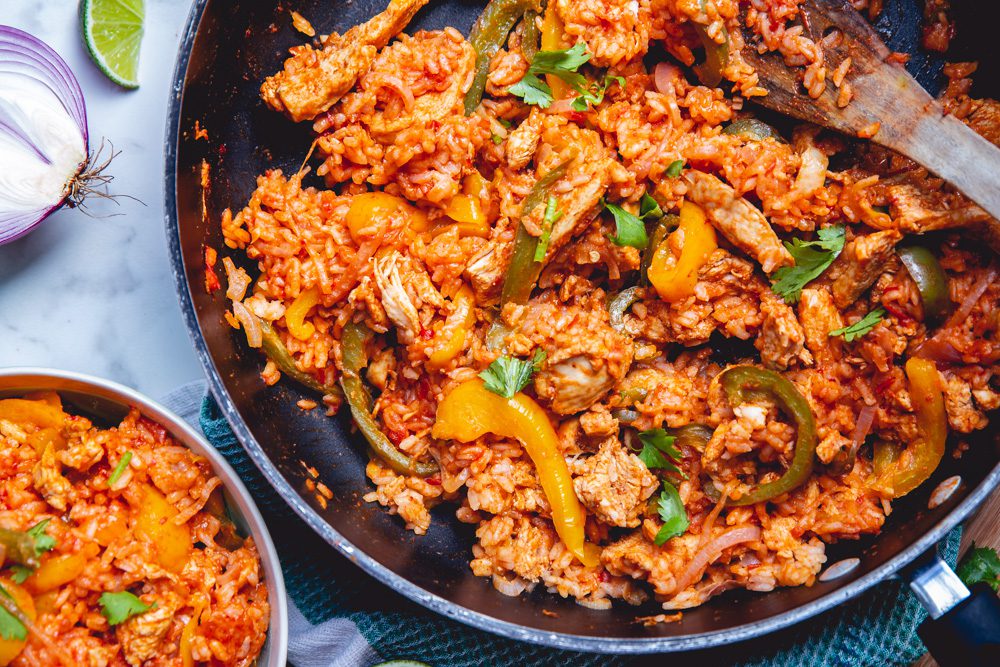 About the one-pot chicken fajita recipe
If you're a fan of Mexican flavors — think cumin, garlic, paprika, and chili — you'll love this dish by Sophia Cong. This one-pot chicken fajita recipe takes all the traditional flavors of chicken fajitas and puts them into a simple and healthy dinner that's gluten-free, dairy-free, and super delicious.
500 grams / 1 1/4 lb chicken breast
1 yellow bell pepper
1 green bell pepper
1 clove garlic
1/2 red onion
2 tbsp. olive oil
1 1/2 tsp. cumin
1 1/2 tsp. smoked paprika
1 1/2 tsp. chili powder
1/2 tsp. Himalayan salt
1/2 lime
1 cup broth
1 cup tomato sauce
1 cup sushi rice
Cut the yellow, green bell peppers, and red onion into slices and dice the garlic.
Cut the chicken breasts into strips and set aside.
Mix the chicken breast, yellow and green bell pepper, red onion, garlic, cumin, chili powder, smoked paprika, salt, the juice of 1/2 of a lime, and 1 tbsp of olive oil in a large mixing bowl until everything is well incorporated.
Preheat 2 tbsp of oil to high heat in a large frying pan/pot. 
Stir fry the chicken along with the vegetables for about 4 minutes or until the chicken breasts are mostly cooked on the outside.
Add in the sushi rice, broth, and tomato sauce. Stir until everything is well incorporated and bring it to a boil and then cover the pan with a lid and simmer for 35 minutes.
Stir the rice around every 10 minutes, so nothing sticks to the bottom.
Serve the chicken fajita dinner just as it is or with your favorite garnish (cilantro and lime wedges). 
Get free weekly recipes directly in your inbox 💌
One-Pot Chicken Fajita Recipe