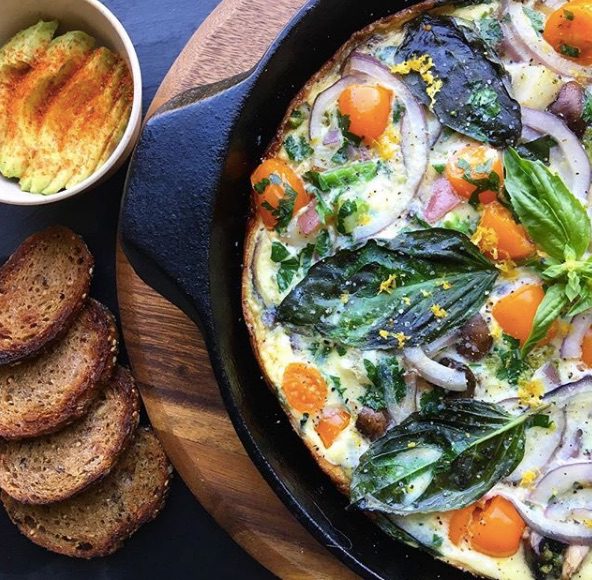 About this Veggie, Garlic & Herb Frittata recipe
We all know the standard breakfast of bacon and eggs, but frankly, sometimes that can get a little boring. So why not change up the game a little and give this Veggie, Garlic & Herb Frittata by Staci a try? Full of fresh, colorful vegetables and herbs, it might just be your new go-to for a quick weeknight meal or even a breakfast on the go.
4 eggs

2 tbsp. coconut milk

3 tbsp. coconut oil

1 medium sweet potato, cut into 1/2" cubes

6 baby bella mushrooms, cut in half

1/2 cup cherry tomatoes, cut in half

1/8 red onion, thinly sliced

2 cloves garlic, finely chopped

5 large fresh basil leaves

1/2 avocado, sliced

Salt & pepper, to taste

Hot sauce salsa (optional)
Heat a large cast iron pan on medium-low and melt 2 Tbsps of coconut oil. Add ¼ tsp of salt and stir. Add the sweet potato, stir and cook (covered) for 5 minutes on low heat. Stir occasionally so that the potato doesn't burn.

Add mushrooms (flat side down), onion, tomato, and a pinch more salt. Cook uncovered for 5 minutes. Add garlic to the and stir. Cook for 1 minute.

Meanwhile, whip the eggs with coconut milk for about 30 seconds, until they are well incorporated.

Add the remaining coconut oil to the pan and shake it a bit so that the bottom of the pan is coated with the oil. Pour the eggs over the veggie mix and let all cook for 1 minute. Stir the mixture gently so that the runny parts get a chance to hit the pan. All should be evenly distributed and the frittata mixture should fill the entire pan.

Add basil leaves over the frittata, cover, and cook for 7-10 minutes on low, until the eggs have fluffed up and the runny parts have been cooked through.

Remove the frittata from the heat and let sit for 2 minutes before serving.
Get free weekly recipes directly in your inbox 💌
Veggie, Garlic & Herb Frittata