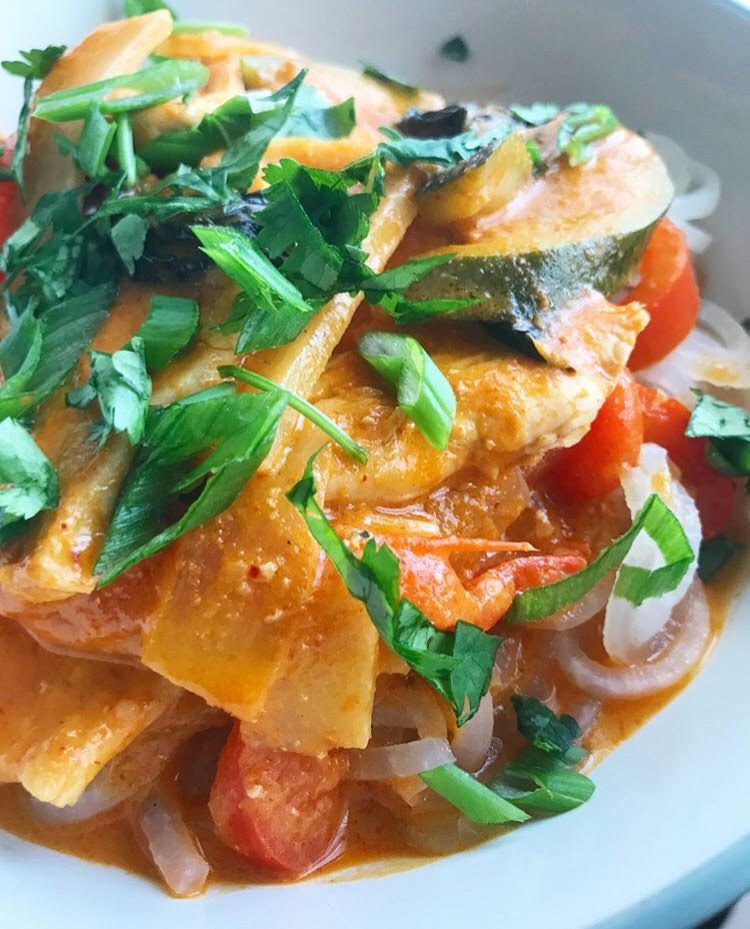 About this Thai Red Curry Noodles recipe
If you've ever had a good curry, you know they're addicting. But sometimes they can be filled with unhealthy ingredients that make it not so good for you. These Thai Red Curry Noodles by Alexis Jacinto Rivera not only tastes amazing, but it's also filled with healthy ingredients that won't leave you feeling like you've fallen off the paleo bus. Quick, delicious, and super easy — it might just be your new go-to meal!
Daikon radish

1-2 lbs. / 450-900 g chicken, thinly sliced

1 can coconut milk, full fat

1 small jar of Thai Kitchen red curry paste

1 bell pepper, chopped

1 zucchini, chopped

1 small can bamboo shoots, drained and rinsed

Handful of Thai basil (or sub regular basil)

Optional: salt, fish sauce

Garnish: scallions, cilantro
Prepare Daikon Noodles: Spiralize 1 large daikon radish and rinse the noodles. Then, heat 1 tbsp. of oil in a pan and saute noodles on medium-high heat with ¼ cup of curry sauce until al dente.
Then, heat up a small saucepan on low-medium heat.
Add the remaining ingredients into pan and place on simmer.
Allow to cook until everything is cooked through.
Finally, serve over daikon noodles and top with cilantro and scallion if desired.
Get free weekly recipes directly in your inbox 💌