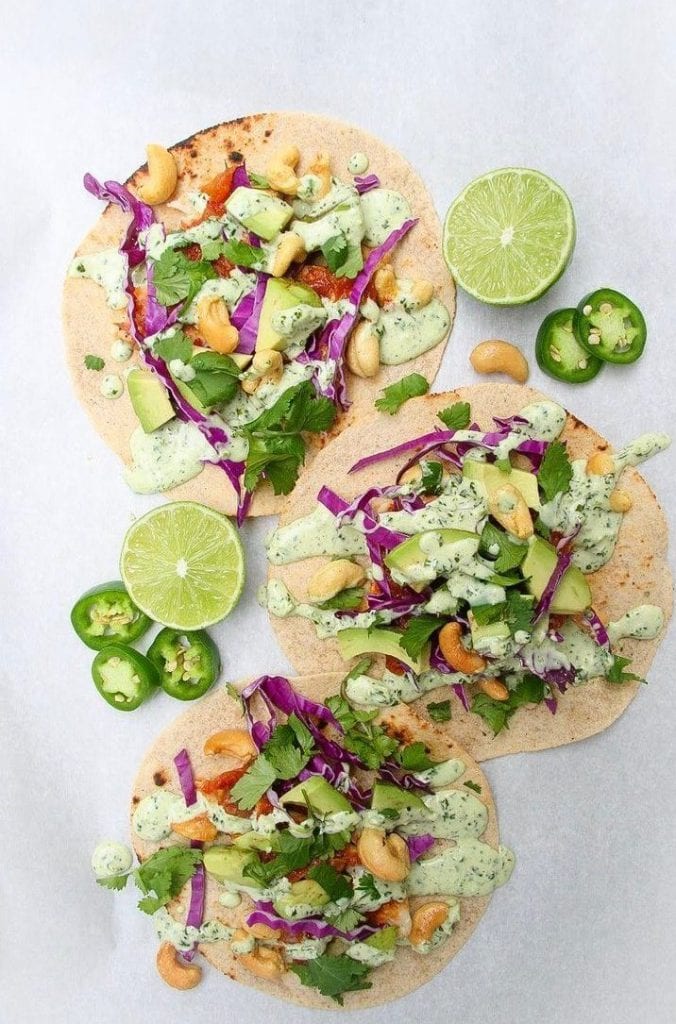 About this Veracruz Fish Tacos recipe
Fish tacos are a staple in Mexican cuisine and for good reason — they're delicious. As good as they are, oftentimes the fish is battered in a not-so-healthy batter and then fried in vegetable oil.
But what if they didn't have to be? These Veracruz fish tacos by Tory Griswold are a healthy and paleo take on your favourite recipe. Made with baked cod and topped with cumin roasted cashews, a cabbage jalapeño, and avocado slaw and then drizzled with a cilantro jalapeño aioli, you'll never go back to the traditional version.
1 1/2 lbs Alaskan Cod

Salt, pepper, cumin, to taste

1 jar morita chile pepper, green olive, and tomato sauce (Veracruz sauce)

1/2 red cabbage, shredded

1 jalapeño, diced

1/2 bunch cilantro, roughly chopped

2 avocados, sliced and cubed

1 package complaint tortillas
For the roasted cumin cashews:
3/4 cup cashews

1 tsp cumin

1 1/2 tablespoons ghee, melted

1 pinch of sea salt
For the cilantro jalapeño aioli:
1 egg, room temperature

1 cup avocado oil or extra virgin olive oil (EVOO)

1 bunch cilantro, roughly chopped

1 jalapeño, seeds removed, diced

3 garlic cloves, minced

Juice of 1 lime

1 tsp salt

1/4-1/2 tsp cumin
Cashews:
Preheat the oven to 350 degrees F / 175 C. Line a baking sheet with parchment paper. In a small bowl, toss cashews in the the ghee, cumin, and salt. Spread in an even layer on the baking sheet. Bake for 5 minutes on the middle rack. Remove from oven, stir the nuts. Place in the oven for another 3 minutes. If they need more time give them another stir, place back in the oven in 3 minute increments. Remove from heat, set aside. Preheat the oven to 375 degrees F / 190 C.
Aioli:
In a food processor, add the egg and 1/4 cup of the oil. Pulse on low until well combined. Leave the food processor on low, while you slowly (VERY SLOWLY) pour the remaining 3/4 cup oil. (If you pour too quickly the oil will not emulsify and you will have liquid mayo). Now, add the cilantro, jalapeño, garlic, lime, salt, and cumin. Pulse until smooth and well combined. Transfer to a jar. Set aside.
Fish:
Grease a large baking dish, or two, with avocado oil (Be sure to spread out the cod so that can crisp rather than steam). Season the cod with salt, pepper, and cumin to taste. Evenly pour the entire jar of Veracruz sauce over the fish. Place in the oven and bake for 8-12 minutes, or until the fish flakes easily with a fork. (Cooking time will vary depending on thickness of the fillet.)
To assemble:
Heat tortillas as desired, top off with the cod, cabbage, jalapeño, cilantro, avocados, cashews, and the cilantro jalapeño aioli. Serve with lime wedges. Enjoy!
Get free weekly recipes directly in your inbox 💌
Veracruz Fish Tacos Recipe