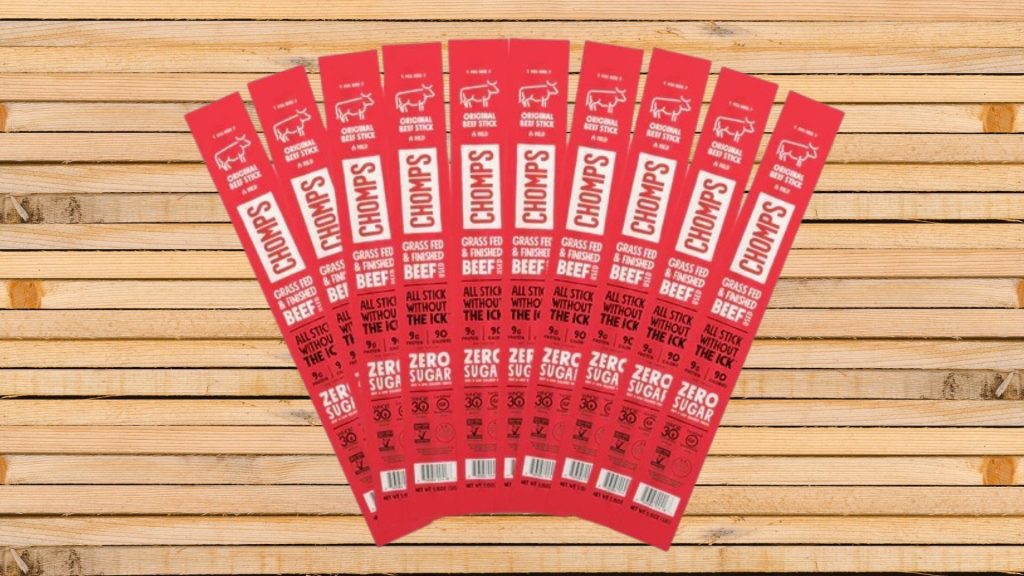 With countless snack options, there's one powerhouse that's been making waves with its bold flavors and nutritional benefits—Chomps Beef Sticks. If you're looking for the ultimate protein-packed snack that tastes good, there's no longer a need to search. Chomps have set a new standard in snacking, and we're about to take you on a delicious journey into the heart of this delightful treat. So, let's uncover the secrets of this energy-boosting snack that's redefining the way we refuel our bodies.
What are Chomps?
Chomps is a US brand that delivers high-protein and healthy meat sticks. It provides much more options for healthy snacking. According to Chomps, people have a desire to make healthy choices, but they aren't sure what's good or bad for them. So, they deliver simple snacks made with high protein and zero sugar.
What are Chomps Beef Sticks?
Nowadays, finding good, healthy, and quality-based snacks is difficult. But the search is over with Chomps Beef Sticks, as they will provide you with healthy meat snacks made with high-quality sourced protein with no artificial ingredients. Plus, these delectable meat snacks are made from pure grass-fed beef and natural ingredients. 
Lastly, Chomps meat sticks are also free from GMOs, gluten, dairy, artificial preservatives, and artificial sweeteners. It's the best choice for those who are seeking a tasty yet healthy protein snack.

What Makes Chomps Beef Sticks Stand Out?
Chomps Beef Sticks are a wholesome snacking choice, crafted from 100% grass-fed beef, ensuring they are rich in protein. That's why they are ideal for inclusion in lunch boxes for both kids and working professionals. Moreover, these beef sticks are nutritious and free from artificial flavors, refined sugars, and dairy. 
These beef sticks have different flavors to choose from and serve as a versatile addition to your diet. They are also used in the Paleo and Athlete's diets because they provide a rich source of essential proteins and nutrients. Additionally, these are a suitable option for those following a keto diet.
An Array of Irresistible Flavors of Chomps 
There are a wide variety of flavors available in Chomps beef sticks. Every Chomps Beef and Turkey Stick contains zero sugar and is whole30-approved, certified gluten-free, and certified Paleo. They taste amazing! No matter which type you choose, you can expect a natural taste and texture, unlike many of the conventional beef stick options out there. They even have different spice levels, so you can choose the snack suitable for your personal taste.
The

Chomps Original Beef Sticks

are slightly smoky with a mild black pepper and taste. 

Chomps Jalapeno Beef Sticks have an original Jalapeno flavor with good spices.

Chomps Habanero Beef Sticks have a spicy taste with red pepper and coriander flavor.

Chomps Sea Salt Beef Sticks have a slightly salted flavor with a garlic touch.

Chomps Taco Beef Sticks have a mild chili and paprika flavor.

Chomps Italian Beef Sticks have a mild flavor of spices.
Chomps' High-Quality Ingredients
Chomps Meat Sticks are known for their commitment to quality. They source their beef from animals raised on 100% non-GMO grass. This leads to a superior product that supports sustainable farming practices. They are a great alternative to the sugary snacks we so often reach for when we are in a slump. It's also low in calories and carbs!
Chomps Meat Sticks are made with natural, quality-based ingredients such as Sea Salt, Celery powder, red pepper, Black pepper, and other healthy nutrients. Garlic and Coriander powders are also present in these sticks to enhance their flavor.
Exploring the Health Benefits of Chomps Meat Sticks
Chomps Meat Sticks offer numerous health benefits. They are an ideal snack for those watching their macronutrient intake. Chomps are free from artificial preservatives, making them a wholesome choice for health-conscious individuals. Chomps also contain essential minerals like potassium, iron, and calcium. 
Who Loves Chomps Meat Sticks?
Chomps Meat Sticks have garnered a loyal following among health enthusiasts, athletes, and busy individuals. Testimonials and reviews highlight their excellent taste and quality. These beef sticks have no added sugar and no added preservatives. 
Chomps can't take risks to your health, so that's why it provides protein-based and quality-based products delivered to you. Jerky sticks have less salt. Jerky is a natural and rich protein snack. If you are looking for delicious and healthy snacks, this is the best option for you. Chomps are packed with both protein and flavor.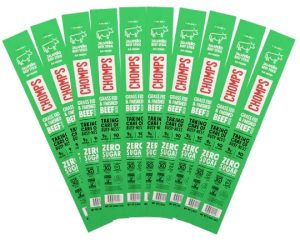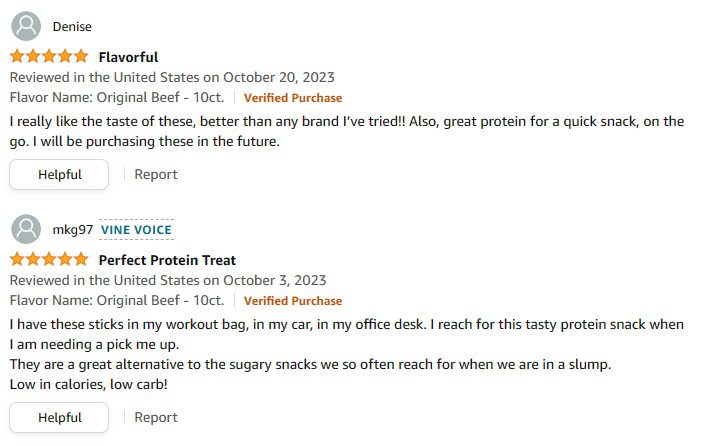 Chomps Meat Sticks as a Versatile Snack
Chomps Meat Sticks cater to a diverse range of needs and lifestyles. For athletes and fitness enthusiasts, they serve as an invaluable source of clean protein, supporting post-workout muscle recovery. For those following a keto or paleo diet, these beef sticks seamlessly align with their low-carb content and high-quality ingredients. Beyond nutrition, Chomps is committed to environmental sustainability, employing eco-friendly packaging and striving to reduce their carbon footprint. Additionally, the convenience of Chomps Meat Sticks makes them the ultimate on-the-go snack for travel, hiking, or quick energy boosts during a hectic day.
Pros and Cons of Chomps Meat Sticks
Chomps are a go-to snack for those on specific diets, and even those who simply appreciate a wholesome snack. Here are some of its pros and cons.
Pros
Affordable

Healthy for all ages

Keto and Paleo-friendly

High-protein snack

A variety of flavors are available
Cons
Sometimes, the stock may be in a shortage due to its quick-selling

 Single sticks may be pricey
Give Chomps a try and experience the difference for yourself.
Final thoughts
When it comes to snacking, Chomps Meat Sticks stand out as a delicious, nutritious, and eco-friendly option. With a variety of flavors and a commitment to quality, they're perfect for all ages and certain diets like Paleo and Keto. Whether you need a quick protein boost, a lunchbox treat, or a versatile ingredient in your recipes, Chomps have got you covered. Try Chomps Beef Sticks for yourself and experience the exceptional taste and quality that have made them a favorite among snack enthusiasts!
Affiliate Disclaimer:
Please note that this page contains affiliate link/s, and if you make a purchase through those links, we may earn a small commission at no additional cost to you.
Get free weekly recipes directly in your inbox 💌
Chomps Beef Sticks: The Ultimate Protein Power Snack