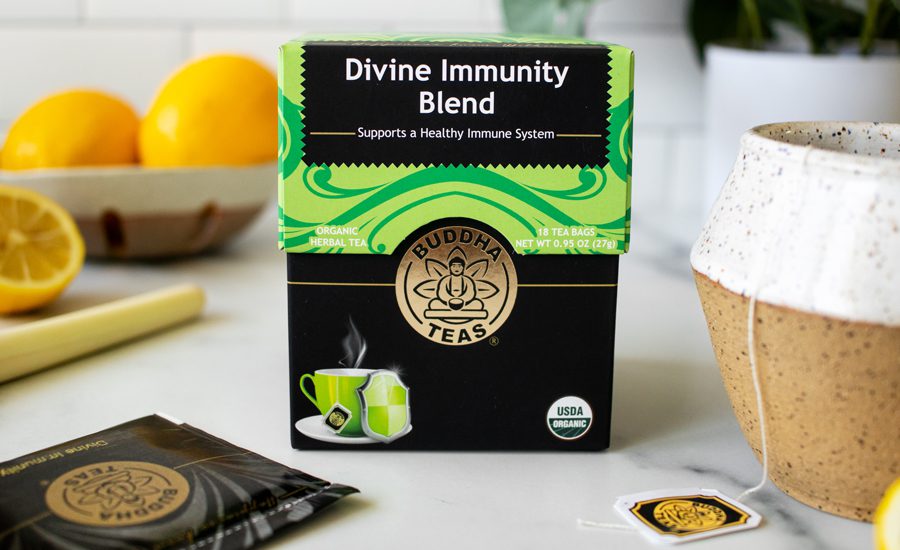 In this Buddha Teas review, we will look into a tea brand that will make its way into your heart and home from the first cup!
After water, tea is probably the most consumed beverage in the world. Whether you need to shake yourself awake in the morning, regulate your digestion in the afternoons, or get ready for a restful sleep at night – there is tea for every occasion. 
But how often do you stop and think about how healthy the delicious brew you are about to drink is?
At Paleo Menu, we only care about your health! From the tastiest yet healthy recipes to the best workouts for your dream body, we have got your back. So, how could it be that we didn't feature a detailed tea guide on our blog?!
It is no secret that Buddha Teas is one of our favorite tea brands out there. But with so many new ones flooding the market these days, why does only Buddha Tea have our hearts? What is it that makes Buddha Teas stand out amongst all the rich competition it has?
Boosting immunity, promoting gut health, and calming down an overworked mind are things that every other tea claims to do. And in these categories, Buddha Teas perform amazingly well. But what caught our attention about the brand is how pure and natural it is.
You will get a blend made with two main ingredients when you order turmeric ginger tea from Buddha Teas. Ginger and turmeric. No additional flavors, sweeteners, preservatives, or pesticide residue. In this way, Buddha Tea is the most natural and organic brew you can get.
Besides being made with the cleanest ingredients and being completely GMO-free, Buddha Teas are also 100% Kosher. Using unbleached tea bags and recyclable packaging, they strive to be healthy for both the self and the planet.
Our Favorite Buddha Tea Flavors
Buddha Teas has an extensive range of tea blends to suit the needs of every tea drinker. Be it herbal, green, or black – they have got it all. They manage to get a delicious brew out of various leaves, flowers, berries, and roots with their ingenious extractions. Let's talk about some of our favorite ones in the paragraphs below.
None of these tea blends contain artificial flavors, colors, or preservatives.
The Ashwagandha Tea Bags are one of the most popular tea blends by Buddha Tea. A frequent ingredient in ayurvedic medicine, organic Ashwagandha has several astounding health benefits.
What it includes:
One box of Organic Ashwagandha Tea contains 18 bleach-free tea bags of Ashwagandha or Indian Ginseng. The shrub's root is ground to a fine powder to extract the maximum nutrients possible.
The rich-tasting tea is an adaptogen and equips you to face daily challenges. It provides you with lasting energy to combat what the world throws at you. When you drink it at night, it allows you a restful sleep by soothing your nerves.
You get three buying options for this healing tea to get the most out of your money. A single box is available for $8.99, a bundle of 3 boxes is available for $22.77, and buying six boxes will cost you $43.14. If you make the purchase today, you can also avail of an additional 5% discount on it. 
Pros:
Calms you down
Anti-stress agents lower anxiety levels
Hundreds of proven benefits as an ingredient in ayurvedic medicine
Antioxidants are great for your hair and skin
Cons:
Because the shrub is pure, the flavor might be too robust for some people.
Chamomile flowers, heralded as one of the best natural relaxants, are used in numerous herbal remedies to calm down an overactive nervous system and produce soothing sensations. It is also a great way to deal with PMS and soothe menstrual cramps.
What it includes:
You will get 18 kosher, unbleached tea bags by making this purchase. Made with the cleanest ingredients, you can be sure that these tea bags contain real, organic chamomile flowers in their purest form.
Chamomile is a favorite of a great majority of tea drinkers worldwide. The reason for its vast fan base is the many benefits it contains, combined with great taste. This excellent flower is nature's first agent against conditions like an upset stomach, period blues, and inflammatory disorders.
One box of Chamomile Flower Tea is available at Buddha Teas for $7.99. However, if you want a good deal, we suggest buying three packs for $22.77 or 6 boxes for $43.14. Better yet, throw in another box and avail yourself of free shipping when your purchase exceeds $50. An additional 5% discount is also applicable to using the discount code "TODAY."
Pros:
Great for gut health
Rich in flavonoids
From the wafting smell to the last sip, chamomile tea will relax you to your core
The Buddha tea bags are super easy to brew
Tastes great on its own, so there is no need for artificial or natural sweeteners
Cons:
Slightly expensive when compared to other herbal teas.
The Digestive Nirvana Tea Bags are our favorite solution to all gut ailments. A cup of this fantastic brew every morning will keep your gut happy and healthy at all times. Drinking this magic potion is extremely easy to brew and delicious to taste will quickly become your treasured healthy habit.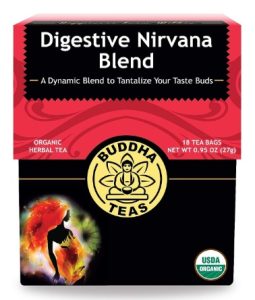 What it includes:
Carefully crafted, Digestive Nirvana uses several organic herbs and spices to calm an upset tummy. Each of the ingredients used in this tea blend has a unique function in improving gut health. In addition to their effects, they significantly increase each other's benefits when combined.
This well-thought-out tea blend features anise seed, ginger root, papaya leaf, licorice root, and fennel seed. All in all, these powerful herbs relieve flatulence, clear the digestive tract of intestinal parasites, and ease muscle cramps. In addition to the above, these ingredients also have antifungal, antimicrobial, and antibacterial effects.
Buddha Teas has mixed these powerful ingredients in the perfect ratio in this tea blend. Each cup of this tasty and aromatic tea holds in itself the secret to living a healthy, stomach-cramp-free life.
Pros:
Antibacterial, antifungal, and antimicrobial agents keep diseases at bay.
Rich in phytochemicals and flavonoids
Relieves sore throat
Beneficial in respiratory and digestive ailments
Needs no artificial or natural sweeteners
Cons:
Works more as a preventative measure than a treatment
This tea blend is not the answer to any serious health problems.
Final thoughts
Buddha Tea aspires to provide you with a nourishing experience with every cup of tea. Uniquely crafted, their delightful tea blends improve your health, increase your stamina, and put you in a better mood. With its vast range of herbal, green, white, and black teas, this brand is everybody's cup of tea.
Get free weekly recipes directly in your inbox 💌
Buddha Teas Review: The Most Natural Beverages