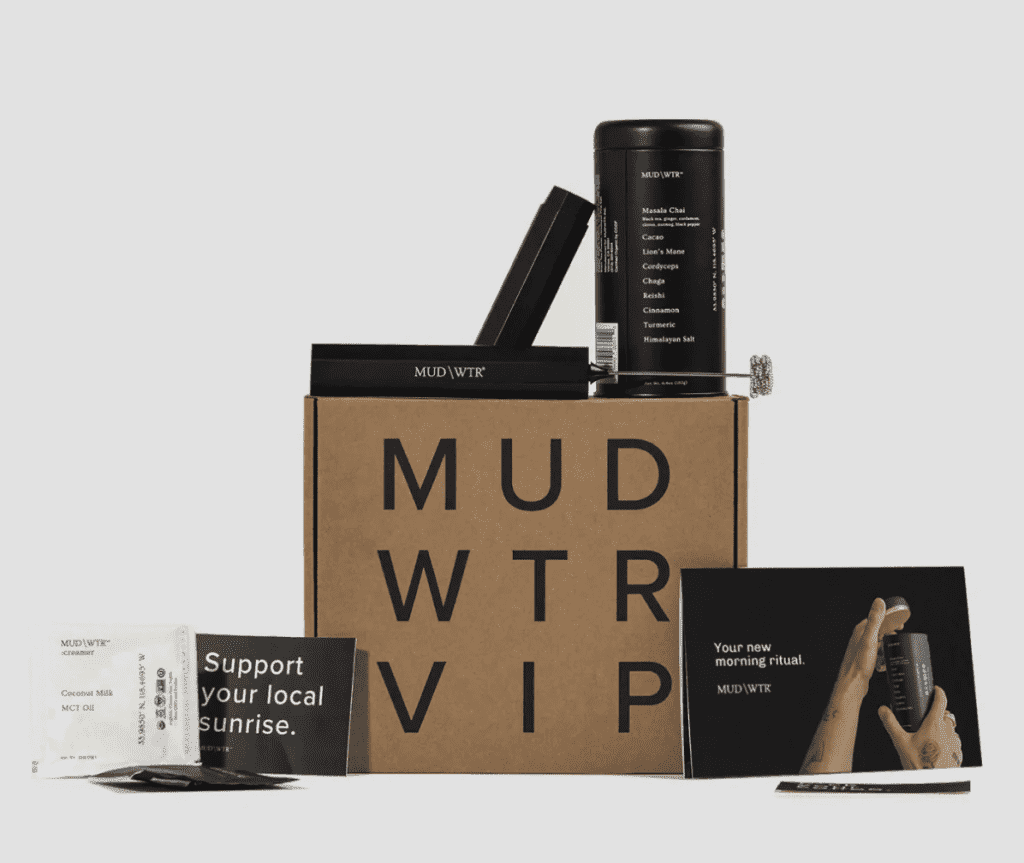 Today, we are going to review one healthy coffee substitute. Here comes Mud Wtr, ready to replace your morning espresso with something much better for the body! 
Adopting a healthier lifestyle is all the rage these days. Everywhere you look, you will find people talking about how they have cut out sugar from their diet, started to work out on the regular, or will only eat keto now. These days, people have begun to understand the importance of treating their bodies like a temple.
But let's be honest. Changing your entire lifestyle after years of indulging in unhealthy activities is never easy. What are the millions of sacrifices you have to make every day to stay true to your goal of a healthy body? Paleo Menu is here for that.
We understand how tough it is to stick to your everyday exercise, resist a cheat day, or give up on your morning coffee. That is why we are always finding better alternatives for your unhealthy habits. One will lessen the blow of going healthy cold turkey and make it much easier to resist giving in to sweet temptation when it strikes.
With Mud Wtr, this change doesn't have to be difficult!
What Does Mud Wtr Have To Offer?
"Mud Wtr? Who wants to be drinking mud the first thing in the morning, or like, ever?! Thank you very much, but I will pick something up from Starbucks on my way to work!"
Well, you could do that, but you would put your digestive system through hell with a regular espresso. And besides, this is not your ordinary playground mud (ew)! Instead, our 'mud' is a powdered concoction of exotic organic ingredients that will knock your coffee right out of the park.
This delicious drink is an excellent source of natural energy, with only 1/7th of the caffeine content of a cup of coffee. This means it will wake you right up without going through the bloating, jitters, and infamous crash that comes from consuming espresso.
Are you wondering what makes Mud Wtr such a better energizer than coffee or any other energy drink? We will tell you!
Mud Wtr consists of the most efficiently and sustainably sourced organic ingredients are proven to have multiple health benefits. These include an organic mushroom blend (Chaga, reishi, lion's mane, cordyceps mycelial biomass cultured on organic oats), organic cacao, an organic spice blend (organic cinnamon, organic turmeric, organic ginger, organic cardamom, organic black pepper, organic nutmeg, organic cloves), organic black tea powder, and lastly, Himalayan pink salt. Oh, and there's also 1/7th of the caffeine of a regular cup of coffee for that extra kick you might need!
The organic mushroom blend in Mud/Wtr has been carefully crafted to give you the energy and focus you need to start the day. Lion's Mane has been a part of Chinese and Japanese for centuries and is believed to support mental performance. The Chaga Mushroom has remarkable soothing properties that help you calm when you are super anxious. Reishi is an exotic ingredient that boosts the immune system and promotes natural energy. Similarly, Cordyceps is used by many to support energy, stamina, and athletic performance – making it an excellent ingredient for a pre-workout drink. 
Among the spices, turmeric is widely used around the globe for its color, flavor, and health benefits. Cinnamon combines flavonoids and antioxidants to make for a delicious and healthy additive to the spice blend. Cacao also adds to the drink's taste and makes it more flavorful. The Himalayan salt provides the body with essential minerals and checks electrolyte levels.
The Best-Selling Combos To Get From The Mud Wtr Shop Today.
Okay, so you have weighed the pros and cons and decided to switch up your morning routine. Instead of your regular cuppa, you want to indulge in a healthier drink that keeps you focused for longer. Great! Here are the best deals you can get from the Mud/Wtr collection today.
If you are trying out Mud/Wtr for the first time, we recommend making this 30-serving starter kit your first purchase. Containing a 30-serving tin of mud, a USB rechargeable frother, a free guidebook, a free sample of the Mud/Wtr creamer, and free stickers to decorate your laptop or workspace, you are all set for the complete Mud/Wtr experience. 
Pros:
It gives you the complete Mud/Wtr experience at a budget price
It makes for a pretty cool gift for your loved ones
It comes with a handful of freebies to make the deal even sweeter
You are all sorted for your morning energizer for up to one month
The most excellent stickers allow you to claim your love for Mud/Wtr to all
Free shipping in the United States of America
Cons:
The package does not include the signature Mud/Wtr sweetener.
The 30-serving mud tin is your monthly supply of the most nutritious, healthy, and energizing morning drink you could get. Super easy to make, you only have to dissolve a spoonful of mud into hot water, and you are done! 
You can also adjust the quality according to your preference or add in a little bit of the Mud/Wtr creamer or sweetener to enhance the flavor if that's what you like. The 30 serving mud tin is the best $40 that you will ever spend – keeping you energized in the morning while still letting you enjoy a whole night of deep sleep when you are ready to rest.
Pros:
It comes in a reusable, recyclable, and refillable matte black tin
It can be refilled up to three times with the 90 serving mud bags
Makes for an excellent gift for anyone who needs an energy drink in the morning but cannot handle the jitters and crash of regular coffee
Mud/Wtr is super environmentally cautious, so all their products are shipped in a recyclable box with no plastic packaging
It can be auto shipped to save big bucks (20% discount) and avoid the hassle of reordering every month
Free shipping in the United States of America
Cons:
It costs the same as the 30-serving starter kit, so getting the kit gives you more for less.
So you tried the 30-serving starter kit and loved the combo of Mud/Wtr creamer and mud. But that was only a sample; how do you get more of this delicious stuff to amp up your morning mud?
Here's where you order. These creamer bags are available in 30 and 90-serving sizes, so you can get as much as you need and never run out. In addition, the creamer is plant-based, vegan, and free of sugar and gluten, so you can enjoy it without guilt, no matter your dietary restrictions. This creamer made from coconut milk and MCT oil is for all!
The powdered form of the creamer makes it super convenient to carry while you are on the go, so you can enjoy the perfect mug of morning mud no matter where you are.
Pros:
Available in 30 and 90-serving sizes so that you can choose according to your needs
The best thing to sweeten or soften your morning mud with
In addition to the outer packaging, the creamer bag is also easily compostable
Free shipping in the United States of America
Cons:
The 30-serving creamer bag costs much more per serving than the 90-serving creamer bag.
Hooked onto Mud/Wtr but are constantly traveling? If you are on the train or flying for a long time, powdered mud and creamer bags can get messy. For those looking for a more convenient option, these mud and creamer sachet boxes are the way to go!
Each of these sachet boxes contains 15 individually packed servings of mud or creamer. This absolves you from the need to measure out a spoonful each time you make your mug of mud – simply pull out a sachet, and there you are!
You can also carry a few sachets in a small bag whenever you head out, so you are never too far away from your favorite morning drink. The sachets are also great to hand out to friends or family that you want to convert to Mud/Wtr and give their digestive systems a break. Trust us; they will never stop thanking you for this gift!
Pros:
It contains 15 individually packed servings of mud or creamer
So much more convenient than a regular bag of mud or creamer
Travel friendly – will not spill over
Free shipping in the United States of America
Unlike other sachet options, all Mud/Wtr packaging is biodegradable – right down to the tiny individual bags of mud and creamer!
Cons:
You cannot customize how 'strong' your mud is by adjusting the quantity of mud or creamer in your morning mug.
The 15-serving sachet boxes cost more per serving than a bag of 30 servings.
When you first convert to mud from your regular Starbucks coffee, it is natural to miss somewhat the fancy patterns they make. Looking at those pretty cups, rich cream, and delicious foam can give you serious FOMO. However, with the mud whip, you can get the same quality of fancy coffee right at your home – except with mud! Isn't that a thousand times better?!
The Mud Whip is a stainless steel frother that gives you a fancy-looking mug of mud every time. Made to be easily rechargeable with a USB charger, it skips out on disposable batteries because of the unnecessary hassle. This easy-to-use frother is the one thing that will upgrade your morning mud almost instantaneously.
Pros:
Enjoy the frothiest of frothy drinks right from the comfort of your home
No need to spend $$$ at expensive cafes when you can get the same quality at home
Super quick and straightforward mud mixing
Easy to recharge with a USB plug-in
It comes with a travel case, so you can enjoy your frothy mud wherever you go.
Free shipping in the United States of America 
Cons:
Final thoughts
There are two kinds of humans in this world: morning people and people who do not drink Mud/Wtr.
If you want your mornings to be perfect, we recommend that you buy a subscription to Mud/Wtr right away. With this one change in your morning routine, you can effectively resolve all the problems that a cup of coffee brings to your life. No more upset stomach, restlessness, and anxiety, and no espresso jitters and crashes! Simply pure, unadulterated, natural energy.
Get free weekly recipes directly in your inbox 💌
Mud Wtr Review: A Healthy Alternative To Coffee