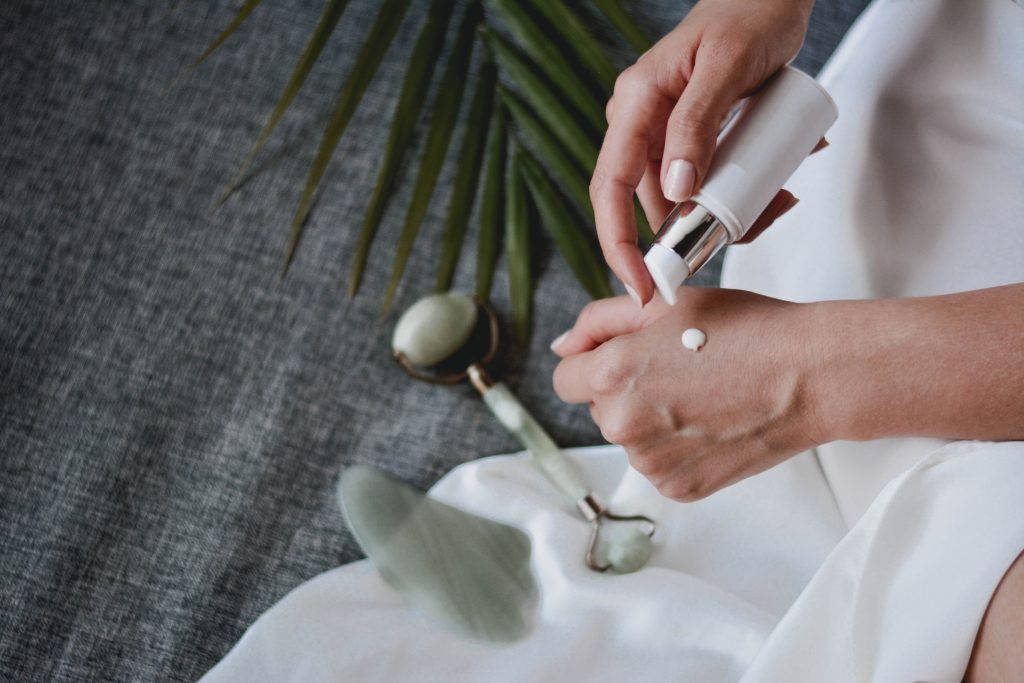 Everyone focuses on what you put into your body as one of the most important factors in health, but what about the best natural skincare products for your body? The skin is the largest organ we have, and because it's highly porous, it absorbs nearly everything we put on it. 
So it's not just about "you are what you eat" — you're also what you put on yourself, the thoughts going on in your head, and nearly everything in between.
The conventional skincare and cosmetics we normally buy at the store are full of toxic substances that seep through your pores and enter your bloodstream, having potentially harmful effects on your body in the long run.
Things like fragrances, parabens, coal tar dyes, and siloxanes — all ingredients found in common cosmetic products — are classified as toxic compounds that are carcinogenic, hormone and endocrine disruptors, and neurotoxins, among many others.
The fact is, no one wants to find out they've done irreparable damage from using lipstick, moisturizer, or shampoo in 10 years, so switching to all-natural skincare and cosmetics is crucial.
If you're curious to learn more about the ten most common toxins found in cosmetics, check out our detailed article on whether natural skincare products are worth the hype (spoiler alert: they are).
But for now, we're going to give you three best natural skincare products that we think you will love!
This pack isn't your average set — it includes something for every part of the body. Coconut foot cream and beeswax hand salve to soften and moisturize the hands and feet; soap bark and chamomile deep cleansing cream and honey body lotion to keep the skin supple; and beeswax lip balm to keep those lips looking smooth and plump. Produced by a company that uses only natural ingredients in their products, Burts Bees should be a staple in your beauty routine.
Key features:
5 different Burts Bees products

Foot cream
Body lotion
Hand salve
Deep cleansing cream
Lip balm

Made with natural ingredients
Compact (great for purses!)
Downsides:
Tubes are small (travel size)
Scented — may not appeal to some people
What customers say:
Amazing
Great for travel, in the office, or just in your purse
Great price, inexpensive
Excellent moisturizer for dry skin
Amazing and smells great
Based just on what customers say, you can't go wrong with anything by Burts Bees!
Dr. Hauschka makes a high-quality day cream that isn't full of toxic substances that will leave your skin feeling dry and tough. It adds a touch of color to mask any imperfections and can be used in place of foundation. This tinted moisturizer also offers protection for sensitive skin and softens skin tone to leave you with a healthy glow.
Key features:
Certified natural
Free from fragrances, dyes, and preservatives
Transparent on skin
Compact size
Protects and moisturizes
Downsides:
Not moisturizing enough to be used alone
Slightly pricey
Can give a slightly heavy feeling on certain skin
What customers say:
"Less is more" — fits the bill perfectly for skin cream!
Deeply hydrating
Makes skin look alive
Truly amazing BB cream
Nice natural tint and a lovely glow that doesn't make you break out
This eye cream by Weleda is a great product for people looking to diminish puffiness and reduce fine lines and wrinkles. Its natural formula helps to soothe tired and strained eyes and can even be used by people who wear contact lenses!
Weleda's cream contains high-quality cold-pressed wild rode seed oil, peach kernel oil, and almond oil to naturally strengthen the skin's protective barrier and provide it with extra nourishment, leaving it strong, healthy, and glowing!
Key features:
Certified natural and organic
Compact
Affordable
Fragrance-free
Contains important fatty acids along with vitamins A and E
Subtle scent
Downsides:
Not hydrating enough
May be irritating to sensitive skin
Expensive for amount
Not suitable for all skin types
What customers say:
Feels fabulous
Gets rid of dark circles
No sticky feeling
Gets rid of puffiness and fine lines
Terrific cream, a wonderful product
Safe and effective
Making the switch to natural skincare is 100% worth it. Not only are you eliminating all the toxic chemicals and harsh substances, but you're giving your skin more of what it needs to look and feel its best — proper nourishment from the outside in!
Get free weekly recipes directly in your inbox 💌
Best Natural Skincare Products For Paleo Lovers