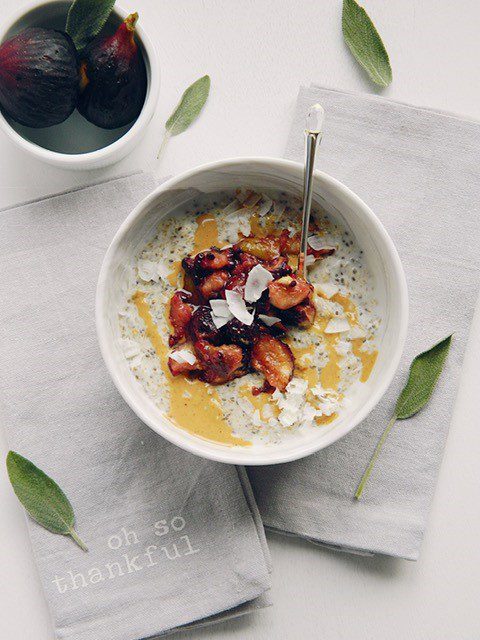 About this Keto Oatmeal With Sautéed Figs recipe
Whether you follow Keto or Paleo, oatmeal is something we all love on a brisk fall or winter morning. But sometimes, dietary restrictions just don't allow for oats. The solution? Keto Oatmeal with Sautéed Figs by Amanda White. It's packed full of fiber, protein, healthy fats, and let's not forget flavor. You may never want to go back to your traditional oats after trying this version by Amanda!
2 tbsp. chia seeds

1 tbsp. flax seeds

1 tbsp. hemp seeds/hearts

1 tbsp. coconut flour

1 tbsp. sunflower seeds

2 tbsp. stevia (will vary depending on the form you use – liquid, powder, etc.)

1 cup coconut milk

1/2 cup water

Sprinkle of cinnamon

Dash of sea salt

Fresh figs

Blackberries
In a small saucepan, add all ingredients. After that, heat on low for 5-10 minutes, stirring occasionally until chia seeds become gelatinous.

For your sautéed figs and blackberries: Heat a skillet and add 1 tbsp. coconut oil. Cut fresh figs in half and sauté fruit on low for 5-10 minutes.
Get free weekly recipes directly in your inbox 💌
Keto Oatmeal With Sautéed Figs Recipe