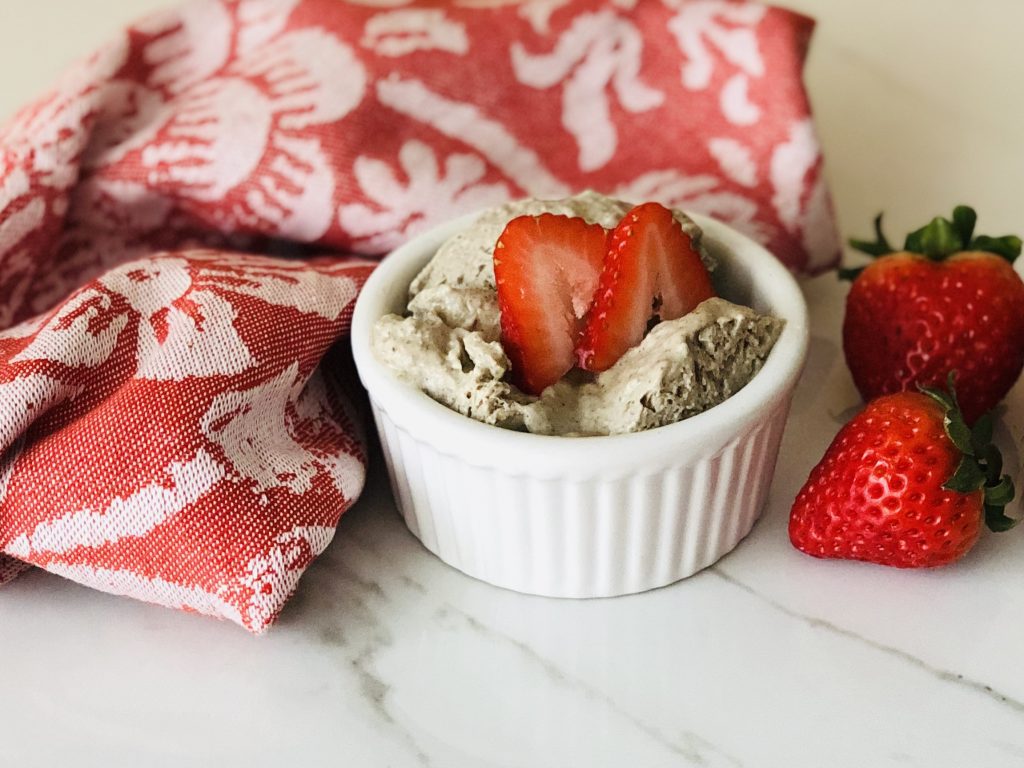 About this Strawberry Avocado Nice Cream recipe
We all get cravings for different foods. But ice cream is sometimes one that you just can't kick. Often loaded with sugar, artificial flavors, and other unhealthy ingredients, it may not be your best choice. So how do you satisfy it? Susan Herrlein has got the perfect recipe for you. Packed full of healthy fats, protein, and antioxidants, this strawberry avocado 'nice' cream is sure to hit the sweet spot.
1 can full-fat coconut milk

2 tbsp. vanilla extract

2 tbsp. hemp seeds

1 avocado

1 tbsp. chia seeds

4 tbsp. monk fruit sweetener

6 large strawberries

Toppings (optional): strawberries, cacao nibs
Combine all ingredients in a high-powered blender.

Blend on high until smooth.

Place in a small bowl or individual ramekins and freeze.
You're getting a real healthy bang for your buck with this ice cream — want to know why?
Coconut Milk: High in calories and saturated fats called medium-chain triglycerides (MCTs) that help to reduce appetite, increase metabolism, and aid in belly fat loss.
Hemp Seeds: Brain Food! Hemp Seeds are one of the best plant-based sources of protein, they contain antioxidants, and omega fats to support brain health. They also have the optimal ratio of Omega 6's to Omega 3's — 2:1.
Avocados: Best fruit on the planet – LOADED with healthy fats and fiber! One whole avocado has double the amount of potassium as a single banana.
Monk Fruit Sweetener: This is an extract derived from dried monk fruit that is up to 250 times sweeter than table sugar, has zero calories and carbs, and does not raise blood glucose levels.
Strawberries: Packed with vitamins, fiber, and high levels of antioxidants known as polyphenols, they are among the top 20 fruits in antioxidant capacity and are a reliable source of manganese and potassium. About 8 strawberries provide more vitamin C than an orange.
Get free weekly recipes directly in your inbox 💌
Strawberry Avocado Nice Cream