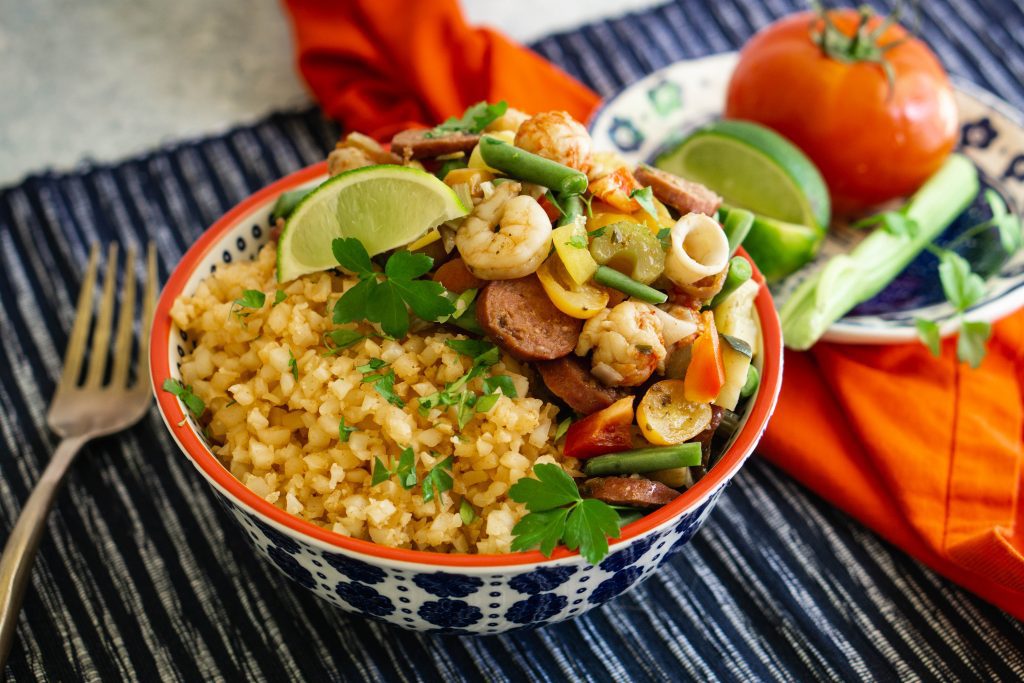 About this Seafood Jambalaya recipe
If you love southern food, you're sure to love this recipe. Juli Hill's seafood jambalaya is packed full of fresh vegetables, seafood, sausage, flavor, and best of all, nutrients. Whether you're cooking for your partner or your entire family, this one is definitely going to be a hit among all.
1 package frozen seafood medley

2 grass-fed Polish sausages

1 medium zucchini, chopped

1 medium onion, diced

2 cups bell peppers, diced

1 cup mushrooms, sliced

3 stalks of celery, diced

2 large tomatoes, diced or 1 x 15oz. / 440 ml can diced tomatoes

1 tbsp. avocado oil

2 tsp. cajun seasoning

1/4 tsp. salt

1 package of frozen cauliflower rice 

Lime and cilantro, to garnish
Sauté the vegetables in avocado oil over medium heat until crisp tender.

Add the fresh diced organic tomatoes or the canned tomatoes.

Stir in cajun seasoning and salt.

Add fresh or frozen seafood blend and sliced grass-fed sausage of choice.

Simmer for 10-15 minutes until the seafood is cooked through.

While the jambalaya is simmering, heat cauliflower rice in a saucepan over low heat. Season with lime juice and cajun seasoning if desired.

Serve everything on a bed of greens.
Get free weekly recipes directly in your inbox 💌