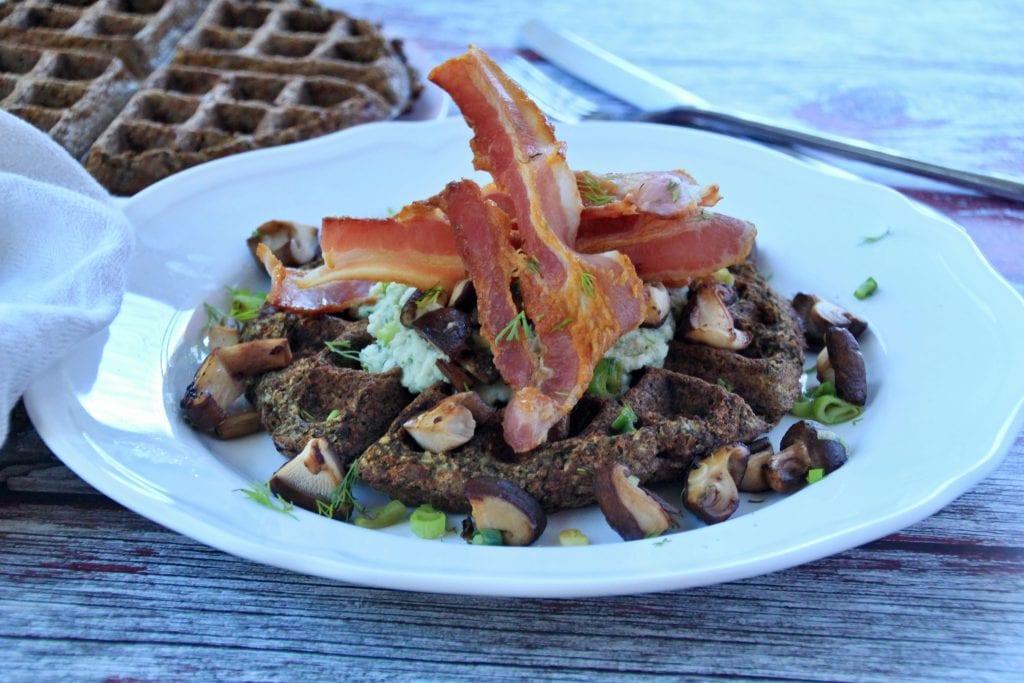 About this Savoury Cauliflower Waffles recipe
Cauliflower and waffles? Two ingredients that you probably would never think to put together. But let us tell you, you're definitely missing out if you haven't tried it.
Whether it's a savoury breakfast, quick lunch, or dinner, Dasha's Cauliflower Waffles will be your new go-to. Pair it with waste-free cauliflower hummus, a poached egg, and a salad, or throw on a side of bacon, and you've got yourself a fully loaded, nutrient-dense, delicious meal.
For the waffles:
3 cups raw cauliflower, priced
2 tsp. flaxseed meal
2 tsp. hemp flour (optional, if not using, add 1 more tsp. of flaxseed meal)
4 tbsp. nutritional yeast
8 tbsp. water (1/2 cup)
Salt and pepper (any additional spices up to taste — oregano, smoked paprika, etc.)
For the waste-free cauliflower hummus:
Leaves of the cauliflower
Cauliflower stems, cut into pieces
1 clove garlic, crushed
1 tbsp. tahini
1/2 tsp. cumin
1 tbsp. extra virgin olive oil
1 tbsp. lemon juice
Pinch of salt and pepper (or to taste)
* For flours, mixes, baking tools, and pans visit King Arthur Baking.
Waste-free cauliflower hummus:
1. Preheat oven to 160°C (320°F).
2. Place the cauliflower on a lined baking tray and sprinkle it with a bit of salt and pepper. Drizzle with cooking oil (light olive oil or avocado oil is great).
3. Put the tray in the preheated oven and bake for about 20 minutes, or until the cauliflower is soft.
4. Remove cauliflower from the oven and let it cool.
5. Place it in a food processor and add the crushed garlic, tahini, olive oil, lemon juice, cumin, salt and pepper.
6. Blend everything together until completely smooth.
7. Let the hummus chill in a fridge for at least 30 minutes before serving.
Waffles:
1. Mix all of the ingredients for the waffles together and let the dough sit for 10 minutes to let the flaxseed meal soak up the liquid.
2. Preheat your waffle maker and grease it with oil if needed.
3. Ladle two large spoonfuls (1/2 of the mix) into the waffle maker and let cook.
4. Serve with desired toppings (for example, waste-free cauliflower hummus, fried mushrooms with green onions, and bacon).
Affiliate Disclaimer: Please note that this page contains affiliate link/s, and if you make a purchase through those links, we may earn a small commission at no additional cost to you.
Get free weekly recipes directly in your inbox 💌
Savoury Cauliflower Waffles