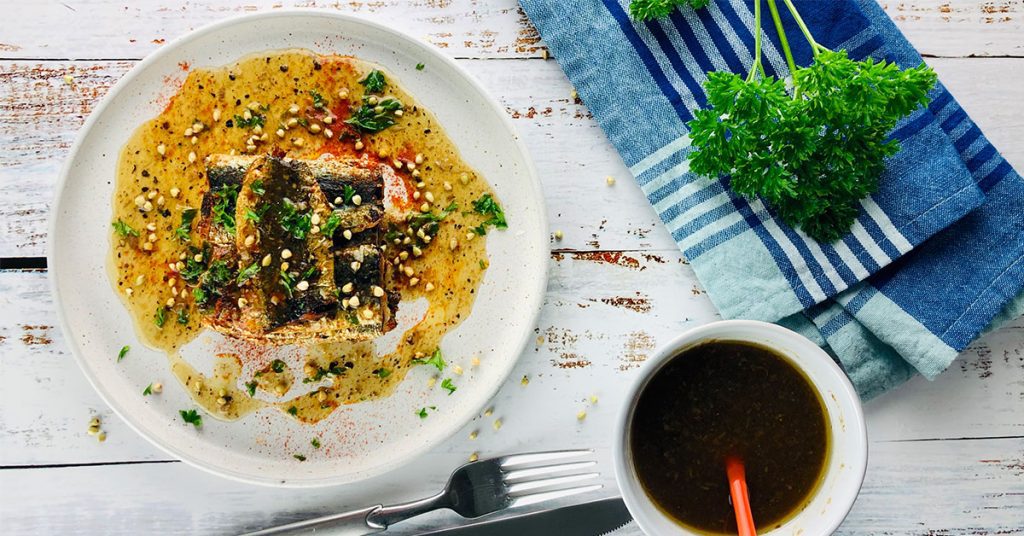 About this Pan Fried Sardines recipe
Omega-3 fatty acids are an essential part of any diet, but not everyone wants to eat salmon all the time. While sardines can be a little off-putting to some people due to their fishy aroma, when combined with black pepper, garlic, sea salt, and parsley, they're a delicious nutritional powerhouse that we promise your whole family will love. Check out this recipe by Janine Klinegal.
8 sardine fillets

2 tbsp. coconut oil

Pinch of sea salt

Parsley, finely chopped, to garnish

Roasted buckwheat groats or toasted nuts, to garnish
Black Pepper Sauce:
8 garlic cloves, peeled

4 tbsp. black peppercorns

1 tsp. sea salt

2 cups filtered water or chicken bone broth

2 tbsp. coconut oil

1/2 tbsp. tapioca flour + 1/4 cup filtered water
In a medium-high heat pan, sprinkle some salt into the pan. Roast the salt for a minute or so before adding the coconut oil. This process helps the sardine skins don't stick to the pan.

When the oil starts to boil, gently place the sardine fillets on the pan with no skin side down, cook for about 3-5 minutes when you see the corner of the fillet starts to curl, use a thin spatula to turn over the fillet slowly from aside. It should turn over easily when the sardines are cooked.

Cook the skin side another 2-3 minutes before taking off the pan with the spatula. 
Get free weekly recipes directly in your inbox 💌
Pan Fried Sardines with Garlic & Black Pepper Sauce