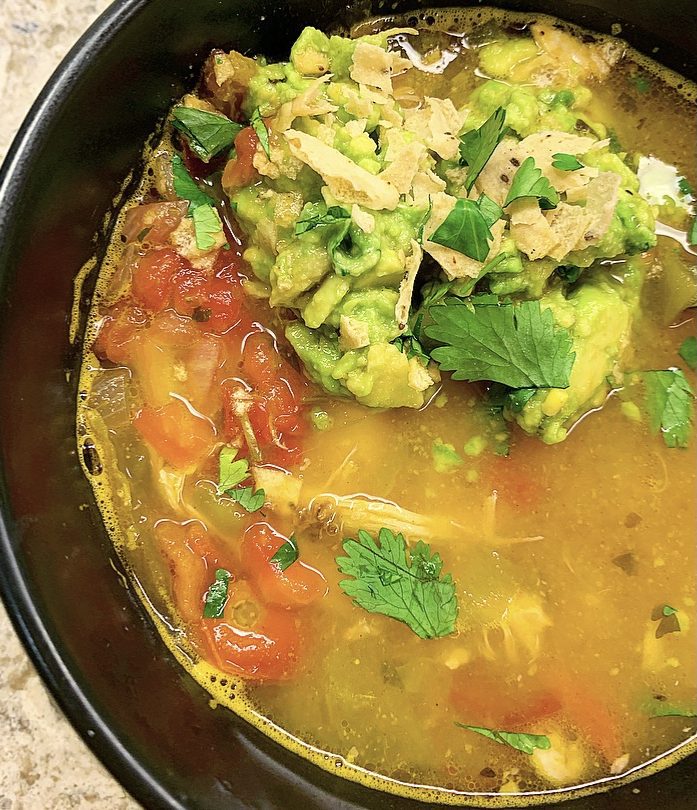 About the crockpot tortilla soup recipe
Fresh, light, and packed with flavor, Sierra Staplin's tortilla soup is perfect for any meal. It's not only gluten-free and dairy-free, but it's also made in a crockpot, so all you have to do is put the ingredients in, forget about it, and you'll have a delicious soup waiting for you.
2 x 32-oz (2 x 1 L) cartons chicken broth

1/2 sweet onion, diced
1 small can diced tomatoes
Shredded chicken
Handful fresh cilantro
1/2 lime
1 cup corn
Seasoning salt
Garlic powder
Sea salt
Pepper
Red pepper seasoning
Grain-free tortilla chips (optional)
Shredded cheese (optional)
Prep the chicken in the crockpot 4-8 hours before making the soup. Add the chicken breast in the crockpot with about 1-2 inches of broth. Add a bay leaf if you have one. If not, no worries.

Turn the

crockpot

 on high if you want to cook the chicken in 4 hours or on low for 8. 

When the chicken is done, shred it with 2 forks. Don't throw away the broth and take out the bay leaf if you used one.

Now, start on the soup. Set a large soup pot over medium heat and pour in about 2-3 inches of

broth

. Chop the onions into bite-sized pieces and add them to the pot.

Add in a bit of salt. It is important to start seasoning your soup a little at a time to build that flavour! 

Next, add in the corn. Chop up the fresh cilantro and add in as well. 

Once that comes to a boil, add in the can of tomato. If you want a more tomato-ey flavor, add the water or juice from the can of tomatoes. Otherwise, drain the tomatoes before adding them.

Add in a bit of seasoned salt and garlic powder. You can add more seasoning as we go, but cannot take it out so start small and taste throughout. 

Next, add the shredded chicken and the broth it was cooked in to the pot. Add the remaining broth, a pinch of red pepper seasoning, salt, pepper, garlic powder, lime juice, and seasoned salt.

Let it come to a boil and taste the broth. Whatever it needs more of add it in and keep repeating until it is the taste desired. 

Serve with cheese and guacamole if you would like! Crumble

grain free tortilla chips

on top. 
Get free weekly recipes directly in your inbox 💌
Crockpot Tortilla Soup Recipe