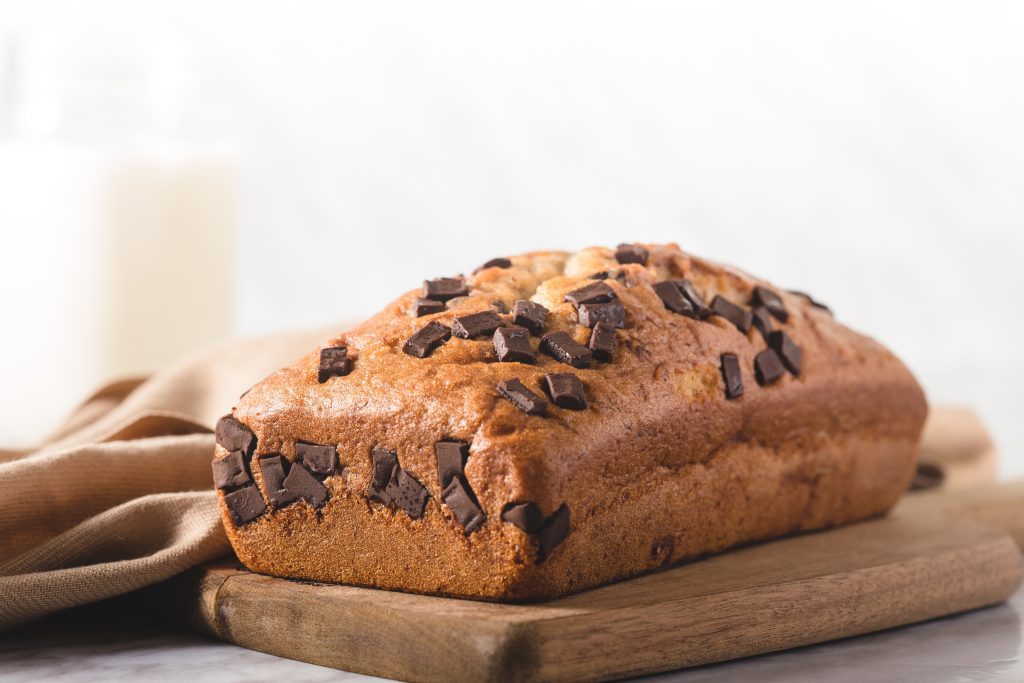 About this Chocolate Chip Banana Bread with Zucchini recipe
Upgrade your sweet chocolate bread to a healthier version with our recipe!
Our chocolate chip banana bread with zucchini recipe is healthy and perfect for someone following a keto or paleo diet! This indulgent yet healthy treat bursts with rich chocolatey flavors and a moist texture, making it ideal for an afternoon snack with a hot drink. 
What's even better is that it's made with gluten-free flour, natural sweeteners, and other simple ingredients—unlike those traditional bread recipes.
1 1/2 cups gluten-free almond flour

1/2 cup coconut flour

1/4 cup arrowroot flour

1 tsp baking soda

1/2 tsp salt

1 tsp cinnamon

3 ripe bananas, mashed

1/4 cup coconut oil, melted

3 large eggs

1/4 cup pure maple syrup

1/2 cup grated zucchini

1/2 cup paleo-friendly chocolate chips

1 tsp vanilla extract
Preheat your oven to 350°F (or 180°C) and grease a 9×5 inch loaf pan with coconut oil or cooking spray.

Whisk together the gluten-free almond flour, arrowroot flour, coconut flour, baking soda, salt, and cinnamon in a large mixing bowl.

Mix the mashed bananas, melted coconut oil, eggs, vanilla extract, and pure maple syrup in a separate bowl.

Add the wet ingredients to the dry ingredients and stir until just combined.

Fold in the grated zucchini and paleo-friendly chocolate chips.

Pour the batter into the prepared loaf pan and smooth the top with a spatula.

Bake in the preheated oven for about 50 minutes to 1 hour or until a toothpick inserted into the center of the bread comes out clean.

Remove from the oven and let the bread cool in the pan for 10 to 15 minutes, then transfer it to a wire rack to cool completely.

Once cooled, slice and serve your delicious homemade chocolate chip banana bread with zucchini! Enjoy a slice or even two!
Looking for a sweet dessert? Why don't you try Inés Viñas' recipe for strawberry cheesecake? It's a low-carb treat that tastes so good and melts in your mouth!
Why Are Bananas Superfood?
We all love bananas because they're delicious, affordable, and healthy. These are the cheapest fruits that you can buy these days. Let's count the reasons why bananas are a superfood!
Bananas are packed with essential vitamins and minerals that are important for our health and well-being, like vitamin C, vitamin B6, potassium, and magnesium. Plus, they're high in fiber, which can help improve digestion and prevent constipation. 
Also, bananas help lower blood pressure and reduce the risk of heart disease, thanks to their potassium content. If you're feeling low on energy, bananas are a great choice as they contain natural sugars and carbs that can boost you, making them an excellent snack before a workout. 
Bananas also have tryptophan, an amino acid that helps produce serotonin, a neurotransmitter that reduces stress and regulates mood. And if you're trying to lose weight, bananas are a good go-to snack because they're rich in fiber but low in calories that helps you feel full and reduces your appetite.
Remember that bananas are relatively high in carbs and natural sugars, which may not be good for people with certain medical conditions like diabetes. Therefore, they may need to limit their intake of this fruit. 
How Many Calories Are In A Banana?
A medium-sized banana typically contains around 105-120 calories. However, the calorie count can vary depending on the banana size.
How To Ripen Bananas?
Want to ripen bananas fast? Here are a few ways:
Leave them at room temperature.
Bananas will naturally ripen at room temperature over time. We suggest you leave the green bananas on your kitchen counter or table if you want to ripen them. The warmer the room, the faster they will ripen.
Place them in a paper bag.
Placing bananas in a brown paper bag can help speed up the ripening process. This is because bananas release ethylene gas. The gas gets trapped in the bag and causes them to ripen more quickly.
Use a ripening agent.
A few natural ripening agents, like apples and avocados, can speed up the ripening process of bananas. Simply place a banana in a bag with one of these fruits, and they will release ethylene gas that can help ripen the bananas.
Store the bananas at room temperature once they are ripe. You can keep them in the fridge if they have reached your desired level of ripeness. This can slow down the bananas' ripening process and extend their shelf life.
How Can Bananas Help With Weight Loss?
Bananas can be helpful to include in your weight loss diet, but they should be consumed in moderation as part of a balanced diet.
Bananas are relatively low in calories compared to other snacks, and they contain fiber which can help you feel fuller for longer. This means that eating a banana as a snack may help you avoid overeating later in the day.
Bananas contain vitamins and minerals that are important if you want to maintain a healthy weight.
Note that bananas are also relatively high in sugar compared to other fruits. Your sugar levels can go up if you consume large amounts of them. You should combine them with other healthy foods and eat them in moderation.
In What Recipes Can You Include Overripe Bananas?
Do you have overripe bananas in your fridge? Please don't throw them! They are great for baking and can make different delicious treats. Here are a few ideas:
Banana bread
Banana bread is a classic recipe for using up overripe bananas. There are many variations of banana bread, from healthy versions made with almond flour and honey to indulgent versions with chocolate chips and walnuts.
Smoothies
Overripe bananas can be sliced and frozen for use in smoothies. They add a natural sweetness and creaminess to smoothies that are hard to replicate with other ingredients.
Pancakes or waffles
You can also use mashed overripe bananas to make pancakes or waffles. They add moisture and sweetness to the batter and help reduce the amount of sugar needed in the recipe.
Banana pudding
Make a delicious and creamy banana pudding with overripe bananas. Mash the bananas and mix them with vanilla pudding, whipped cream, and vanilla wafers for a classic dessert.
Banana ice cream
You can put frozen, sliced bananas into your blender to make a healthy and delicious banana "ice cream" that is dairy-free and naturally sweetened.
These are just some of the ideas for using overripe bananas. Get creative and experiment with different recipes to find your favorite way to use them!
Can Bananas Cause Constipation Or Diarrhea?
Bananas are considered a good food for preventing constipation because they are high in fiber and help regulate digestion and promote regular bowel movements.
In rare cases, some people may experience diarrhea after consuming bananas. This can happen if a person is sensitive to the fiber or sugar content of the banana.
Bananas can be harder to digest and may lead to constipation if they are not fully ripe. It's still best to eat bananas when they are fully ripe and have a yellow color with brown spots.
For most people, bananas are a healthy and nutritious food that promotes good digestion and prevents constipation. We recommend that you consult a healthcare provider if you have concerns about how bananas may affect your digestive system. 
Get free weekly recipes directly in your inbox 💌
Chocolate Chip Banana Bread With Zucchini Recipe