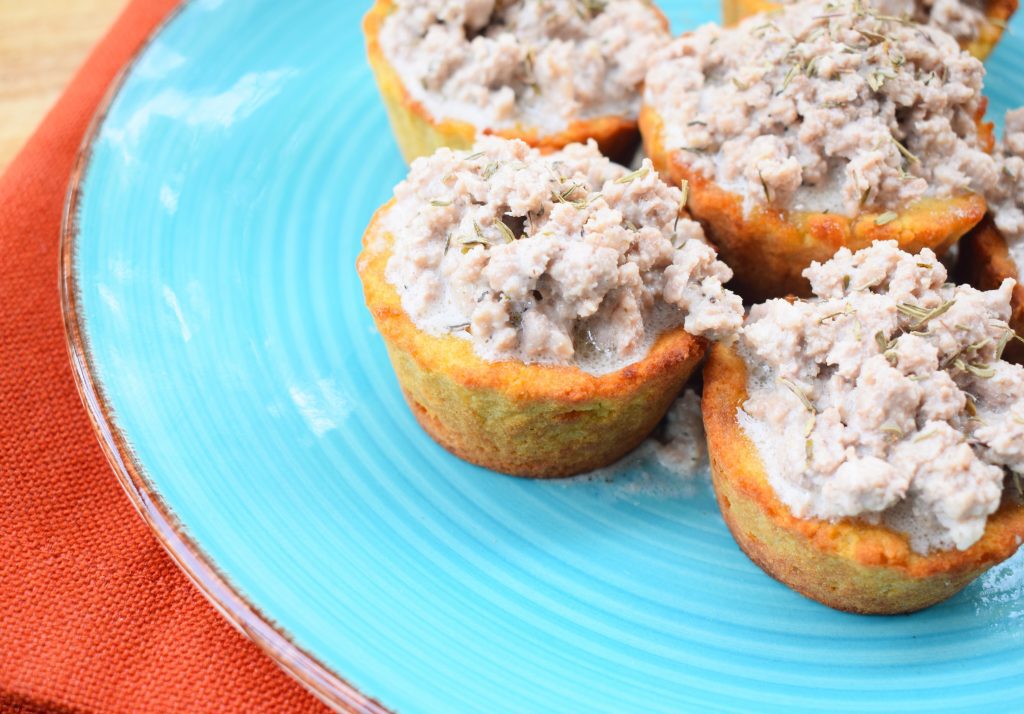 About this Pork Biscuit Baskets recipe
If you're looking for a quick flavorful dish that tastes like you're cheating, you've found your meal. This Pork Biscuit Baskets recipe by Kathryn Watkins is quick, loaded with flavor, and full of healthy fats and protein to keep you energized at any point during the day, whether it's breakfast, lunch or dinner.
2 tbsp. honey

2 eggs

1/4 cup coconut flour

1/8 tsp. baking soda

1/4 tsp. sea salt

1/4 cup organic palm shortening
Meat:
1/2 lbs  / 220 g ground pork

1/2 tsp. onion powder

1/2 tsp. poultry seasoning

1/2 tsp. thyme

1/2 cup full fat coconut cream

Sea salt and pepper, to taste
In a small bowl, stir together all biscuit ingredients by hand until well combined. 

Press biscuit dough into the sides and bottoms of silicone muffin molds, leaving the centre empty to create a basket shape. 

Bake at 350 F / 175 C  for 15-20 minutes. 

In a sauce or cast iron pan, cook ground pork on medium heat 

Add all spices and coconut cream. 

Mix together & cook for the remaining 5-10 minutes on low heat. 

Fill biscuit baskets with ground pork & gravy. 
Get free weekly recipes directly in your inbox 💌
Pork Biscuit Baskets Recipe