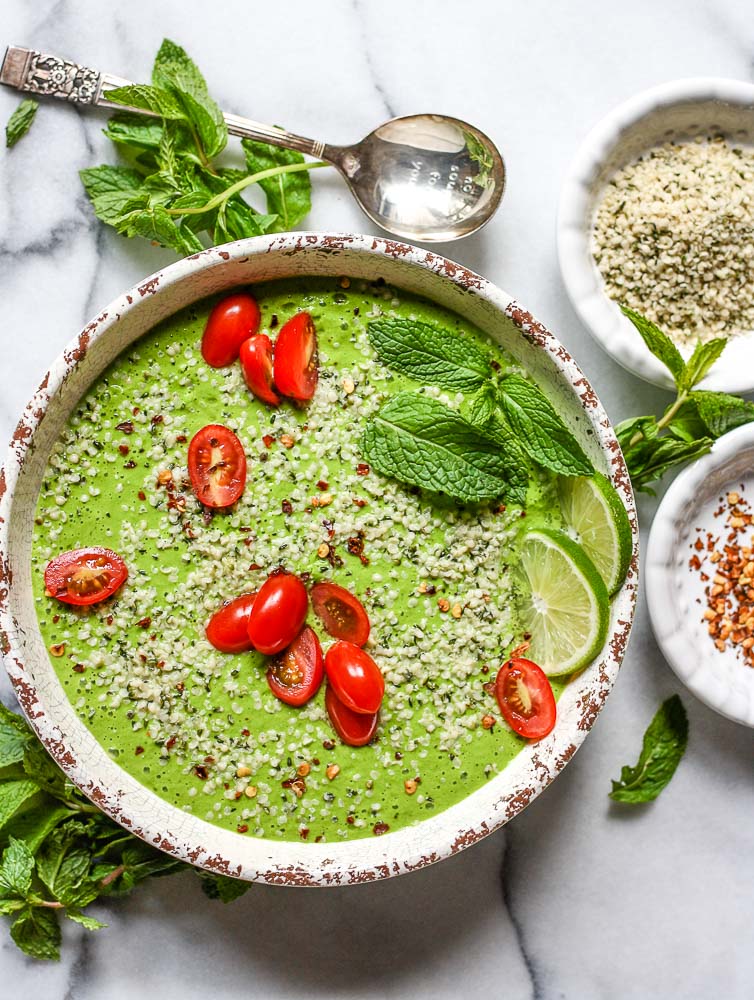 About this Cold Cucumber Soup recipe
Soup is supposed to be hot, isn't it? Don't be dismayed by the name. This cold cucumber soup by a passionate nutritionist Stacey Isaacs is filled with healing superfoods and greens to keep you cool on hot summer days.
Cucumbers help to cool the body and get rid of swelling, the herbs help to boost your immune system, and the greens will keep you energized for days. Doesn't that sound like a good enough reason to give it a try? Made in a blender, this soup is super quick and simple to make – perfect for busy days.
And, of course, it tastes amazing! 
1 long seedless cucumber, unpeeled, cut into chunks

1 clove garlic

Sea salt & pepper, to taste

4 mint leaves

4 basil leaves

1/4 cup + 2 tbsp. cilantro

1/4 cup + 2 tbsp. parsley

1 cup arugula

1/2 cup extra-virgin olive oil

2 tbsp. red wine vinegar

1/2 lime, with rind, chopped

3 scallions, with roots, chopped

1 cup dill

Garnishes: hemp seeds, grape tomatoes, mint, lime zest, red pepper flakes, etc.
Put all ingredients, except garnishes, into your blender.

Blend until it's mostly smooth, or to your preference.

Ladle into bowls and top with desired garnishes.

Enjoy!
Get free weekly recipes directly in your inbox 💌
Cold Cucumber Soup Recipe