Paleo Baking Mix - Bake Your Way to Wellness
Explore our range of Paleo baking mixes to elevate your culinary journey while maintaining your commitment to a wholesome Paleo lifestyle. These paleo-approved products were carefully researched and reviewed to empower you to create delicious, nutritious treats that support your well-being and fitness goals.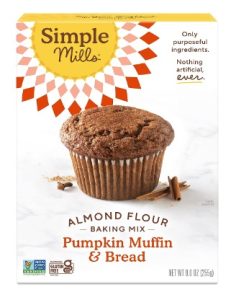 Create delicious pastries with Simple Mills Almond Flour Pumpkin Bread Mix. It's gluten-free and Paleo-friendly made with actual pumpkin and spices. Nutrient-dense ingredients and rave reviews make it a wholesome choice. Stock up your pantry with this shelf-stable snack for an energy boost. Made with simple, certified gluten-free, non-GMO, grain-free, corn-free, and plant-based ingredients.
Indulge in Pure Traditions Pancake Mix – your ticket to delicious, grain and gluten-free pancakes! With 1g of Omega-3 per serving, it's a fast and easy breakfast choice made in a dedicated gluten-free facility. Enjoy pancakes that fit your dietary preferences without sacrificing taste.
Savor delicious fluffy perfection with PALEOLICIOUS Paleo Pancake and Waffle Mix! It's the ultimate low-carb, gluten-free, grain-free, Paleo, and Keto delight made with organic and non-GMO ingredients. No sugar, dairy, soy, or preservatives – just pure pancake and waffle goodness that caters to various dietary preferences.
Indulge in the warm flavors of fall with Birch Benders Pumpkin Spice Pancake & Waffle Mix! Perfectly spiced and gluten-free, this mix brings the taste of the season to your breakfast table. Enjoy the comforting flavors of pumpkin spice with Birch Benders.
Delight your taste buds and nourish your body with Pure Crumb Protein Banana Bread Mix – a Paleo-friendly, low-sugar indulgence. Packed with collagen and prebiotics, it's a guilt-free treat. With only 5g of sugar per muffin or loaf slice, it's sweetened with all-natural coconut sugar and erythritol. With Pure Crumb, you can enjoy both flavor and wellness in every bite!
Blends by Orly Grainless Cake and Muffin Mix is your go-to for guilt-free baking! This mix is certified OU Kosher, non-GMO, gluten-free, vegan, soy-free, corn-free, and nut-free, making it suitable for various dietary needs. Made with 100% vegetables, fruits, and quinoa, it's grain-free, gluten-free, and Paleo-friendly. Create scrumptious vanilla cake, muffins, and cupcakes with this nutritious baking mix.
Discover the ultimate Paleolicious Bread Baking Mix – your solution for delicious, Paleo, gluten-free, grain-free, low-carb, and keto-friendly bread. Crafted from a blend of non-GMO cassava flour and California almonds, it offers a perfect balance of taste and texture without excessive weight. Just add 2 eggs, ACV, and water for an easy bake. This Paleo bread doesn't crumble, stays moist, and lasts over a week, making it a freezer-friendly choice. 
Satisfy your brownie cravings with Otto's Naturals Paleo Double Chocolate Brownie Mix. These brownies are secretly grain-free, dairy-free, refined sugar-free, and gluten-free, yet taste just like traditional brownies. Made with premium ingredients like organic maple and coconut sugars, Italian cocoas, and the finest cassava flour, it's a wholesome indulgence. 
Belly Collagen Brownie Baking Mix combines fudgy brownies with the goodness of collagen. Made from clean ingredients, it's allergen-friendly – gluten-free, grain-free, soy-free, dairy-free, and preservative-free. Each brownie packs 3 grams of collagen peptides for gut health and beauty benefits. Easy to make and suitable for all, this brownie delivers a treat that's both indulgent and nourishing.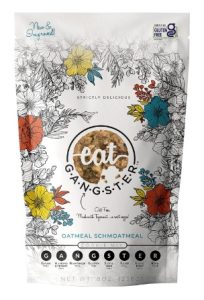 This is a twist on traditional oatmeal cookies. They've swapped out grains for organic tiger nut flakes without sacrificing that familiar yumminess. This mix is crafted with clean, nutrient-rich, and gut-friendly ingredients – absolutely no artificial additives. Whether you follow AIP, Paleo, or have food sensitivities, these baking mixes offer a delightful alternative.
Miss Jones Baking Keto Blueberry Muffin Mix is a game-changer for those seeking a low-carb, no-added-sugar option, with just 4g net carbs and 0g added sugar. Made with almond flour, it's naturally gluten and grain-free, yet unbelievably moist and delicious. With Miss Jones Baking Co., you won't miss the gluten, grains, dairy, or sugar.
Explore the convenience and creativity of Paleo baking mixes. Learn about their benefits and unlock the secrets to creating delectable treats that align with your Paleo lifestyle. Get ready to bake paleo-approved delights right in your own kitchen.
Paleo Baking Mixes
Paleo baking mixes represent a culinary revolution within the Paleo diet. It provides a bridge between the desire for wholesome baked goods and dietary restrictions. Thanks to these convenient mixes, individuals can now enjoy traditional baked treats like pancakes, bread, muffins, and cookies while following a Paleo lifestyle.
Almond Flour:

In many Paleo baking recipes, almond flour serves as the base that gives a subtly nutty flavor and a soft texture to baked goods.

Coconut Flour:

Commonly paired with almond flour, coconut flour serves as a gluten-free, grain-free alternative that adds moisture, structure, and a hint of coconut flavor to the mix.

Tapioca Starch or Arrowroot Flour:

These starches improve the texture of baked goods, providing lightness and binding qualities, especially when combined with coconut flour.

Natural Sweeteners:

People use paleo-friendly sweeteners like maple syrup, honey, or coconut sugar sparingly to add sweetness and balance flavors.

Leavening Agents:

Baking soda and baking powder facilitate the rise of baked goods and contribute to their airy texture.

Healthy Fats:

Some Paleo baking mixes incorporate healthy fats like coconut oil or ghee, which enhance moisture and add richness to the final product.
Nutritional Benefits of Paleo Baking Mixes
Grain-Free and Gluten-Free:

Paleo baking mixes are naturally grain-free and gluten-free. It's an ideal choice for individuals with gluten sensitivities.

Protein and Healthy Fats:

Almond flour, coconut flour, and the inclusion of healthy fats in some mixes offer a source of protein and essential fats. These nutrients contribute to satiety, blood sugar stability, and overall well-being.

Dietary Fiber:

Rich in dietary fiber, coconut flour aids in digestion and provides a sense of fullness.

Low Sugar Content:

Paleo baking mixes adhere to the low-sugar philosophy of the Paleo diet, relying on minimal natural sweeteners.
Incorporating Paleo Baking Mixes into Your Recipes
Paleo baking mixes offer a multitude of benefits, starting with their unparalleled convenience. They are a game-changer for individuals leading busy lives, simplifying the baking process without compromising on quality. Beyond their convenience, these mixes showcase remarkable versatility. From crafting pizza crusts to baking brownies, the possibilities are endless. Another appealing feature of Paleo baking mixes is the opportunity for customization. Add a personal touch to your creations by incorporating nuts, seeds, dark chocolate chips, or dried fruits to align with your unique taste. Moreover, these versatile mixes often serve as a suitable replacement for traditional flour in your beloved recipes, allowing you to savor the flavors while adhering to your dietary choices.
To sum up, Paleo baking mixes empower individuals to explore the world of baking while adhering to the principles of natural, clean eating. Whether you're a seasoned adherent of the Paleo diet or a newcomer, these mixes provide delightful, freshly baked goods. They epitomize the essence of the Paleo lifestyle, reminding us that simplicity, nourishment, and the pleasure of indulgence can coexist harmoniously. So, embrace your inner baker, preheat that oven, and relish the delectable world of Paleo baking mixes!