Paleo Books - Your Blueprint for Healthier Living
Discover a wealth of knowledge in our collection of Paleo books, meticulously curated to guide you on your journey towards a healthier you. These books delve into the depths of the Paleo lifestyle, offering insights, recipes, and wisdom to support your overall well-being.
Dive into the world of delightful desserts with 'Bakerita'! This cookbook features 100+ irresistible recipes from the renowned Bakerita blog, all gluten-free, dairy-free, and refined sugar-free. From Lavender-Lemon Raspberry Scones to Mocha Chip Cheesecake, satisfy your sweet cravings without compromising your health.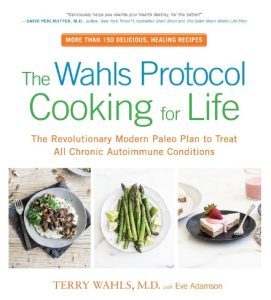 Discover the transformative power of nutrition with 'The Wahls Protocol Cooking for Life.' This cookbook offers a treasure trove of Paleo-inspired recipes. Dr. Wahls provides support for those suffering from autoimmune disorders, chronic conditions, and neurological diseases by offering nourishing and budget-friendly meals that can redefine their health journey. 
Empower yourself on the journey to wellness with 'The Autoimmune Paleo Cookbook.' Mickey Trescott offers a comprehensive resource for those battling autoimmune diseases through the Autoimmune Protocol—an ancestral diet that focuses on eliminating potential food triggers and healing the gut. With 112 delicious allergen-free recipes, Mickey transforms the notion of 'restricted' diets into a culinary adventure.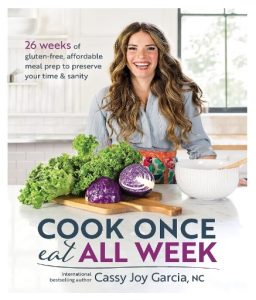 Cook Once, Eat All Week" introduces a revolutionary meal prep method by Cassy Joy Garcia. Batch-cooking basic components allows you to enjoy a week's worth of diverse, healthy, and budget-friendly dinners with minimal effort. Say goodbye to exhausting meal prep plans and hello to 26 weeks of affordable, family-friendly recipes, including bonus 20-minute meals. These recipes cater to various diets. This book is a practical solution for nutritious and convenient eating.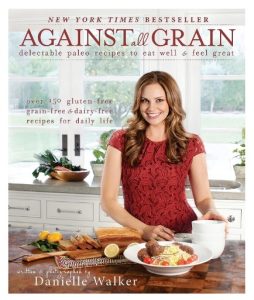 In "Against All Grain," Danielle Walker shares her inspiring journey to reclaiming her health through food after battling autoimmune disease. This cookbook showcases her talent for crafting delectable grain- and dairy-free Paleo recipes that cater to various tastes. Plus, there's a special section filled with kid-friendly recipes that both parents and children will love. Discover a world of gourmet, satisfying dishes that go against the grain in the culinary realm.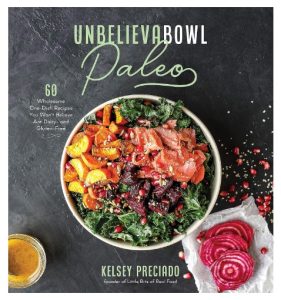 "Unbelievabowl Paleo" by Kelsey Preciado brings you a collection of 60 wholesome one-dish recipes that are dairy- and gluten-free. These all-in-one meals are perfect for Paleo enthusiasts, low-carb eaters, or anyone looking to enjoy healthy and satisfying bowl-style dishes. From hearty breakfasts to vibrant salads and indulgent comfort foods, Kelsey combines lean protein, fresh veggies, and creative sauces to create delicious and complete meals.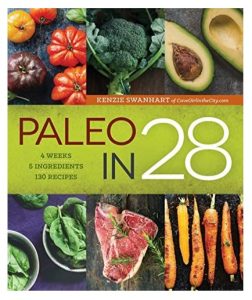 "Paleo in 28" is your ultimate guide to a healthier you. With just 5 ingredients and 130 mouthwatering recipes, this hardcover cookbook simplifies the Paleo lifestyle. In just 4 weeks, you'll transform your eating habits and well-being. Discover delicious, easy-to-make dishes that will keep you on track to a happier, healthier you.
Indulge your sweet tooth the healthy way with "Paleo Baking at Home." Michele Rosen, the creative force behind Paleo Running Momma, presents 60 delectable, grain-free recipes for cookies, cakes, bars, bread, and more. Whether you're Paleo or simply seeking cleaner eating options, you'll love these gluten-free and sugar-free treats. Reimagine your favorite classics with these foolproof Paleo recipes!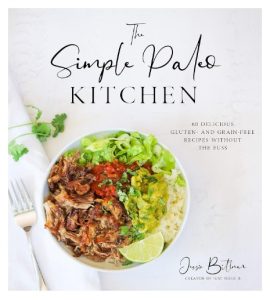 Simplify your Paleo journey with "The Simple Paleo Kitchen." Jessie Bittner brings you a delectable collection of gluten- and grain-free recipes designed for convenience. Each dish requires five steps or fewer, making it easy to enjoy flavorful meals without the kitchen chaos. Whether you're a busy bee or just want to simplify your cooking, this cookbook is your ticket to easy, tasty Paleo recipes.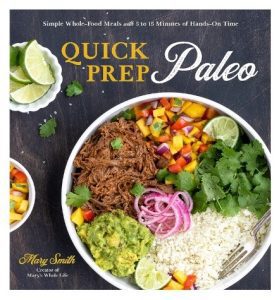 Enjoy a simpler Paleo lifestyle with "Quick Prep Paleo" by Mary Smith. These hands-off recipes are rich in flavor and ready in just 15 minutes or less of hands-on time. Say goodbye to gluten, dairy, grains, legumes, and refined sugar without sacrificing taste. From Creamy Bolognese Sauce to Meat Lovers' Pizza Spaghetti Squash Casserole, let your oven, stove, slow cooker, or Instant Pot do the work while you savor extra free time at home. With Mary's ingenious recipes and beautiful photography, every day becomes delicious and stress-free.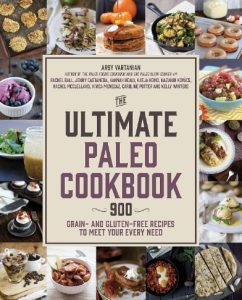 Dive into 'The Ultimate Paleo Cookbook,' featuring over 900 grain- and gluten-free recipes curated by Hannah Healy and other Paleo bloggers. This comprehensive collection offers flavorful and convenient options for all, with chapters dedicated to easy weeknight meals, budget-friendly dishes, and more. Whether you're new to Paleo or a seasoned enthusiast, this cookbook is your go-to resource for a wide variety of delicious, wholesome recipes.
"The Keto Reset Instant Pot Cookbook" offers 75 quick and easy electric pressure cooker recipes, authorized by Instant Pot® and created by Mark Sisson, a New York Times bestselling author. This cookbook simplifies keto-friendly eating with delicious recipes that help you escape carb dependency and improve your health. From Instant Pot basics to gourmet dishes, these recipes are in line with keto guidelines, free of added sugars and processed grains, making it easy to reboot your metabolism. Enjoy a no-fuss approach to high-fat, low-carb meals with great taste and variety.
In "Made Whole," Cristina Curp, the creative force behind The Castaway Kitchen, offers a game-changing approach to nutrition. This comprehensive cookbook and resource guide merges the Paleo and low-carb/ketogenic diets, featuring whole, unprocessed ingredients. Cristina empowers you to create a personalized nutrition plan, while her globally-inspired recipes make healthy eating exciting. With dishes free of grains, gluten, sugar, and more, this book caters to keto, Paleo, low-carb, AIP, and allergen-free diets. From Chewy Chocolate Chip Cookies to Savory Flax Waffles, every meal is a culinary delight. 
In this book, Leanne Vogel from Healthful Pursuit shatters the myth that dietary fat is the enemy and reveals the extraordinary fat-burning potential of the ketogenic diet. Tailored to your unique needs, this approach eliminates the restrictions of traditional keto, offering a one-stop guide to a whole foods-based, Paleo-friendly, and practical ketogenic lifestyle. With over 125 delectable recipes and 28-day meal plans, you'll effortlessly transition to a high-fat, low-carb existence, while tools like grocery store guides and food lists make it a breeze. "The Keto Diet" is your ticket to a happier, healthier you, free from calorie counting and fat fears.
"Keto Reset Diet" unveils a revolutionary 21-day plan to reset your metabolism and unlock the secret to burning fat forever. With a scientifically validated two-step approach, this book guides you towards successful health and weight loss. By becoming "fat-adapted" and then embracing full nutritional ketosis, you'll reprogram your body to burn fat for fuel, all while enjoying satisfying, nutrient-dense foods. Featuring step-by-step guidance, meal plans, and over 100 keto-friendly recipes, this comprehensive guide empowers you to stay trim, healthy, and energized. 
In "Wired to Eat," Robb Wolf reveals a groundbreaking approach to lasting fat loss. Robb provides a tailored weight loss solution that works with your unique biology. With a 30-Day Reset to regulate blood sugar levels, restore your appetite, and combat insulin resistance, plus over 70 delicious recipes and meal plans, you'll embark on a transformative journey. Explore your carb tolerance with the 7-Day Carb Test and unveil your individualized weight loss blueprint. No more guesswork—discover the foods that work best for you and achieve lasting results with "Wired to Eat."
In "The Paleo Cure", there's no need to be a strict caveman – Kresser's three-step approach, "Reset, Rebuild, Revive," lets you tailor the Paleo diet to your lifestyle, body type, and genetic blueprint. Offering solutions for specific health conditions, from heart disease to digestive problems, this book provides a 7-day meal plan and delicious recipes. With an emphasis on restoring a healthy gut and immune system, eliminating toxins, and making informed choices about fats and proteins, "The Paleo Cure" is your guide to sustainable health and wellness, allowing you to indulge in moderation while achieving transformative results. 
The Paleo lifestyle has captured the imaginations of countless individuals seeking a return to natural, wholesome living. But embarking on this ancestral journey requires guidance and knowledge. Here comes Paleo Books—a treasure trove of wisdom, guidance, and insights. 
Let's delve on a literary adventure through the world of Paleo books. From cookbooks filled with mouthwatering recipes to scientific explorations of our ancestors' diets, we'll uncover the best Paleo books that illuminate the path to a healthier life. Whether you're a seasoned Paleo enthusiast or just starting your journey, these books offer a roadmap to better understanding of this timeless way of living. 
The Essence of Paleo Books
Paleo books are literary treasures that encapsulate the essence of the Paleo lifestyle. They are not just recipe collections but comprehensive guides to understanding the principles of Paleo living. These books are penned by experts, nutritionists, chefs, and passionate advocates who have dedicated themselves to distilling the wisdom of our ancestors into the written word.
The Evolution of Paleo Literature
The evolution of Paleo literature has mirrored the growth of the Paleo movement itself. Early works primarily focused on dietary principles and the elimination of processed foods and grains. However, as the movement gained momentum, Paleo books began to explore a myriad of related topics, including fitness, stress management, sleep, and ancestral health practices.
Key Topics in Paleo Books
Dietary Guidance:

Many Paleo books provide detailed guidance on crafting a Paleo diet, including lists of approved and restricted foods, meal plans, and strategies for success.

Recipes and Cooking Techniques:

A significant portion of Paleo books is dedicated to recipes that showcase the delicious possibilities of Paleo cooking. These range from simple, everyday meals to gourmet creations.

Fitness and Movement:

Some Paleo books delve into the importance of movement and exercise in achieving overall well-being, emphasizing the connection between physical activity and ancestral health practices.

Mind-Body Connection:

Paleo literature often explores the importance of stress management, quality sleep, and mindfulness in achieving holistic health.

Sustainability and Ethical Eating:

Many Paleo books discuss the principles of sustainable, ethical eating, including the importance of sourcing food responsibly.
The Empowerment of Readers
Paleo books empower readers to take control of their health and make informed choices. They provide knowledge about the impact of food choices on health and the environment, offering practical steps for implementing positive changes. Readers gain insights into the significance of whole, unprocessed foods and the potential benefits of eliminating grains, dairy, and refined sugars from their diets.
To sum it up, Paleo books serve as guiding lights to the path to better health and vitality. They offer more than just recipes; they offer a comprehensive understanding of the principles of clean living and ancestral wisdom. Whether you're a seasoned Paleo enthusiast or a newcomer seeking a healthier lifestyle, Paleo books provide a roadmap to nourish your mind and body. They encapsulate the essence of simplicity, authenticity, and the belief that the past can shape a healthier future. So, pick up a Paleo book, embark on your transformative journey, and nourish both your body and your mind along the way.