Paleo Cereal - Fuel Your Morning with Wholesome Goodness
Discover our nourishing Paleo cereal options to kickstart your mornings and fuel your wellness journey. We have carefully selected health-conscious products that align with the Paleo lifestyle to promote your overall health and fitness.
Savor the delightful taste of Seitenbacher's Gluten-Free Strawberry Muesli Cereal. Packed with juicy strawberries and wholesome almonds, this natural muesli is GMO-free, rich in protein and fiber, and contains no artificial flavors or colors. Discover the best of German grains in every bite!
Level up your breakfast with Lark Ellen Farm's Berrylicious Grain-Free Granola Clusters.These raw, sprouted, and certified organic bites are packed with a delicious mix of nuts, seeds, strawberries, blackberries, and blueberries. Enjoy this gluten-free, paleo, and vegan-friendly snack anytime, anywhere. Resealable for freshness and made to reduce inflammation.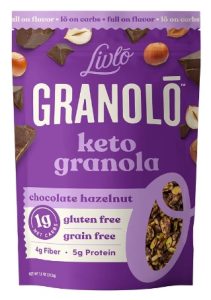 Upgrade your breakfast with Livlo Keto Granola Cereal in delectable Chocolate Hazelnut flavor. Perfect for keto, low carb, diabetic, and gluten-free diets, this guilt-free cereal packs all the nutty goodness and chocolatey delight you crave while keeping carbs in check. Whether it's a wholesome cereal, a convenient office snack, or a midnight treat, Livlo has got your back.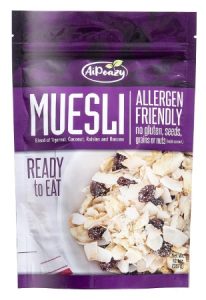 Experience AiPeazy Muesli – the ultimate gluten-free, paleo-friendly mix for breakfast, snacks, and more. Designed with the Autoimmune Protocol Diet in mind, this muesli is perfect for those seeking a healthy option. Packed with natural ingredients, it's a high-energy, low-carb snack that caters to various dietary needs. Free from allergens like dairy, eggs, soy, gluten, nuts, seeds, and grains, it's suitable for vegans and allergen-sensitive individuals. Discover the delicious AiPeazy and embrace a healthier way of snacking or breakfasting!
Indulge in PaleoThin® Coconut Flakes, the ultimate guilt-free delight. Made with 100% organic coconut ingredients, these flakes are the perfect addition to your paleo, vegan, kosher, and non-GMO lifestyle. With no added sugar, grains, gluten, or dairy, you can savor their natural sweetness without the guilt. Make your breakfast with these 100% gluten-free and non-GMO coconut flakes – pure, wholesome, and utterly delicious.
Experience a wholesome breakfast with Three Wishes Unsweetened Cereal – the plant-based, gluten-free, and grain-free cereal that redefines your morning routine. Say goodbye to sugary cereals and hello to 8g of protein and only 3g of sugar per serving. Made with nutrient-rich ingredients, this cereal is free from wheat, corn, rice, oats, peanuts, and soy. It's non-GMO, vegan, kosher, and certified gluten-free. So, start your day right with Three Wishes – a cereal that your entire household will love.
Enjoy NUCO Organic Coconut Crunch Cereal for your breakfast! This gluten and grain-free cereal is not only delicious but also certified organic, kosher, vegan, and paleo-friendly. Made with organic ingredients, it contains no egg, corn, soy, dairy, or added sugar. Each 10.58oz box comes with a 1-year shelf life, providing you with a healthy and convenient breakfast option.
Energize your day with Living Intentions Superfood Cereal. Made with sprouted buckwheat and gluten-free oats, this cereal is a delicious and nutritious choice for breakfast, smoothies, or all-day snacking. It's sweetened with organic coconut palm sugar and contains no cane sugar. Enjoy it with dairy or non-dairy yogurts or milk. Plus, it's naturally cholesterol-free, vegan, paleo, and suitable for a variety of dietary preferences."
Elevate your breakfast and snacks with Wildway Vegan Granola Variety Pack. Certified gluten-free, grain-free, and paleo-friendly, this granola is a wholesome choice for all. Made with 100% real food ingredients, it's a delicious blend of organic fruits, nuts, seeds, and spices. Enjoy it as a topping for smoothie bowls, yogurt, or ice cream, or as a convenient on-the-go snack. The variety pack includes three mouthwatering flavors: Banana Nut, Apple Cinnamon, and Coconut Cashew.
Julian Bakery® ProGranola® Cereal is a game-changer for your breakfast routine. With a whopping 12g of protein per serving, it's the ideal choice for those following a gluten-free or paleo diet. Plus, it's incredibly low in net carbs, with only 2g per serving. Made with high-quality ingredients, this grain-free granola is perfect to kickstart your day. This offer includes a convenient 3-pack, giving you plenty of delicious and nutritious breakfasts to enjoy.
Savor the delicious and nutritious Seven Sundays Grain-Free Cereal. This 4-count bundle includes Real Cocoa, Real Cinnamon, Real Berry, and Maple Sea Salt flavors, all made with real ingredients. This cereal is gluten-free, GMO-free, and boasts a vegan-friendly, upcycled protein source. Plus, there's no refined sugar here! They sweeten the cereal with natural ingredients like real maple syrup, dates, and coconut sugar. Start your day right or enjoy it as a snack, and feel good about what you're eating.
Wella Grain-Free Cereal is the perfect oatmeal alternative. Packed with organic, vegan, and gluten-free superfoods, this original flavor cereal offers 3 times the fiber of oatmeal and about 2 times the protein. Whether you enjoy it in the morning or as a hearty snack anytime, Wella's single-serve 1.6 oz packets are convenient and delicious. It's like oatmeal, but better!
Discover the deliciously grain-free Bob's Red Mill Paleo Style Muesli! This satisfying cereal or snack is made with real dried fruits, nuts, and seeds, offering a bountiful mix of coconut, blueberries, cranberries, currants, strawberries, macadamia nuts, almonds, cashews, sunflower seeds, and pumpkin seeds. Not only is it great for breakfast, but it's also an excellent baking ingredient, perfect for cookies or snack bars. Plus, it's vegan and gluten-free.
Indulge in Lovebird's Organic Grain-Free Cereal in a delightful honey flavor. This cereal is not only delicious but also fits various dietary preferences, including Paleo, AIP, dairy-free, and keto-friendly. Lovebird Cereal has no refined sugar, making it a healthy snack choice for both kids and adults. USDA Organic certified, this 4-pack of honey-flavored cereal is a sweet and wholesome option for your breakfast table.
As more people embrace the Paleo lifestyle, the demand for Paleo-approved breakfast options has grown. Paleo cereal, a delightful blend of natural ingredients, is answering this call. Let's dive deep into the realm of Paleo cereal, revealing what makes it unique and why it's gaining popularity in the world of clean eating.
The Key Ingredients of Paleo Cereal
The Paleo diet promotes consuming foods in their most natural and unprocessed form. It excludes grains, dairy, legumes, and refined sugars. Instead, it encourages people to consume whole foods such as lean meats, fish, vegetables, fruits, nuts, and seeds. Healthy Paleo cereal embodies these principles. These wholesome cereals serve as grain-free and dairy-free alternatives to traditional breakfast cereals. Here are some of its key ingredients:
Nuts and Seeds:

Many Paleo cereals contain nuts and seeds, like almonds, cashews, walnuts, and sunflower seeds. These ingredients offer rich, nutty goodness while delivering essential nutrients.

Dried Fruits:

Paleo cereals incorporate dried fruits like raisins, dates, or cranberries to add natural sweetness. These offer a natural source of energy and a touch of sweetness without the need for refined sugars.

Coconut:

Coconut (oil or shredded meat) serves as a common ingredient in Paleo cereals. This ingredient contributes to the cereal's unique texture and provides healthy fats and fiber.

Spices and Flavorings:

Cinnamon, vanilla, and even cocoa powder are used to enhance the flavor profile of Paleo cereals without straying from the diet's principles.

Natural Sweeteners:

While Paleo cereal typically avoids added sugars, some variations may include small amounts of natural sweeteners. These are used sparingly to maintain the cereal's health-conscious status.
Nutritional Benefits of Paleo Cereal
One of the key reasons individuals turn to Paleo cereal is its impressive nutritional profile:
Protein-Rich:

Thanks to the inclusion of nuts and seeds, Paleo cereal delivers a protein boost that can help keep you feeling full and satisfied throughout the morning.

Healthy Fats:

Nuts and coconut bring in healthy fats that support heart health and overall well-being.

Fiber:

Dried fruits and nuts supply ample fiber, aiding in digestion and promoting a feeling of fullness.

Low in Sugar:

With no refined sugars and only minimal natural sweeteners, Paleo cereal is a low-sugar breakfast choice.

Gluten-Free and Grain-Free:

For those with gluten sensitivity or following a grain-free diet, Paleo cereal offers a welcome alternative.
Making the Most of Paleo Cereal
Now that you're familiar with Paleo cereal and its benefits, here are some tips on how to enjoy it to the fullest:
Pair with Your Favorite Milk:

Pour coconut milk, almond milk, or any milk alternative over your Paleo cereal for a satisfying breakfast.

Yogurt Parfait:

Create a delicious yogurt parfait by layering Paleo cereal with dairy-free yogurt and fresh berries.

Snack on the Go:

Paleo cereal isn't just for breakfast. They're also good for on-the-go snacks for a quick energy boost during the day.

Homemade Creations:

Experiment with making your own Paleo cereal at home, customizing it to your taste preferences.

Mix and Match:

Combine different Paleo cereals to create your own unique blend of flavors and textures.
Paleo cereal is a nutritious way to embrace the Paleo lifestyle. It provides a balanced start to your day. Whether you buy one from a store or make your own at home, Paleo cereal invites you to savor its natural goodness that keeps you energized throughout the day. Check out our diverse range of Paleo cereals today!