Paleo Supplements - Accelerate Your Health Journey
Shop our healthy paleo supplements to support your weight-loss journey and help you feel your best. We research and review health products and supplements that help you lose weight, improve your overall health, and keep fit.
Energize your life with Thorne Research Magnesium Citrate. These 90 capsules are designed to support energy production, heart and lung function, and the metabolism of sugar and carbs. Thorne Research, a trusted brand, delivers this essential magnesium supplement in convenient capsule form. Give your body the support it needs to thrive with Thorne Research Magnesium Citrate.
This collagen is proven to deliver many benefits, from reduced joint pain and stiffness to healthier, stronger skin, hair and nails, as well as more restful sleep and improved digestive health.
Youtheory Collagen for Men is an advanced nutritional formula with biotin and vitamin C. Biotin contributes to the maintenance of normal hair, skin, function of blood vessels, bones, cartilage, gums, and teeth.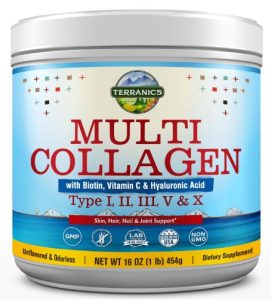 Experience the benefits of Terranics Multi Collagen Powder, a powerful blend of 5 collagen types, biotin, vitamin C, and hyaluronic acid. This formula supports not only your skin, hair, and nails but also joint and bone health. This collagen complex is pure and free from common allergens and hormones. It's easy to mix into your daily routine, whether you add it to your coffee, tea, smoothies, or oatmeal. Unlock the power of nature and nourish your body with this unflavored collagen powder.
Boost your gut and immune health with Garden of Life's Dr. Formulated Probiotics Immune Support. This triple-action formula combines clinically proven prebiotics, studied probiotics, and upcycled postbiotics to provide comprehensive support. Featuring an innovative prebiotic blend with Organic Potato, Acacia fiber, and PreforPro, it promotes the growth of beneficial bacteria. Nourish your body with the WHOLEbiotic difference.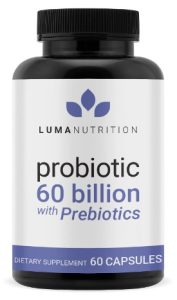 Experience total digestive health with Luma Nutrition Probiotics 60 Billion CFU with Prebiotics. This premium probiotics are specially formulated for both men and women. Say goodbye to digestive discomfort with probiotic strains that can help alleviate constipation, diarrhea, gas, and bloating. Each bottle provides a 30-day supply of premium-quality probiotics. Prioritize your gut health with Luma Nutrition Probiotics.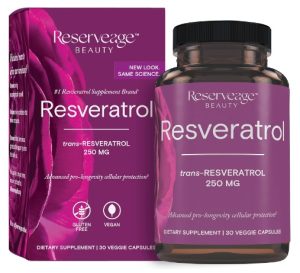 Support your heart, cellular health, and healthy aging with Reserveage Beauty Resveratrol 250 mg. This antioxidant supplement is formulated with pure resveratrol to aid in maintaining heart health and fighting the effects of aging. It features a Pro-Longevity Factors Blend with organic Muscadine red wine grapes and wildcrafted Japanese knotweed. These veggie capsules are suitable for vegans and those following a Paleo lifestyle. Enjoy the benefits of this immune support supplement that can be taken on an empty or full stomach.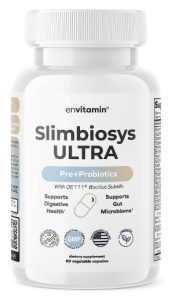 Discover envitamin Slimbiosys Ultra Probiotic Capsules, the cost-effective choice that exceeds pricier probiotics. This unique formula is designed to support women through menopause, helping you feel like "You" again with just 2 capsules per day. Made by envitamin in the USA, our state-of-the-art facility upholds the highest quality and manufacturing standards. Support your microbiome with envitamin Slimbiosys Ultra Probiotic Capsules.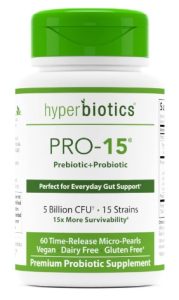 Experience the benefits of gut health with Hyperbiotics Pro-15 Vegan Probiotic Supplement. This formula features 15 targeted probiotic strains, designed for both women and men. These probiotics are delivered using a proprietary time-release method, ensuring they reach deep into your intestinal tract alive and active. This vegan, non-GMO, gluten-free formula is free from common allergens and artificial additives. Prioritize your gut health with Hyperbiotics Pro 15.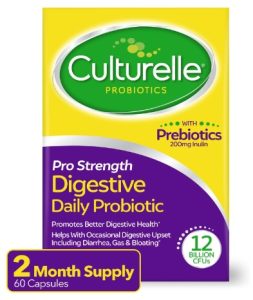 Support your digestive health with Culturelle Pro Strength Daily Probiotic. These naturally sourced probiotic capsules are scientifically formulated to keep your digestive system in balance, helping reduce occasional gas, bloating, and diarrhea. With 12 billion CFUs of LGG probiotics and the prebiotic inulin, this daily probiotic provides comprehensive digestive and immune support. Backed by over 1,000 scientific studies and 30 years of research, Culturelle Pro Strength is a safe and effective choice. It's also vegetarian, gluten-free, and free from milk, soy, and preservatives.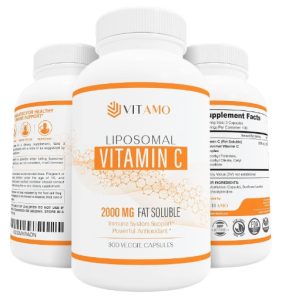 Elevate your wellness journey with Vitamo's Liposomal Vitamin C 2000mg, the highest potency formula on the market. Don't settle for less when you can experience better sleep, energy, skin, and mood. Strengthen your immune system, revitalize your skin, and beat fatigue with the power of liposomal technology. This advanced formula ensures significantly higher absorption rates, thanks to non-GMO phospholipid Sunflower Lecithin. Get maximum results with Liposomal Vitamin C 2000mg today.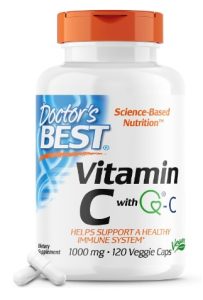 Support your immune health with Doctor's Best Vitamin C with Q-C. This high-quality, non-GMO, vegan, and gluten-free formula contains 1000mg of Vitamin C sourced from Scotland, renowned for its quality and reliability. Vitamin C is essential for collagen synthesis, brain health, antioxidant support, and overall wellness. Trust Doctor's Best for clean and reliable supplements that support your well-being.
Boost your immune system the natural way with Paleovalley Essential C Complex. Packed with organic superfoods like unripe acerola cherry, camu camu, and amla berry, this vitamin C supplement offers a full spectrum of immune support. Unlike products with synthetic ascorbic acid, this formula is derived from organic whole foods, making it highly bioavailable and effective in supporting nutrient absorption, energy regulation, and overall immune function. 
Support your bone and heart health with Bronson Vitamin K2 D3 (MK7) Supplement. Each tablet provides 90 mcg of Vitamin K2 as MK-7 and 5000 IU of Vitamin D3, packed into a convenient 1-year supply bottle. Vitamin K2 and D3 work in harmony to maximize the benefits of Vitamin D, promoting enhanced absorption and utilization. Bronson Basics K2 + D3 is lab-tested, Non-GMO, Gluten-Free, and Soy-Free, ensuring superior quality. Invest in your well-being with great-value supplementation.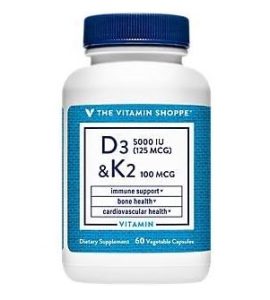 Elevate your immune system and support your bones with Vitamin D3 & K2 by The Vitamin Shoppe. Packed with 5,000 IU of Vitamin D3 in convenient capsule form, this unflavored supplement supports your overall well-being. It's gluten-free, dairy-free, soy-free, and nut-free, containing no artificial colors. Take a step towards better health with this powerful combination of vitamins.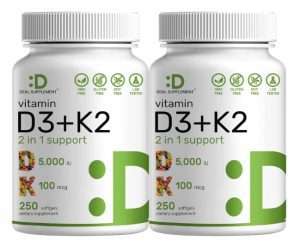 Unlock the power of 2-in-1 support with our Vitamin D3 K2 Softgel 2-Pack Deal! Each 250-count bottle features an easy-to-swallow mini softgel, combining Vitamin D3 and Vitamin K2 for heart, bone, and teeth health in one convenient dose. Whether for adults or kids, this bioavailable supplement supports healthy bones and immune function. Plus, it's gluten-free, dairy-free, non-GMO, and rigorously third-party tested, with no preservatives, tree nuts, or added sugar.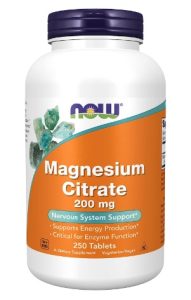 Experience the benefits of NOW Supplements Magnesium Citrate 200 mg. This essential mineral supports your nervous system, enzyme function, and energy production. With 250 tablets per pack, it's a convenient way to maintain your magnesium levels. Plus, it's Halal, Kosher, Non-GMO, and suitable for various dietary preferences. Trust NOW's GMP Quality Assured certification for top-notch quality and potency. Achieve optimal wellness with Now supplements today.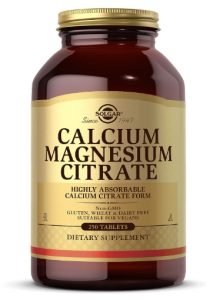 Solgar Calcium Magnesium Citrate tablets provide the essential building blocks for strong and healthy bones and teeth. Support your musculoskeletal system and muscle function with this highly absorbable citrate form of calcium and magnesium. Plus, it's non-GMO, vegan, kosher, and free of gluten, wheat, dairy, soy, yeast, sugar, artificial additives, and colors. Trust Solgar, a brand committed to quality and well-being for over 70 years. 
Paleo Supplements: A Guide to Enhancing Your Paleo Lifestyle
The paleo diet, inspired by the dietary habits of our ancient ancestors, emphasizes whole, unprocessed foods like lean meats, fish, fruits, vegetables, nuts, and seeds. While the diet itself is nutrient-rich, some individuals may seek additional support to meet specific nutritional needs or enhance their overall health. Paleo supplements can be a valuable addition to your paleo lifestyle when chosen wisely. In this guide, we'll explore the world of paleo supplements, discussing their benefits and highlighting some popular options.
Benefits of Paleo Supplements
Fill Nutritional Gaps

: Even with a well-balanced paleo diet, it can be challenging to get all the essential vitamins and minerals your body needs. Supplements can help bridge these nutritional gaps.

Support Specific Goals

: Whether you're looking to build muscle, improve digestion, boost energy, or support joint health, there are paleo-friendly supplements tailored to your specific goals.

Enhance Recovery

: For athletes or those with active lifestyles, certain supplements can aid in post-workout recovery, reducing muscle soreness and promoting faster healing.

Maintain Gut Health

: Some paleo supplements, like probiotics, can support a healthy gut microbiome, which is vital for overall well-being and digestive health.
Popular Paleo Supplements
Popular paleo supplements include fish oil, rich in omega-3s for reduced inflammation and heart health. Collagen supplements sourced from grass-fed animals support skin, joint health, and gut healing. Vitamin D3 aids bone health and immunity, often lacking in paleo diets. Probiotics maintain gut health and digestion.
Magnesium supplements improve muscle relaxation, sleep, and stress management. Natural-source creatine benefits athletic performance and muscle growth. Turmeric, containing curcumin, offers anti-inflammatory properties aligned with the paleo diet's focus on reducing inflammation. Choosing reputable, minimally processed supplements that align with paleo principles is key to enhancing your paleo lifestyle while following recommended dosages.
Choosing Paleo Supplements Wisely
When selecting paleo supplements, consider the following:
Quality

: Choose supplements from reputable brands with transparent sourcing and third-party testing to ensure purity and potency.

Ingredients

: Check the ingredient list for additives, fillers, and non-paleo ingredients. Look for supplements with minimal, natural additives.

Sourcing

: Opt for supplements that align with paleo principles, such as those derived from grass-fed animals or natural plant sources.

Dosage

: Follow recommended dosages to avoid overconsumption of nutrients, which can have adverse effects.

Consult a Professional

: If you have specific health concerns or medical conditions, consult a healthcare provider or registered dietitian before starting any new supplement regimen.
In conclusion, paleo supplements can be a valuable addition to your paleo lifestyle when chosen thoughtfully and used in conjunction with a balanced diet. They can help fill nutritional gaps, support specific goals, and enhance overall well-being. However, it's essential to prioritize high-quality supplements that align with the principles of the paleo diet and consult with a healthcare professional when necessary.