Paleo Snacks - Energize your Body the Healthy Way
Discover our wholesome paleo snacks to fuel your body and enhance your well-being. We meticulously curate and evaluate a range of paleo-friendly snacks that not only support your fitness goals but also contribute to your overall health.
Indulge guilt-free with EXO's Salted Caramel Protein Bars! Packed with 14g of protein, these bars are a dietary dream: Gluten-Free, Dairy-Free, Low in Sugar, Non-GMO, Vegetarian, and Paleo-Approved. Made with sustainable Acheta Protein, they use 90% less land and water than whey protein production. Plus, these sweet, chewy bars are a delicious treat for any occasion, whether you're going out on Saturday or hitting a workout class on Sunday.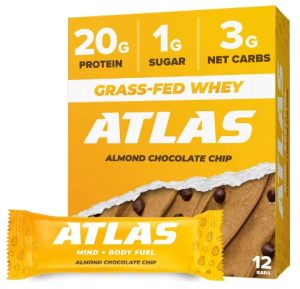 Level up your snack game with Atlas Protein Bars – a bar like no other! Made with real ingredients like grass-fed whey protein, nut butter, and real fruit, they're committed to keeping things clean – no sucralose, no added sugars, no seed oils, and nothing artificial. Whether you're following a low-carb, keto, soy-free, or gluten-free diet, Atlas is the perfect fuel for almost every lifestyle. Experience exceptional nutrition with Atlas Protein Bars and stay full, focused, and energized!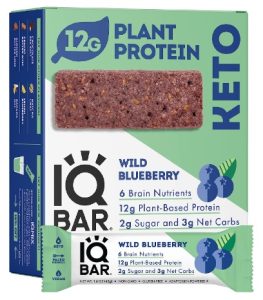 These bars are the No. 1 choice for brain and body fuel. Packed with 6 brain-boosting nutrients, these bars are designed to keep you full, focused, and energized all day long. Plus, these bars are vegan, dairy-free, soy-free, kosher, and high in fiber, making them suitable for a variety of dietary preferences.  Enjoy the convenience of these low-carb snacks and experience the tasty, brain-boosting benefits of IQBAR today!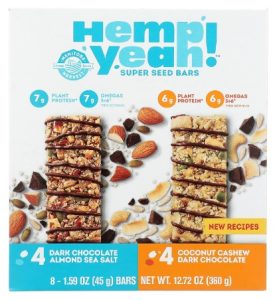 Experience the wholesome goodness of Manitoba Harvest Hemp Yeah! Bars. These bars are the ultimate grain-free, gluten-free, and vegan snack option. Crafted with the freshest, highest quality hemp seeds and clean, simple ingredients, they provide your mind and body with powerful nutrition in every bite. Plus, these bars are an excellent source of vitamins. Discover the perfect balance of taste and nutrition with Manitoba Harvest Hemp Yeah! Bars.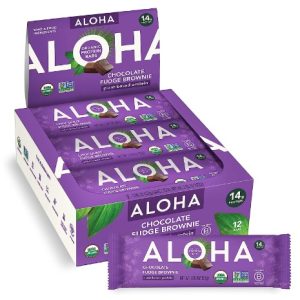 Enjoy guilt-free with ALOHA Organic Plant-Based Protein Bars in irresistible Chocolate Fudge Brownie flavor. These bars are Vegan, Non-GMO, Gluten-Free, Kosher, Soy-Free, Dairy-Free, Stevia-Free, and high in fiber. Whether you follow a vegetarian, vegan, celiac, or paleo-friendly diet, ALOHA has you covered. These bars make an ideal snack, meal replacement, or a quick breakfast option for those busy mornings. 
These bars capture the delightful taste of lemon cookies while providing on-the-go nutrition. Boasting 11g of protein, creamy cashew butter for a shortbread-like texture, and pure MCT oil for sustained energy, they're a satisfying treat with only 2g of sugar. Plus, they're gluten-free, dairy-free, and non-GMO. Trust Bulletproof's quality ingredients for a powerful, fueling snack anytime you need it.
Experience the wholesome goodness of AMRITA Farmer's Market vegan protein bars. These bars are a testament to natural flavors and clean ingredients, free from sugar alcohols and artificial colors. Crafted with care, they're cold-pressed to preserve nutrients and enzymes. Plus, they're allergen-free, including gluten-free, dairy-free, peanut-free, egg-free, soy-free, and sesame-free, making them a worry-free choice. Enjoy simple, worry-free, and healthy snacking!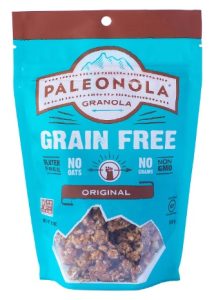 Create a healthy, protein-packed snack that keeps you fueled all day with Paleonola Grain-Free Granola. This 10 oz bag of goodness is bursting with 4 grams of protein and a delightful blend of nuts, seeds, berries, and unsweetened coconut. It's also NON-GMO and free from grains, soy, dairy, and refined sugars. Enjoy Paleonola by the handful or sprinkle it over yogurt for a satisfying crunch. Take your smoothie to the next level with a generous serving of Paleonola!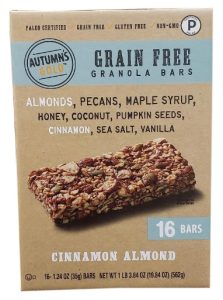 Indulge in Autumn's Gold Grain-Free Cinnamon Almond Granola Bars, a delightful pack of 16 bars. These bars are a tasty and wholesome treat. With the perfect blend of cinnamon and almond, they're a convenient snack for any time of the day. Grab a bar and savor the goodness!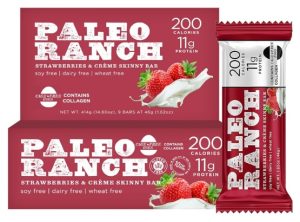 These bars deliver a delicious combination of classic flavors in a better-for-you Paleo treat. With 11 grams of protein and only 200 calories, they're the perfect post-workout and anytime Paleo snack. Each box contains 9 Soy-Free, Dairy-Free, Gluten-Free, and Wheat-Free Skinny Bars, crafted with natural, nutrient-rich ingredients and high concentrations of BCAAs. Treat yourself to wholesome Paleo snacks and meal replacements!
Rise Pea Protein Bars are a great source of protein, packing 15g of pea protein per bar. With only 5 natural whole food ingredients, they provide health benefits beyond the basics. Handmade to perfection, each bar offers a unique, gourmet-quality experience. Enjoy them as a pre-workout energy boost, post-workout recovery, afternoon snack, or on-the-go meal replacement. Rise bars are all-natural, with no unnecessary ingredients or fillers. Choose a clean diet and epic flavor with Rise!
Experience the natural goodness of RIND Snacks Coconut Crisps. These unsweetened, dried coconut are packed with heart-healthy fats, essential minerals, and immune-boosting selenium. With just 2 net carbs per serving, they're a perfect choice for Keto diets, leaving you satisfied and energized. Plus, these coconut crisps are GMO-free, rich in vitamins, high in fiber, and loaded with antioxidants.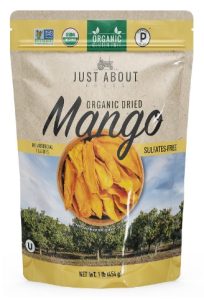 Made from just one single ingredient, these snacks offer the perfect balance of natural sweetness and nutrition. It has no sugar or artificial flavors, ensuring a wholesome snacking experience. These juicy Mexican Mangos are carefully dried to preserve their natural nutrients and vitamins, delivering a delightful treat that nourishes your body. With a resealable bag for freshness, these Dried Mango Strips are a perfect on-the-go snack, anytime, anywhere. Make them a staple in your pantry for the whole family to enjoy!
Introducing The New Primal Snack Mates Meat Sticks – the perfect healthy snacks for kids. Packed with flavor, each 15-pack features delightful Chicken and Maple flavor mini paleo jerky sticks. These gluten-free, low sugar, high protein snacks are ideal for lunchboxes or on-the-go munching. Crafted with all-natural ingredients, The New Primal offers a delicious and nutritious option your kids will love.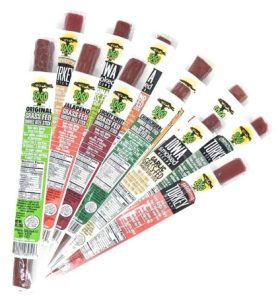 Savor the ultimate meaty delight with these Sogo 12 Flavor Variety Meat Sticks! This pack brings you a trio of healthy and flavorful meats: grass-fed beef, free-range turkey, and all-natural pork. With no added nitrates, gluten, soy, MSG, dairy, or nuts, these jerky sticks are bursting with rich, authentic taste. They're the perfect balanced snack, high in protein, and just the right amount of calories, carbs, and healthy fats.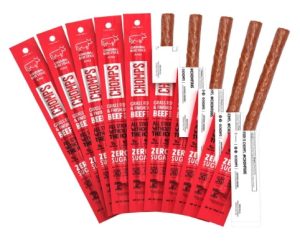 These diet-friendly sticks are perfect for Keto, Whole30, Paleo, and more, and they're free from GMOs and certified gluten-free. Plus, they're allergen-friendly, with real ingredients that are dairy-free, soy-free, nut-free, and sugar-free. Our beef is 100% Grass Fed & Finished, Certified Humane, and nitrate/nitrite free, ensuring quality protein you can trust. Savor the same savory taste that made us popular, slightly smoky and slightly spicy. Grab CHOMPS for on-the-go, quality protein snacking!
With 25 puffs per serving, it's a satisfying and wholesome snack you can indulge in guilt-free. These puffs are a perfect example of perfection, tumbled in organic coconut oil and sprinkled with our signature Himalayan pink salt. They're crafted with nutrient-dense cassava, coconut, and sweet potato flours, using the highest quality organic ingredients and minimal processing to create the cleanest and tastiest snacks in the world. Add LesserEvil for your snack list.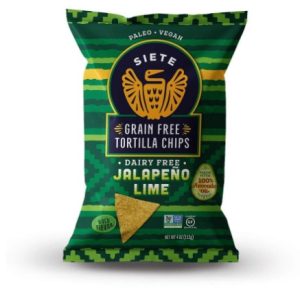 Satisfy your snack cravings with Siete Grain-Free Tortilla Chips. They're gluten-free, vegan, and suitable for Paleo, Dairy-Free, Soy-Free, Nut-Free, and Grain-Free diets. The flavor is a harmonious blend of subtle jalapeño heat and zesty lime, creating a pairing that's second to none. Enjoy these chips guilt-free, as they're crafted with 100% Non-GMO. But beware, they're highly ac-chip-tive – snack wisely!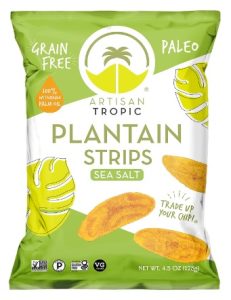 Indulge in a healthier snack option with ARTISAN TROPIC Plantain Strips. These vegan, paleo, and gluten-free chips are a nutrient-packed alternative to potato chips. Packed with potassium, magnesium, and vitamin B6, they're a guilt-free choice. Enjoy the goodness of non-GMO, preservative-free, and are perfect for dipping, parties, or anytime snacking. Made from hand-picked Dominico Harton Plantains, each bag is a taste of the tropics.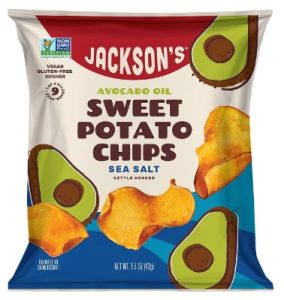 Experience the ultimate snacking delight with Jackson's Sweet Potato Kettle Chips. Made from the finest organic sweet potatoes, these chips are cooked low and slow in premium avocado oil for the perfect crunch and flavor. They're a nutritional powerhouse, suitable for various diets – vegan, gluten-free, paleo, kosher, AIP approved, and grain-free. With only three simple ingredients – non-GMO heirloom sweet potatoes, avocado oil, and sea salt – these chips are a guilt-free treat.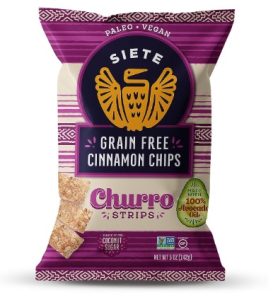 Transport yourself to the vibrant world of heritage-inspired flavors with Siete Grain Free Cinnamon Churro Strips. These delightful churros evoke memories of strolling through mercados, rodeos, fairs, and festivals. Made with all-natural ingredients, these strips are a wholesome indulgence that's grain-free, gluten-free, dairy-free, paleo, and vegan – ensuring more can savor their delicious taste. You can pair them with cajeta, hot chocolate, or enjoy them straight from the bag.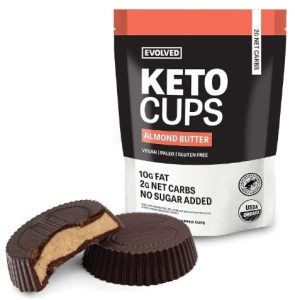 Indulge in guilt-free pleasure with EVOLVED Chocolate Almond Butter Keto Cups. These dark chocolate treats are perfect for those following a keto, paleo, or vegan lifestyle. Made with organic ingredients, they are not only delicious but also low in carbs, dairy-free, gluten-free, and sweetened with monk fruit. With no added sugar and organic ingredients, these keto cups are a decadent yet wholesome snack option. Each pouch contains 7 cups, offering you a delightful and nutritious treat for any occasion.
Taste the richness of Rad Chocolate sweetened with premium maple sugar. This treat is Certified Organic, Vegan, Dairy-Free, Fair Trade, and Gluten & Soy Free, making it a guilt-free delight. Each pack includes 3 bars, packed with the bold flavor of 85% extra dark chocolate and a hint of sea salt. Crafted in San Diego, California, with premium single-origin cocoa beans, this chocolate is a testament to quality and commitment.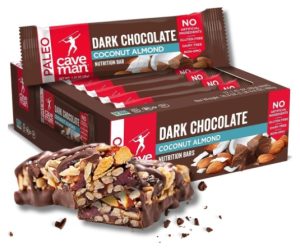 These nutrition bars are a paleo-friendly delight, crafted with decadent dark chocolate, coconut, and almonds, all while packing in the goodness of chia seeds and flax seeds. Certified non-GMO, these bars provide a guilt-free snacking experience. Plus, these bars are gluten-free and paleo-friendly, without any peanuts, oats, or grains. Whether you're on the go or need a quick bite, these bars offer a delicious combination of dark chocolate, fruit, seeds, and nuts.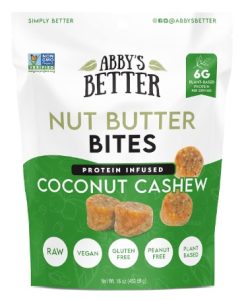 Abby's Better Nut Butter Bites offer a superior snacking experience. With a focus on planet-based components and the absence of peanuts and artificial sugars, Abby's Better Nut Butter Bites provide a wholesome, guilt-free snack. To fully savor their flavor and texture, it's essential to mix the butter before indulging. Abby's Better strives to redefine healthy snacking without compromising on taste, making them a leading clean-label snack brand in the market. Enjoy the perfect on-the-go snack with each bite.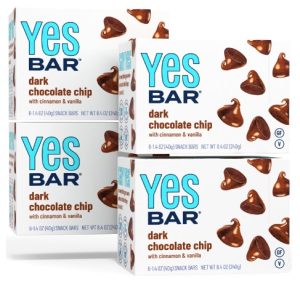 These plant-based protein bars redefine the notion of healthy vegan snacks by delivering irresistible flavors and delightful textures without compromising on quality or taste. These vegan paleo bars are a beacon of clean nutrition, featuring low glycemic, GMO-free ingredients, high-quality protein, and healthy fats. Plus, they're free from refined sugars, gluten, grains, dairy, soy, corn, eggs, and peanuts. Whether you're craving a bite from breakfast to dessert, The YES Bar will fuel your day and workouts.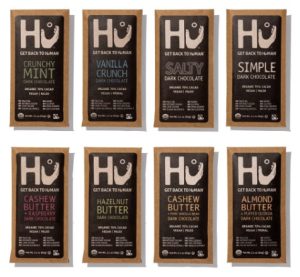 These chocolate bars proudly embrace a Paleo, Vegan, and Organic lifestyle. They contain no dairy, no soy, no emulsifiers, no soy lecithin, no gluten, no refined sugar, no cane sugar, and no sugar alcohols. Indulge in this Hazelnut Butter bar, a rich and delightful treat featuring creamy hazelnut butter encased in dark chocolate. Plus, each bar contains less than 2% almonds and cashews. Join us on our journey to going back to basics with clean eating, natural ingredients, and a healthier lifestyle.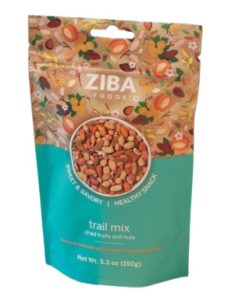 This delightful mix combines the best of both worlds – the delicate crunch of Gurbandi almonds, the chewy sweetness of Kishmish raisins, the floral notes of sweet apricot kernels, the savory richness of wild pistachios, and the honey-like sweetness of mulberries. Whether you're enjoying it straight from the bag or adding it to your favorite dishes, this trail mix is a nutritious and satisfying snack.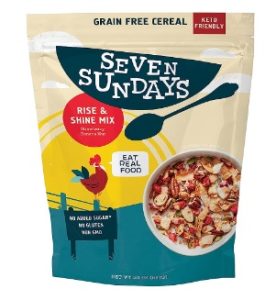 Crafted with a vibrant mix of seeds, nuts, and dried fruits, this granola is a breakfast that embraces natural ingredients. Enjoy it with your favorite milk, as a convenient on-the-go trail mix, or straight from the bag. This muesli is Non-GMO Project Verified, offering a healthier alternative to traditional cereals and granolas. Plus, it's sweetened with real fruit, avoiding added sugars. Savor the guilt-free goodness of Seven Sundays Keto Nut Granola!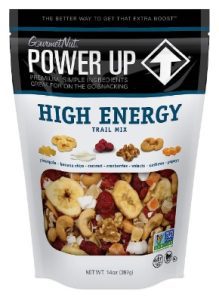 Boost your energy with Power Up Premium Trail Mix! Packed with protein, nutrients, and fantastic flavor, it's your ideal snack for a midday lift. Made from premium whole nuts, dried fruits, and seeds, this trail mix is preservative-free and offers a unique combination of walnuts, cashews, banana chips, cranberries, mango, papaya, and pumpkin seeds. It's Non-GMO, gluten-free, vegan, and kosher-certified, making it a guilt-free, on-the-go or topping option for salads, oatmeal, and yogurt.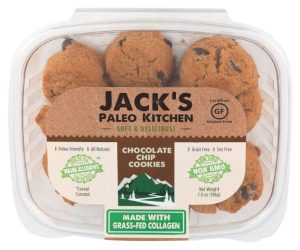 Indulge in the irresistible taste of JACKS PALEO KITCHEN Chocolate Chip Paleo Cookies! Made with a proprietary flour blend, these cookies are a wholesome treat. They're sweetened with honey and maple syrup and studded with chocolate chips. With ingredients like grass-fed collagen, these cookies are perfect for any occasion, from weddings to birthdays.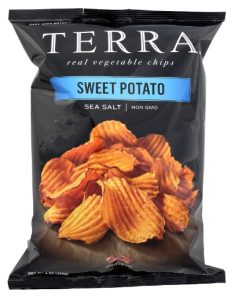 Experience the natural goodness of Terra Crinkle Cut Sweet Potato Chips with Sea Salt. These real vegetable chips are crafted with sweet potatoes and non-GMO ingredients, ensuring a delicious and guilt-free snacking experience. Free from artificial flavors and preservatives, and certified gluten-free and kosher, Terra chips are a wholesome choice for satisfying your crunchy cravings.
These Hu No Added Sugar Chocolate Chip Cookies are grain-free, keto-friendly, and gluten-free that bring big flavor without the guilt. Made with simple ingredients and naturally sweetened with dates, these cookies skip the added sugars and sugar alcohols. Certified Non-GMO, Gluten-Free, Paleo, you can savor every bite knowing you're making a wholesome choice for your snacking pleasure.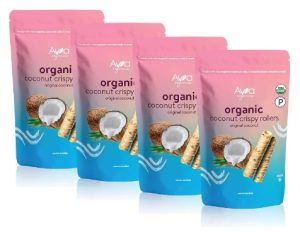 Discover the delightful taste of Ava Organics Coconut Crispy Rollers. These lightweight, guilt-free snack rolls are a hit with both kids and adults. Made from the finest all-natural ingredients, they're irresistibly crunchy and Certified USDA Organic. These gluten-free, Non-GMO, Kosher, Vegetarian, and Certified Paleo coconut crisps are perfect for a healthy on-the-go snack. Whether you're heading to school or work, bring along Ava Organics Coconut Crispy Rollers for a tropical treat anywhere you go.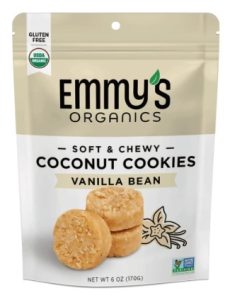 Indulge in the classic taste of vanilla with Emmy's Organics Coconut Cookies. Crafted in small batches with organic ingredients, these cookies offer guilt-free snacking at its finest – moist, chewy, and utterly delicious. They are certified USDA organic, vegan, gluten-free, grain-free, kosher, and non-GMO project verified, with no preservatives. Taste the goodness of whole food ingredients in every bite of these delectable coconut cookies.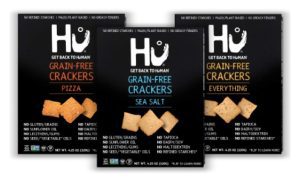 Experience the ultimate gluten-free snacking with Hu Gluten-Free Crackers. This collection includes three 4.25 oz boxes, featuring Hu's Sea Salt, Pizza, and Everything Gluten-Free/Grain-Free Crackers. These crackers provide a satisfying crunch that won't compromise your dietary preferences. Plus, they are vegan, paleo-friendly, and free from gluten, grains, refined starches, sunflower oil, dairy, seed/vegetable oils, corn, rice, and soy.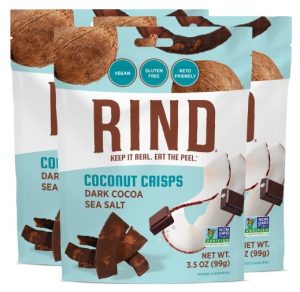 These innovative crisps are peel-powered, crafted from whole coconuts with the skin on, ensuring you savor the full coconut flavor. Dusted with real dark cocoa and a touch of sea salt, they're the perfect treat for conscious snacking. These crisps are not only delicious on their own but also versatile as a topping for various dishes. Rest assured, RIND Snacks are made from all-natural, USA-grown fruit with no GMOs, no added sugar, and are kosher, gluten-free, and vegan-friendly.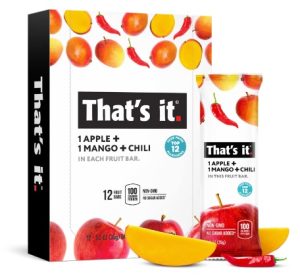 Savor the tantalizing flavors of That's It. Fruit Bars. These bars are a delicious fusion of just three ingredients – apple, mango, and chili – offering a zesty and satisfying taste while providing your body with the essential daily nutrition. With no preservatives, added sugar, concentrates, or purees, That's It. keeps it simple and delicious with 100% real fruit. Toss these bars into your gym bag, lunchbox, or try them in various recipes. These fruit bars are nut-free, fat-free, non-GMO, soy-free, pesticide-free, gluten-free, plant-based, Paleo, and Kosher-certified.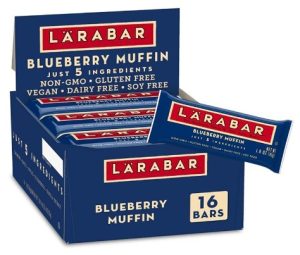 Make your snacking extra special with LÄRABAR Blueberry Muffin! Made from just five simple ingredients—cashews, dates, apples, blueberries, and vanilla extract—these bars are a delicious way to enjoy clean eating. They're vegan, gluten-free, dairy-free, kosher, soy-free, and non-GMO, making them the perfect healthy indulgence. With no artificial sweeteners, you can feel good about raising a bar to what you love.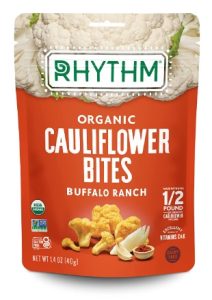 Discover the perfect on-the-go snack with Rhythm Superfoods Organic Cauliflower Bites. Packed with bold heat and zingy ranch taste, these bite-sized snacks are dairy-free and crisped to perfection. These Organic Cauliflower Bites are low heat crisped to preserve essential nutrients. From vegetarian to gluten-free to non-GMO, Rhythm snacks help you find your healthy groove. And these cauliflower bites are one of their tasty and wholesome snacks offering.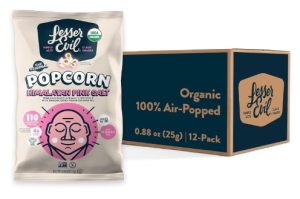 Indulge in a guilt-free snack that's both delicious and wholesome-LesserEvil's Himalayan Pink Salt Organic Popcorn, a snack. They keep it simple with just three organic ingredients: organic popcorn, organic extra virgin coconut oil, and Himalayan pink salt, resulting in a unique, lighter, and fluffier texture. They're committed to quality and sustainability, sourcing only the finest organic ingredients and using minimal processing. Join us in our mission of 'Simple Acts: Clean Snacks' and elevate your snacking game with LesserEvil.
Are you on a Paleo lifestyle or considering it? You might have wondered: What is the role of snacks in this Paleo eating plan? So, let's explore what Paleo snacks are, why they're important, and how to make the best choices for your health and satisfaction.
What are Paleo Snacks?
Paleo snacks are snacks that align with the principles of the Paleo diet. The fundamental principles of the Paleo diet include:
Whole, Unprocessed Foods:

Paleo snacks focus on natural, minimally processed ingredients. They avoid refined grains, dairy, legumes, and added sugars.

Lean Proteins:

Wholesome snacks feature lean proteins like nuts, seeds, and dried meats (jerky). These delicious snacks deliver a satisfying crunch. Don't forget that they also contain healthy fats and proteins.

Fruits and Vegetables:

Fruits and vegetables (whether it's fresh or dried) are frequently included in Paleo snacks. That's because they contain vitamins, minerals, and fibers.  

Healthy Fats:

Nuts, seeds, and avocados are common sources of healthy fats in Paleo snacks.

Avoidance of Grains and Legumes:

Grain-based snacks (crackers and popcorn) and legumes are excluded in the Paleo diet.
Now that you understand what defines a Paleo snack, let's dive into how to choose the best options.
How to Choose Paleo Snacks:
Read Labels Carefully:

When buying packaged snacks, check the ingredient list. Make sure that the snack contains whole, natural foods and doesn't contain grains, dairy, or added sugars.

You should also check for additives, artificial flavors, and preservatives!

Opt for Whole Foods:

E

njoying Paleo snacks is easy by choosing whole, unprocessed foods like fruits, vegetables, nuts, and seeds.

Mindful Portion Control:

Even Paleo snacks can contribute to excessive calorie intake if consumed in large quantities. Use portion control to avoid overindulging.

Protein and Fiber:

Look for snacks rich in protein and fiber, as these nutrients promote satiety and can help you feel full longer. Jerky, nut butter packs, and trail mix are good examples.

Be Creative:

Get creative with your Paleo snacks. Make your own vegetable chips, blend your nut butter, or create your own unique trail mix by combining your favorite nuts, seeds, and dried fruits.

Paleo-Approved Bars:

If you're looking for convenience, some companies produce Paleo-friendly snack bars. Choose bars with minimal ingredients and no grains or dairy.

Indulge Mindfully:

While dark chocolate with high cocoa content can be considered Paleo, enjoy it in moderation due to its calorie density.
Overall, Paleo snacks are a delicious and nutritious part of your Paleo journey. By selecting snacks that align with the Paleo principles—whole, unprocessed, and free from grains and dairy—you can satisfy your cravings while maintaining your commitment to a wholesome diet. Remember to be mindful of portion sizes and read the labels. So, get creative in the kitchen and enjoy a diverse range of Paleo snacks. Happy snacking!