Paleo Bread - Nutrient-Rich, Grain-Free, and Delicious
Check out our nourishing selection of Paleo-approved bread to satisfy your cravings while following the Paleo diet. We're committed to researching and curating natural, health-conscious products that align with the Paleo lifestyle. Our goal is to support not only your well-being but also your commitment to a healthier version of yourself.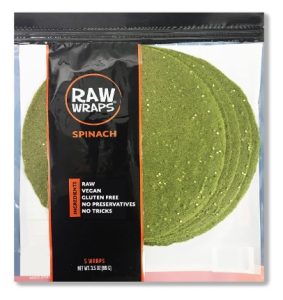 These round wraps are perfect for both hot and cold fillings and pair wonderfully with savory dishes. With five eight-inch wraps per bag, you have plenty to enjoy. Whether you prefer them soft or crispy, these wraps are incredibly versatile. They're diet-friendly, with only 60 calories per wrap, making them suitable for various diets like paleo, keto, low carb, and more. Plus, they're allergen-free and have a long one-year shelf life, making them perfect for on-the-go food.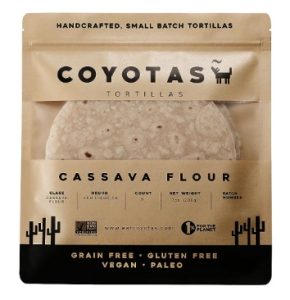 Experience COYOTAS Tortillas—an exquisite blend of just four simple ingredients. These 6-inch tortilla wraps are made with organic ingredients, providing a grain and gluten-free delight. With eight tortillas per pack and a 5-pack bundle, you'll have plenty to savor. Whether you're following a vegan lifestyle or simply seeking wholesome, clean ingredients, COYOTAS Tortillas are your go-to choice. 
Elevate your meals with these KETO Certified, Paleo Certified, Non-GMO Project Verified, Certified Gluten Free, and Vegan tortilla wraps. Crafted with almond and coconut flour, they bring a delightful flavor and texture to your table. What you won't find in these tortillas are grains, gluten, dairy, eggs, or soy. Each tortilla contains just 4 net carbs, making them the perfect choice for your low-carb lifestyle. Whether it's quesadillas, tacos, or burritos, these soft tortillas have you covered. Try the wholesome goodness of Maria & Ricardo's KETO Tortillas today!
Discover the delicious convenience of WrawP Organic Veggie Wraps! These wraps are a nutritional powerhouse, boasting organic, Paleo-friendly, all-natural, and raw vegan ingredients. With no added sugar and low carbs, you can enjoy guilt-free goodness made from real fruits, veggies, and superfood spices. The wraps are versatile, allowing you to enjoy them right out of the bag or with your favorite ingredients rolled up. Elevate your meals with WrawP Organic Veggie Wraps today!
Indulge in Yez! Artisan Golden Flax Keto Bread, a clean keto, paleo, and vegan delight. Made with wholesome ingredients, it's perfect for a healthy keto lifestyle. Each 10 oz loaf, in a pack of 4, is baked fresh for you. Enjoy its clean label – non-GMO, gluten-free, grain-free, and preservative-free. Experience the rustic bread taste without grains, gluten, or soy. Try clean keto with Yez! Artisan Golden Flax Keto Bread.
Bedrock Bakers Pagels is the ultimate paleo bagel alternative! These Everything Pagels are gluten-free, grain-free, and plant-based, making them a delightful choice for your health-conscious lifestyle. With 100% clean ingredients, free from fillers, preservatives, and GMOs, they're a delicious and guilt-free treat. Plus, 70% of their ingredients are resistant starches, aiding digestion and satisfaction. Experience love at first bite with ingredients you can trust!
Experience the epitome of clean and delicious with UNBUN Sliced Bread! This radically honest bread is grain-free, keto-friendly, and packed with flavor. With 16 slices per loaf, it's a game-changer for your favorite sandwiches, toasts, and more. Don't fret if it thaws during transit – simply refrigerate or freeze, and get ready to enjoy your favorites once again!
Indulge in Casabi Artisan Flatbread Rounds, the perfect gluten-free, vegan, and paleo-friendly treat! Made from 100% yuca root, these 7.05 oz rounds are your go-to option for a wholesome, low FODMAP, and AIP-friendly snack. Please remember to bake them first for the best experience. Enjoy the natural flavor and goodness of Cassava Pulp with every bite.
Bread has been part of many diets and has become a symbol of sustenance and comfort. But in a world where dietary choices are evolving, traditional bread has met its innovative counterpart: Paleo Bread. Join us as we delve into the fascinating realm of Paleo bread, a culinary creation that respects both ancient wisdom and modern wellness.
We'll explore the key ingredients that make Paleo Bread unique and the ways it aligns with the principles of the Paleo lifestyle. Prepare to discover the taste of tradition reinvented and a path to nourishing both body and soul with every delicious slice.
Key Ingredients in Paleo Bread
Paleo bread is a culinary innovation that encapsulates the essence of the Paleo diet. Unlike regular breads that are loaded with refined sugars, grains and additives, Paleo bread is made from nutrient-dense, whole-food ingredients. So, what are the components of this wholesome loaf? Let's find out!
Nut and Seed Flours:

Paleo bread often features almond flour, coconut flour, or a combination of both. These flours provide a base for the bread, imparting a hearty texture and nutty flavor.

Eggs or Egg Replacements:

Eggs serve as a binding agent in Paleo bread, contributing to its structure and moisture content. Those following a strict Paleo diet may use egg replacements like chia seeds or flax seeds mixed with water.

Healthy Fats:

Ingredients like coconut oil or olive oil provide essential fats that not only enhance the texture but also supply valuable nutrients and energy.

Baking Soda or Baking Powder:

These leavening agents help Paleo bread rise and achieve a light, fluffy texture.

Natural Sweeteners:

What's good about Paleo bread is that they use

minimal amounts of natural sweeteners like honey or maple syrup to balance flavors.

Salt:

They also use a pinch of salt to enhance the bread's taste and texture.
The Nutritional Benefits of Paleo Bread
Grain-Free Goodness
Paleo bread is inherently grain-free, making it a suitable choice for individuals with gluten sensitivity or those following a grain-free diet.
Rich in Healthy Fats
Ingredients like almond flour and coconut oil make Paleo bread a source of healthy monounsaturated fats and medium-chain triglycerides. These healthy fats support brain function, provide energy, and promote satiety.
Protein-Packed
Paleo bread contains a significant amount of protein, mainly from the eggs or egg replacements used in its preparation. Protein aids in muscle maintenance and helps keep you feeling full.
Dietary Fiber
Almond and coconut flours provide dietary fiber that is good for digestive health.
Vitamins and Minerals
Some ingredients, like almond flour, contain vitamins and minerals, such as vitamin E, magnesium, and manganese, which play essential roles in various bodily functions.
Low in Sugar
Paleo bread relies on minimal natural sweeteners, keeping its sugar content low and aligning with the low-sugar philosophy of the Paleo diet.
Incorporating Paleo Bread into Your Diet
Paleo bread can be enjoyed in various ways, just like traditional bread:
Toast: Slice and toast Paleo bread for a crispy, warm treat.

Sandwiches: Use it as a base for your favorite sandwich fillings, from veggies to meats.

French Toast: Make a Paleo-friendly French toast by dipping slices in a mixture of eggs and almond milk, then cooking until golden brown.

Avocado Toast: Top toasted Paleo bread with mashed avocado, a sprinkle of salt and pepper, and your favorite toppings.

Breadcrumbs: Grind Paleo bread into breadcrumbs for coating proteins like chicken or fish before baking.

Croutons: Cube and bake Paleo bread to make crunchy croutons for salads.
Overall, Paleo bread is a versatile and nutritious addition to your Paleo way of living. It provides a delicious way to enjoy bread without straying from the principles of whole, unprocessed foods. By opting for Paleo bread, you can savor the wholesome goodness of natural ingredients and enjoy its health benefits. Whether you purchase Paleo bread or create your own at home, it's a testament to how healthy and enjoyable eating can be when you return to the basics.