Paleo Butter - Spread the Goodness
Explore our wholesome selection of Paleo-approved spreads to enhance your dining experience. These products were carefully researched and reviewed to fit your Paleo lifestyle.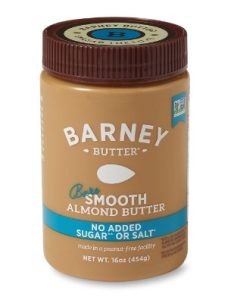 Savor the creamy goodness of Barney Bare Smooth Almond Butter. It's smooth, skin-free, and free from added sugar or salt. Almonds are a rich source of healthy fats, and this no-stir almond butter ensures you get all their nutritional benefits. It's allergen-friendly, suitable for various diets, and crafted in a peanut-free facility. Perfect for clean eating, Paleo, Keto, Vegan, or Kosher diets. Enjoy it on toast, in smoothies, or as a dip!
Experience the ultimate almond nut butter with Philosopher Foods Naked Creamy Sprouted Almond Nut Butter. Crafted from organic nonpareil almonds, this silky-smooth pourable butter is a game-changer for your kitchen. It's keto, vegan, paleo, and gluten-free, making it suitable for a variety of diets. Whether drizzled on meals, blended into smoothies, or enjoyed on its own, this nut butter offers natural sweetness and a delightful texture that sets it apart.
Upgrade your cooking with Primal Ghee's Organic Grass Fed Unsalted Clarified Butter. This ghee, sourced from grass-fed cows, is a nutritional powerhouse, aiding digestion and packed with vitamins. It's a perfect fit for Paleo and Keto diets, with zero carbs and no added sugar, salt, nuts, or artificial ingredients. Use it to enhance the flavor of your dishes, from stir-fry veggies to savory curries. 
Enjoy morning dishes with Spring Sunrise Organic Grass Fed Ghee Butter. Crafted from grass-fed cows raised on Evergreen fields since 1992, it's free from artificial hormones and pesticides. Keto, Paleo, Gluten, and Casein friendly, with a high smoke point of 485 degrees, perfect for cooking and frying. Rich in Omega 3, Omega 9, and Vitamins A, E, & K, it aids digestion, reduces inflammation, and enhances brain function. 
Discover pure, organic goodness with Golden Monkey Organic Ghee Butter. Made from 100% organic, grass-fed cow's milk, it's perfect for Paleo, Keto, and gluten-free diets. This versatile, unsalted butter elevates your cooking and boosts energy, gut health, and immunity. Enjoy its safety and rich flavor in various forms. Make the choice for pure, organic, and wholesome living with this organic ghee butter.
Indulge guilt-free with InaNuts Candied Pecan Nut Butter! This 11oz jar of goodness redefines nut butter. It's smoother, creamier, and thinner than your usual pick. Plus, there's NO ADDED SUGAR. With LESS THAN 1 NET CARB per serving, it's a perfect fit for your ketogenic goals. Made with minimal, clean, and natural ingredients – no preservatives or additives. Satisfy your snack cravings while maintaining a healthy diet and waistline.
This 8-ounce jar of PALEO TIGER Tiger Nut Butter is a natural goodness and is PALEO and AIP compliant. It is packed with prebiotics and dietary fiber for digestive health. Simple ingredients – tiger nuts, coconut oil, and avocado oil – make it nut, gluten, soy-free, with no added sugar. You can use it as a snack, salad dressing, or in smoothies. Nutritious, versatile, and delicious.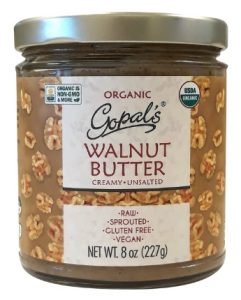 Make snacking time fun with Gopal's Sprouted Organic Raw Walnut Butter! It's high in protein, sodium-free, and made from a single ingredient: premium, certified organic walnuts. Responsibly sourced and gluten-peanut-free, it's USDA certified organic, Vegan, Paleo, Keto, and Whole 30 friendly. Enjoy this healthy and tasty nut butter alternative.
Discover pure delight with Wilderness Poets Walnut Butter with Cashews! Made from just two ingredients: raw organic walnuts and raw organic cashews, it's USDA Certified Organic, Vegan, and free from sugar, salt, trans fat, and cholesterol. This creamy walnut butter is perfect for smoothies, raw desserts, vegan icing, dressings, sauces, baking, granola, and yogurt. 
Indulge in creamy goodness with Artisana Organics Raw Pecan Butter with Cashews! Made from just two ingredients – organic pecans and cashews – it's sourced responsibly from organic family farms. It's never roasted or cooked to preserve its natural goodness. This butter is perfect for various lifestyles – vegan, keto, paleo, and more. Enjoy its wholesome goodness in every spoonful.
Savor Octonuts Dry Roasted Pure Almond Nut Butter – a 16oz jar of creamy delight! Packed with plant-based protein and healthy fats, it's paleo certified, dry roasted to perfection, and free from added oils and common allergens. Grown with care in California, it's a classic, pure almond butter, perfect for a nutritious and delicious snack.
Discover the pure essence of cashew goodness with Vör All Natural Cashew Butter! With only one ingredient – delicious, dry roasted cashews – there's no need for added sugar or salt. It's the perfectly pure cashew nut butter, suitable for vegan, keto, paleo, Whole 30, low-carb, and low-salt diets. Vör Cashew Butter is certified Kosher, soy-free, dairy-free, egg-free, and comes in BPA-free packaging. Experience the goodness of simplicity in every jar.
Take your snacking to the next level with Base Culture Almond Butter! Made from California almonds, it's completely natural, paleo-friendly, gluten-free, and free from added sugar or salt. With no artificial ingredients or preservatives, it's a wholesome choice to suit various dietary preferences.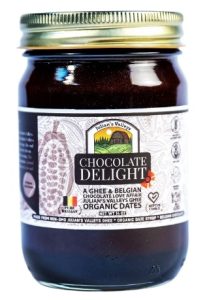 Experience the exquisite goodness of Chocolate Delight Spread! Crafted with care, it blends the richness of organic date syrup, the goodness of Julian's Valleys Ghee, and the decadence of 100% Belgian Dark Chocolate. This delightful spread is dairy-free, lactose-free, gluten-free, and suitable for Paleo and Keto diets – making it the perfect alternative for guilt-free snacking.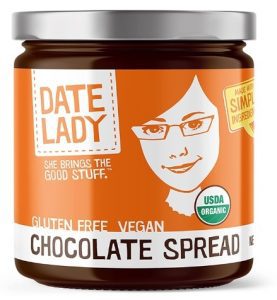 Date Lady Organic Chocolate Date Spread is perfect for dipping fruit or drizzling over ice cream. This healthy choice is vegan, non-GMO, organic, gluten-free, dairy-free, paleo, and Kosher. Crafted with organic ingredients and free of additives like added sugar and artificial flavoring, it's versatile in baked goods, coffee, toast, and more. Swap it for sugary hazelnut spreads and savor its nutritious goodness.
Treat yourself with Cravers Cacao Hazelnut Spread – a delicious and healthy choice! Made from three all-natural ingredients, it's sugar-free and perfect for satisfying sweet cravings. This vegan, gluten-free, palm oil-free delight is versatile and nutritious, ideal for toast, fruit, or baking. Cravers is the way to indulge without compromising your health.
Sarais Hazelnut Cacao Nut Butter is a silky smooth delight that's Paleo, Vegan, Gluten-Free, and Kosher. This natural product is perfect for kickstarting a healthy and balanced diet, with no artificial sweeteners. It's great as a pre and post-workout treat, ideal for kids, vegans, athletes, and anyone embracing a healthy lifestyle.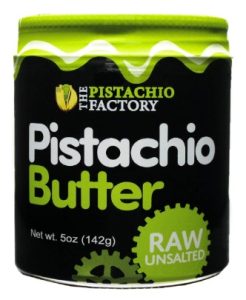 Pistachio Butter is a versatile delight that's Non-GMO, Gluten-Free, Vegan, Peanut-Free, Soy-Free, Dairy-Free, and free from added sugars and preservatives. Plus, it's Keto and Paleo friendly, rich in protein, potassium, and fiber. Enjoy pistachio butter as a multipurpose snack – dip fruits, veggies, drizzle on desserts, pancakes, or add to smoothies. 
Made from only dry roasted macadamia nuts, Vör Pure Macadamia Nut Butter Spread is perfectly pure and needs no added sugar or salt. This macadamia nut butter is an ideal choice for vegan, keto, paleo, Whole 30, low-carb, and low-salt diets. It's 100% plant-based, cruelty-free, and ethically produced in the USA, with absolutely NO palm oil. Certified Kosher, soy-free, dairy-free, and egg-free, it comes in BPA-free packaging. 
Delve into the rich world of Paleo Butter, where flavor meets health in perfect harmony. So, let's uncover the secrets of this paleo-friendly spread, exploring its ingredients and benefits. We'll also explore the delicious ways it can elevate your recipes. Get ready to savor the taste of buttery indulgence the Paleo way.
Paleo Butter: A Primer
Paleo butter represents a delightful creation that aligns with the Paleo diet. It is made from high-quality, unprocessed fats that are rich in nutrients and free from artificial additives. The key components that make up Paleo butter include:
Coconut Oil:

As a staple in many kitchens, coconut oil is a superstar ingredient in the Paleo diet. It's prized for its medium-chain triglycerides and distinctive flavor. It's an excellent base for Paleo butter.

Ghee:

Ghee (clarified butter) is another common ingredient. It provides a rich, buttery flavor without the lactose and casein found in traditional dairy butter.

Other Natural Fats:

Depending on personal preferences, Paleo butter may also include fats from sources like avocado, macadamia nuts, or grass-fed beef tallow, adding diverse flavors and nutritional profiles.
Nutritional Benefits of Paleo Butter
Healthy Fats

: Paleo butter provides a robust source of healthy fats. And these healthy fats boost your energy levels and support various bodily functions.

Vitamins and Nutrients:

Essential fat-soluble vitamins such as A, D, E, and K are mostly present in Paleo butter. These vitamins maintain your overall health—from immune function to bone health.

MCTs:

As a primary ingredient in Paleo butter, coconut oil contains MCTs that are readily absorbed and used by the body for energy. MCTs have also been associated with benefits related to weight management.

Lactose-Free:

What's good about Paleo butter? It's dairy-free, making it a great option for those with lactose intolerance.

Versatile Flavors:

Paleo butter's versatility shines through its flavors, which can vary depending on the ingredients used. From the nutty goodness of macadamia to the subtle sweetness of ghee, there are plenty of flavor options to explore.
Adding Paleo Butter into Your Paleo Diet
Cooking:

Use Paleo butter for sautéing, roasting, or frying. Its high smoke point makes it suitable for various cooking methods.

Bulletproof Coffee:

Many Paleo enthusiasts add a spoonful of Paleo butter to their morning coffee for a creamy, energy-boosting brew.

Baking:

Substitute traditional butter with Paleo butter in Paleo-friendly baking recipes.

Vegetables: Drizzle melted Paleo butter over steamed or roasted vegetables for extra flavor and healthy fats.

Smoothies:

Blend a spoonful of Paleo butter into your smoothie for a creamy texture and added nutrients.
To wrap it up, Paleo butter is a nutritious addition to your Paleo diet. Rich in healthy fats and essential nutrients, it offers a wide range of culinary possibilities, whether used as a cooking fat, spread, or flavor enhancer. So, why not give it a try and elevate your Paleo journey with the creamy goodness of Paleo butter?