A Complete Guide To Making Effortless Paleo Desserts
The Paleo diet has gained much attention for its natural approach to nutrition and its health benefits in recent years. But let's face it, when it comes to creating paleo desserts at home, many people are still hesitant to try them. They are usually doubtful if they can achieve the same taste and texture as traditional treats. Paleo baking is challenging for those who are new to it. After all, it's a new set of ingredients and techniques that may seem unfamiliar. It's understandable to feel a bit hesitant.
But don't worry—here are some wholesome ingredients that you can use in your desserts! We have also included some tips to empower you to confidently create effortless and delicious treats that fit your paleo lifestyle. With a little bit of practice, you'll be baking paleo desserts like a pro in no time!
Tips On Preparing Paleo Desserts
From stocking up on essential paleo-approved ingredients to embracing time-saving techniques, these tips will ensure your journey into the world of guilt-free treats becomes a delightful and stress-free experience.
Below are some tips on how to make it easier to prep paleo desserts:
Plan Ahead:

Take a moment to plan your dessert recipe before you start baking and get all your ingredients, equipment, and utensils.

Stock Up Paleo-Approved Flours:

Make your baking experience seamless by stocking up a

variety of paleo-approved flours

in your pantry. Try stocking up tiger nut flour, cassava flour, and almond flour. Don't be afraid to experiment with different combinations to find the perfect texture and taste for your desserts.

Use Natural Sweeteners:

In the paleo diet, refined sugars are avoided. You are encouraged to use natural sweeteners like honey, maple syrup, or coconut sugar in your paleo dessert recipes.

Combine Nut Butter:

Nut butter like almond or cashew butter, not only adds flavor but also acts as a binding agent in desserts. This makes the preparation easier and enhances the overall taste.

Embrace Fruit:

Fresh or dried fruits, like mashed bananas or unsweetened applesauce, can provide natural sweetness and moisture to your desserts without the need for excessive sugar or fat.

Opt for One-Bowl Recipes:

Simplify your baking routine by choosing one-bowl recipes whenever possible. Minimize cleanup and save time in the kitchen while still creating delicious paleo treats.

Utilize Food Processors:

Invest in a quality food processor to easily blend nuts, fruits, and other ingredients for crusts, fillings, and toppings, streamlining the dessert-making process.
Discover No-Bake Options:

Explore the realm of no-bake paleo desserts, such as energy bites or raw cheesecakes, to enjoy delightful treats without the need for baking and complicated techniques.

Freeze and Store:

Make larger batches of paleo desserts and freeze individual portions. This way, you'll always have a healthy treat ready to satisfy your sweet cravings without the effort of frequent baking.

Follow Proven Recipes:

Especially if you're new to paleo baking, start with well-tested and reliable recipes from reputable sources. As you gain confidence and experience, you can experiment and modify them to suit your preferences.

Learn from Others:

Join paleo communities

or follow food bloggers and social media influencers like

Cheryl Malik

to gain insights, tips, and inspiration for creating paleo desserts and meals.
So, remember that not every attempt will be perfect, and that's okay! Paleo baking is a learning experience, so be patient with yourself and celebrate the delicious results along the way.
Stay fit with paleo recipes, lifestyle tips, and the latest news in healthy living.
Nuts And Seeds For Your Dessert Recipes
Some various nuts and seeds are paleo compliant and have some recommendations for their consumption. Among the nutty selections are pistachios, Brazil nuts, pecans, walnuts, pine nuts, macadamia nuts, chestnuts, cashews, hazelnuts, and everyone's favorite—almonds.
However, it is recommended to exercise caution when consuming almond nuts due to their relatively high content of polyunsaturated fatty acids (PUFAs). 
In addition, seeds like sesame, sunflower, flax, chia, and pumpkin seeds are welcome in the Paleo diet for their nutrient-rich profiles and versatility in recipes.
Paleo-Approved Flours
The Paleo diet is also known as the Stone Age diet or caveman's diet. It's an eating plan that mimics the way our ancestors consumed food during the Paleolithic era. This diet encourages you to eat whole, unprocessed foods and eliminate modern processed items.
And let's not forget about flours, the Paleo diet excludes traditional wheat flour and other grain-based flours. That's because they are considered to be products of agriculture that emerged after the Paleolithic era.
The paleo-approved flours are usually made from seeds, nuts, and other starchy vegetables. Here are some common flours allowed in the paleo diet:
Almond Flour:

This flour is made from finely ground almonds. Almond flour is a popular paleo-friendly flour that adds a nutty flavor and moist texture to your baked goods. 

Coconut Flour:

Ground from dried coconut meat, coconut flour is high in fiber and adds a subtle coconut flavor to your pastries and other recipes.

Cassava Flour:

Derived from the cassava root, cassava flour is a good alternative to wheat flour in many recipes and has a neutral taste.

Tiger Nut Flour:

Made from tiger nuts–a starchy powder from small root vegetables. This gluten-free tiger nut flour adds a slightly sweet, nutty taste to your recipes.

Arrowroot Flour:

Arrowroot flour is produced from the arrowroot plant and has a fine texture. Arrowroot flour is usually used as a thickener and combined with other types of flour.

Chestnut Flour:

Ground from chestnuts, this flour has a sweet and nutty flavor and is commonly used in sweet and savory dishes.
Take note that while these flours are paleo-friendly, you should consume them in moderation. In addition, individual sensitivities and preferences may vary, so it's always best to listen to your body and choose the best flours for you.
Paleo-Friendly Fruits That You Can Add To Your Desserts
Because of their natural sweetness, it's good to add fruits to your paleo dessert recipes. There are many fruits that are allowed on the Paleo diet, so you never run out of options. 
Some popular fruits for paleo desserts include:
When adding fruits to your desserts, pick ripe fruits. Ripe fruits are sweeter and have a more intense flavor. And it is important to avoid using processed or sweetened fruits.
With a little creativity, you can use these fruits to create delicious and nutritious paleo desserts.
Using Natural Sweeteners For Your Desserts
Say goodbye to refined sugar and additives. Sweeten your desserts with these paleo-friendly sweeteners:
Maple syrup

Coconut sugar

Raw honey

Date sugar
Paleo Desserts That You Can Try At Home
Craving for sweets? Start making nutritious paleo desserts at home. With the list of wholesome ingredients we have listed above and creative recipes to choose from, you can savor tasty and nutritious treats. From moist gluten-free almond flour chocolate cake to mouthwatering lemon bars, these paleo desserts are a testament to the delightful possibilities that await. So, unleash the inner baker within you and explore the world of paleo sweets. And treat yourself to a healthier, more satisfying dessert experience like never before.
Check Out Our Paleo Desserts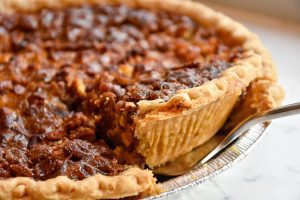 About this Gluten-Free Pecan Pie recipe Who can say "no" to a freshly baked pecan pie? It has long been a favorite holiday dessert and
Read More »